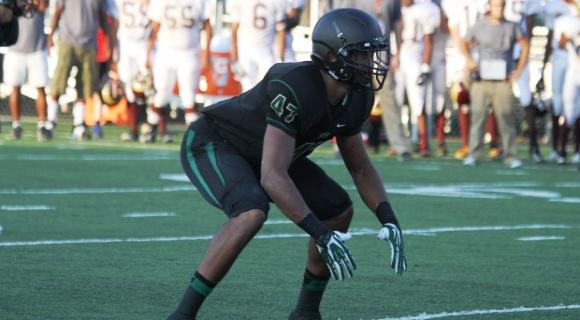 Akron St. Vincent-St. Mary linebacker Dante Booker Jr. was named the 27th winner of the Mr. Football award, given annually by the Associated Press to the best player in the state.
The 6-foot-4, 220-pound senior had 87.5 tackles during the regular season, including 18 tackles for loss. But he doesn't just play on defense for the Irish. Booker is also a tight end for Division III's top-ranked school. SVSM is 14-0 and plays for the state championship Thursday night. 
"His abilities are just amazing: his wingspan, his reach, his vertical," head coach Dan Boarman said. "He went out for basketball for the first time last year and played on a state finals team. And you know the basketball here is pretty good."

Heading into the championship game against Trotwood-Madison, in 14 games Booker has 122 total tackles, 23 tackles for a loss, eight sacks, two interceptions (one for a touchdown), has forced two fumbles and recovered two (one for a touchdown), and has batted down four passes.

When he plays tight end, look out.

"He comes in in our big package," Boarman said. "What he does is, he just collapses one side of the line."

There is talk that Booker might end up being a down lineman at Ohio State because he's still growing. But that's for a later discussion.

"I think I bring versatility to linebacker," he said. "Just tracking the ball down, getting where I need to go and getting to the ball. I have good football defensive instincts."

Off the field or on, he's a quiet, reserved kid who stays out of trouble, gets average grades, and is a fine example to younger students.

"You couldn't ask for a better kid. He's real quiet, low key," Boarman said. "He doesn't talk a whole heck of a lot, but when he speaks it does mean something."