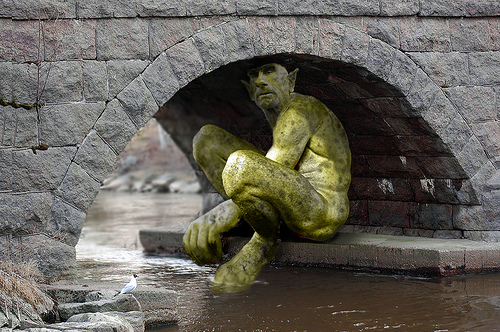 It's generally not a good idea to feed the trolls, but this was simply too good pass along. From Josh Feinstein of The Washington Post...
Ohio State is 12-0 and Auburn is 11-1.

That's the sole reason the Buckeyes will go into Saturday's Big Ten championship game in the No. 2 spot: They're undefeated. If you are going to buy into that line of thinking, then Northern Illinois — also 12-0 — should be ranked no worse than No. 3.
Great thesis here, John, except you forgot an important fact in your logic recipe: NIU belongs to the MAC which is not an automatic qualifying conference. Also, if Ohio State and Auburn were tied, the SEC team would ge the nod based on history, and therein lies their distinct advantage.
Yet, Ohio State and Auburn aren't tied.
Won-lost record should certainly be among the criteria for ranking teams and deciding who plays in the title game. But it shouldn't be the criterion.
So says the newspaper columnist, going against the way the system has worked since its inception. 
Sadly, that's not the case in college football. Ohio State barely escaped a Michigan team Saturday that has losses at Penn State and Iowa and to Nebraska at home.
Beating your century-old rival at home to clinch an undefeated regular season and 24th straight victory: easy to do, apparently. *camera cuts to grumpy Nick Saban post-Kick Six*
It also is true that Florida State hasn't exactly beaten Murderer's Row. But the Seminoles' 51-14 rout at Clemson is head and shoulders above anything Ohio State has accomplished.
Ohio State's season isn't over, Paul. Ohio State could beat top-ten Michigan State on Saturday, which is much more impressive than beating Duke on a neutral field.
Also, remember when you lambasted the ACC as "Florida State and nothing else"? Man, those were the days. What was it you said back then?
A week ago, it appeared there was genuine hope for the ACC. Clemson was ranked No. 3 in the country and had a win over Georgia. Florida State, in Jimbo Fisher's fourth season as Bowden's successor, was ranked No. 5 even though Fisher's team hadn't really been tested yet. Miami, after an embarrassing stretch of mediocrity that coincided with its move to the ACC, was also unbeaten with a win over Florida and ranked No. 10. And Virginia Tech, with only a loss to top-ranked Alabama, clearly had one of the nation's better defenses.

Now? Welcome back to Florida State and, well, the 13 dwarfs — Duke having finally reached dwarfdom under Coach David Cutcliffe.
Hmmmm. *puts on Dick Tracey hat, smokes a corncob pipe*  So has anything really changed here except Ohio State's emergence?