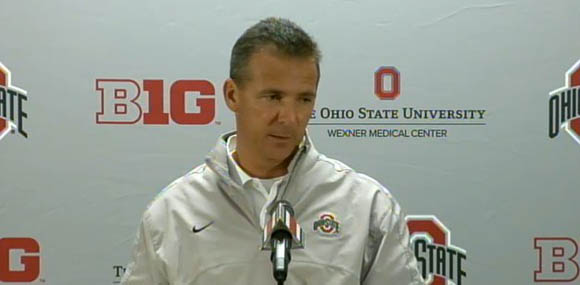 When the first BCS standings were released in mid-October, the uproar in Columbus could be heard all around the nation. Some tried to point out that winning takes care of everything, but others didn't want to listen. Never mind that half a season was still unplayed and a smorgasbord of undefeated teams was unlikely.
Now, with one game left on the schedule, Ohio State is poised to punch its ticket to the BCS National Championship Game. The Buckeyes have won 24 consecutive games after a thrilling victory over archrival Michigan. All that stands in their way is another team from that state no one cares to speak of.
But if you think Urban Meyer's going to be busy with politicking or any other activity that doesn't involve the Michigan State Spartans, guess again.
"We'll spend about six or eight seconds on that," he said when asked about the BCS. "There will be no conversation about it, no social networking about it. Our focus is on this game and that's it.
"It would be a disservice to our players if I went and worried about it, and I'm certainly not."
Urban Meyer
Ohio State did not do champions this week. Meyer said they jumped right into Big Ten championship preparation.
Meyer said MSU's defense is as good as any in America. Also impressed by Spartan offense. Sees huge improvement from beginning of season.
"It was a street fight last year." -On the Michigan State game. Meyer said OSU's offense is completely different, though.
Issues for OSU defense are a combination of things, according to Meyer. Pass defense is most alarming, but he said he's confident it'll be fixed.
Meyer said he won't comment on the BCS until after the Big Ten title game (if OSU wins).
Meyer points out half of OSU's run yardage comes on perimeter runs. Said it'll be tough to get that this week against Michigan State.
"We're still in conversations with them." -Meyer on the Big Ten regarding possible Hall/Wilson punishments.
Players are a little sore, but Meyer said emotionally and psychologically he thinks they are OK.
Meyer said Hall being out would be a blow, but he mentions OSU did run for nearly 400 yards without him Saturday.
On Saturday, Meyer said it will take a balanced attack to get the job done. Can't be run-heavy or pass-heavy.
Like most coaches, Meyer a big believer in old adage that defense win championships. Says he puts lot of resources into producing defenses.
"To reach the level Ohio State expects, we have to play better on defense."
Meyer on Braxton's Heisman chances: "I think he has to prove it. This is a great opportunity for him. I think he's Heisman worthy."
Tom Herman
Ohio State's lack of balance in the offense recently is a product of Hyde/rushing attack being so effective, according to Herman.
"To see us run the ball against them the way we did, you're going to run what you're confident in. ...Balance is being able to win the game either way [running/passing] depending on what the defense is trying to take away, and I think we're a balanced offense right now."
Herman raved about Michigan State defense. Said they know strengths, weaknesses and are extremely gap sound.
"They have 11 guys who know exactly what they're doing, and they do it really, really well." -Herman on Michigan State D.
Herman said he studies what opposing defensive coordinators do and figure out why they do it and how to counter it. 
Quarterbacks have become a specialty for Herman and he just rattled off the positive traits in Braxton Miller. Said he's a championship QB. Leadership and competitiveness are at the top of that list.
"This is why you coach." -Herman on big games. Previously joked about it being miserable because Michigan State's defense is so good.
Herman said Pat Elflein graded out "really good." Admitted Elflein was much better than expected, especially when considering the situation.
"I think it's fantastic for the Big Ten to have this showcase." -Herman on Saturday's monumental Big Ten Championship Game.