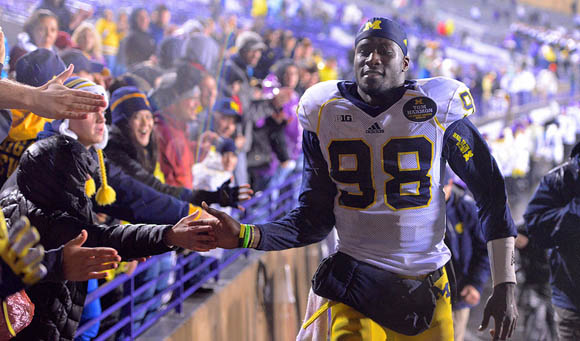 We're mere hours away from kickoff of the 110th edition of The Game. As a warmup, I sat down with Ace Anbender of MGoBlog to talk scheme, strategy and what to expect out of the Michigan Wolverines today.
My impression this season is that Greg Mattison has used a lot less blitzing and gone to more of a bend but don't break style.  Is this accurate?  Why has this been the case?
It's absolutely accurate—Michigan's defense isn't quite as vanilla as, say, Iowa's, but they're pretty darn close at this point. There are a few reasons I think this is the case. First of all, Michigan is rotating not just their front seven, but also their secondary on a very frequent basis, to the point that the players have the freedom to sub in and out as they wish—I'm guessing it's more difficult to run more complex concepts with constantly-changing personnel. Then there's Mattison's apparent distrust in the safeties now that Jordan Kovacs is no longer around to hold things down; Thomas Gordon and Jarrod Wilson have been moved in and out of the lineup for players who simply aren't as good (Courtney Avery, a nickel corner by trade, and Josh Furman, who's a good athlete with suboptimal football instincts) and the coaches have cited performance as a reason—Gordon also may have had an ankle injury—which is pretty surprising given that they've done quite well, at least in my eyes.
The main reason, though, is that the cornerbacks were prone to allowing big plays over the top early on in the season, and providing consistent safety help has greatly mitigated that issue. Michigan is just 49th nationally in plays allowed of 10+ yards, but they're 25th in ceding plays of 20+ yards and tied for seventh (with Iowa, incidentally) in giving up 30+ yard plays—just 13 of those have occurred in 11 games. The advanced stats bear out the same thing; Michigan is very good at forcing opponents to methodically move the ball down the field and preventing explosive drives. I think this is how Mattison is getting the most out of a defense that's playing above their talent/experience level for the third straight year under his command; I'd bet he'll get more aggressive in the next couple of years as Hoke's first two full recruiting classes gain significant experience.

How has Michigan defended other "spread" offenses this season?  What strategy do you think Mattison will apply against Ohio State?

Mattison made a significant adjustment in this regard just a couple of weeks ago, between the Nebraska and Northwestern games. Against the Huskers, he called for a lot of one-high safety looks designed to load up against Nebraska's interior running game; while they were effective in doing that, their run defense suffered on the edge, especially against the option—all too often, a defensive end was left having to cover both the QB and the pitchman when the option went away from the strength of the defense.
Against Northwestern, two deep safeties was the norm, and when Northwestern tried to run the option one of the safeties—usually Gordon, who had a fantastic game—would come screaming downfield after the pitch; the Wildcats got 12 yards on five option runs and abandoned the concept altogether as the game wore on. Of course, this strategy pulled a defender out of the box; if Northwestern had, for example, a Carlos Hyde at running back, they could've bashed their way downfield effectively.
If last year's game was any indication, I think Mattison will go with the latter strategy and hope that the front 6-7 guys can hold their own against Hyde while the rest of the defense takes away Braxton Miller as a big-play threat on the ground, which they were mostly able to do last year. Michigan is going to give up points one way or the other, and they'd prefer making the Buckeyes grind out drives—and maybe commit a turnover or two in the process—then gamble and potentially allow big plays; this team wants anything but a shootout, especially this week.
In your mind what are the key matchups for Michigan's defense?
If Mattison can't trust the corners to hold their own and is forced to play soft, simple schemes for the duration of the game, it'll only be a matter of time before Meyer and Co. take advantage.
Given the above, I think it's all about how well Michigan's defensive tackles can hold up against OSU's strong interior line and the human battering ram that is Carlos Hyde. At the very least, the DTs have to command a double-team or two to keep Desmond Morgan and James Ross from eating blocks as they flow to the play. NT Quinton Washington is the team's best hope here, but he's played much less than one would've expected this season and may be dealing with some nagging injuries. Michigan's been playing Jibreel Black, a former SDE who's listed at 278 pounds, at the nose; while this has worked against lesser teams that can't deal with his quickness on the interior, I don't think that'll fly against the Buckeyes.
The other big matchup is Blake Countess and Raymon Taylor making sure Philly Brown and Devin Smith—especially Devin Smith—don't take the lid off the defense when they're playing man-up on the outside. It took one successful bomb to Smith in last year's game for Michigan to entirely change their defensive gameplan, turning down the aggression significantly; if Mattison can't trust the corners to hold their own and is forced to play soft, simple schemes for the duration of the game, it'll only be a matter of time before Meyer and Co. take advantage.

The Michigan offense.  Where to begin.  I know we could discuss the offensive problems all day, but what do you think is the ultimate cause of the issue?  Is it execution by the offensive line?  Is it the play calling?
I know it's a cop-out to say both; not acknowledging that multiple factors are involved—including ones that came into play before Al Borges ever arrived—would be oversimplifying the matter, however. The lack of experience and execution by the interior of the line, as well as the tight ends and running backs, has severely hampered Michigan's ability to run a coherent offense.
That said, I think a lot of these issues would've been mitigated if Borges could stick to a philosophy and a personnel group instead of trying to come up with a new offense every week. I honestly have no idea what Borges' system is supposed to look like, because even the base plays change on regular basis. Michigan was a power running team until it wasn't. They shuffled linemen and tried to base the running game on the zone stretch, which failed miserably. They burned hours upon hours of practice time with the doomed tackle over gimmick, a set that essentially pointed to the strong side and screamed "WE'RE RUNNING IT RIGHT HERE." Then Borges finally embraced the bubble screen against Northwestern and used the threat of it to open up the inside zone, which was successful for all of one week until Iowa saw it on film, blew it up, and Borges had no counterpunch—a running theme in his tenure here.
While there are certainly personnel issues on this team, I have a difficult time convincing myself that many other offensive coordinators couldn't have found a way to get a lot more production out of an offense laden with this much talent at the skill positions. It's also quite possible that the offensive line coach needs to go, though I'm more willing to give Darrell Funk the benefit of the doubt because he's working with freshmen and walk-ons, the schemes are constantly changing, and he's done a very nice job developing RT Michael Schofield into a legit NFL prospect (it's hard to give anyone but Taylor Lewan credit for becoming Taylor Lewan).

As we've discussed, Ohio State has given up yards through the air this season.  Can Michigan exploit this?  How do you think Michigan will go about attacking the Buckeye defense?

I've given up on trying to predict what Al Borges will do in any given game, since sometimes (okay, often) it's totally inexplicable in a bad way and sometimes he comes up with a plan that works beautifully for a week or two. I'd hope that Michigan tries to get Jeremy Gallon the ball underneath and let him weave his way through the secondary; Devin Funchess is also surprisingly good at this—he covers ground in a hurry—and he's actually been the primary receiver of Michigan's recent bubble screens. Unfortunately, Borges has rarely called underneath stuff this year—I think I can count the number of slants Michigan has completed on one hand.
The other thing I'd like for them to do, and is probably more realistic, is to just chuck it up to Funchess. The guy is 6'5" and lanky with a tight end's frame and the speed to flat-out run past cornerback, plus he's got hands the size Belgian waffle irons; when Gardner has simply tossed the ball up in his direction, the worst thing to occur has usually been an incompletion, and at best it's a good way to get big chunks of yards without risking sacks—Michigan can do this while going max-protect.
Again, I should point out that I have absolutely no idea if Borges will do any of this. For how utterly predictable he is as a playcaller in the context of a game, it's been nearly impossible to peg down what his strategy is going to be in any given week.

Do you think Al Borges' job is on the line Saturday?  Do you think Borges should be given another season?  Mattison has done a great job turning around the defense the last few seasons.  Does Michigan have more talent on that side of the football?
Perhaps another complete offensive debacle would be the tipping point for Borges' job security, but I have a hard time seeing this game as the difference. Either Dave Brandon and/or Brady Hoke have had enough after the miserable performances against middling (or downright bad) defenses or they're fully committed to giving Borges a chance to pull it all together in Year 4; I'm inclined, against my own desire, to think it'll be the latter. If my answers to your previous questions haven't made this clear, I'd prefer for Michigan to cut ties with Borges and find a more innovative, flexible offensive coordinator who can adapt to his personnel and run some sort of coherent system—and yes, I'd certainly like to see Michigan go back to the spread, though at this point I'll simply take any OC with a system that makes sense.
Outside of the interior of the offensive line—and that's admittedly a big exception to make—I think Borges has actually had more to work with than Mattison, who took the nation's #110 total defense and transformed them into the 17th-ranked unit in one year. Mattison adapted, becoming much less aggressive than he likes to be, while Borges struggled to figure out how to build an effective offense around a veteran offensive line and Denard freakin' Robinson. I think most offensive coordinators would kill for the level of talent Michigan has at the skill positions and find a way to work with the offensive line, which has two NFL-quality tackles and at least contains several talented, albeit young, options on the interior. Mattison has turned a group of largely three-star players into one of the nation's most consistent, solid defenses, one that would look a whole lot better statistically if the offense didn't continually put them in terrible situations this season.

Since you made me do it I'm going to ask you as well.  What is your score prediction for Saturday?  
It pains me to type this, but I pride myself on being as objective as possible while still acknowledging my fandom: Ohio State 41, Michigan 13. I think the Buckeye defensive line is going to overwhelm Michigan's offensive line, and while the Wolverine defense will keep them within striking distance for maybe half the game, OSU is going to pull away once it's obvious that the offense can't keep up.
---
Thanks, Ace for giving us some of your time.