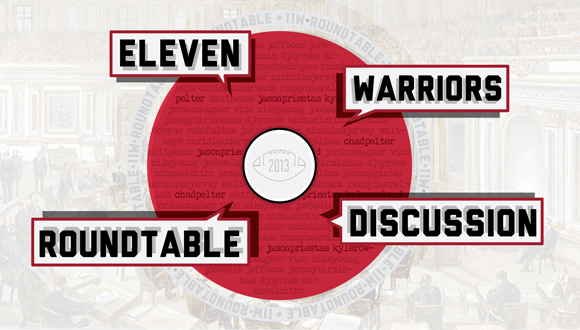 Welcome to The Game edition of the Eleven Warriors Roundtable. Let's get right to it.
It's Michigan Week. Let's kick things off with your favorite memory of The Game.
Jason: The '06 game was special and would probably be my top memory if it hadn't been tainted weeks later in Glendale. It was just an epic matchup, hyped beyond belief and a wonderful football game.
I'll have to settle on Maurice catching that wheel route in the 2002 game. Everything was on the line and Ohio State needed a play and the freshman delivered. 
Chad: I've never gotten the chance to see The Game in person, but nothing beats the 2006 game for me.
Kyle: The 2002 and 2006 games stand out. It's hard to top a No. 1 vs. No. 2 game that is one of the great games in the history of the rivalry. The buildup from September on was incredible. 
Much lip-service has been paid to focusing on the Wolverines, but does a piece of you think the team is looking past them to the B1G championship and beyond? Why or why not?
Chad: I don't think it's possible to look past The Game, no matter who the next opponent is. If the Buckeyes lose tomorrow it will be because Al Borges was replaced overnight with Art Briles, not because the Buckeyes weren't focused. I get being more worried about the Spartans - I was working on MSU stats at the same time as UM ones - but Urban will keep them focused.
Kyle: Not really. Urban Meyer is a master motivator and his staff has done a great job at making sure the players don't peek too far ahead. But I definitely think they realize how much better they are than Michigan. They're saying one thing to the media, but players are also realists. I'm sure even Michigan's players and coaches understand they have a major challenge ahead of them on Saturday. 
Jason: I want to say I'm worried about that because this is a team that's surely looked past opponents earlier this season, but Urban Meyer's rivalry record proves he gets these games. As much as fans are probably taking the Wolverines lightly, I don't think Meyer will let the team do the same. 
Devin Gardner ranks in the top 25 in interceptions thrown with 11 picks on the year. How many if any will he toss against the Buckeyes and who will be the lucky recipient(s)?
Kyle: I expect Michigan to throw the ball a decent amount. There's not much reason to think they're going to be able to run effectively and chances are Ohio State will control the scoreboard. It points to Gardner putting the ball air born frequently and he's prone to turning it over. I say at least one and probably two. I'll go with Doran Grant and Bradley Roby. 
Chad: Almost anyone in the back seven has the ability and should have the opportunity to snag an interception. Doran Grant has been playing extremely well, so I could see he or Roby triggering on a short pass to Gallon or Funchess.
Jason: I have a weird feeling he won't throw any. I hope I'm wrong, but I can see Michigan trying to run Manball™ on the Buckeyes with Green and limiting Gardner's chances downfield because Ohio State is a team that will take advantage of the errant throws Northwestern could not. 
Despite their struggles, the Sun and Blue are only giving up 116 rushing yards a game. How many do the Buckeyes pin on them this Saturday?
Jason: I think Ohio State tops that and by a good bit because I believe they will run the ball heavily late in the game to seal the win away. There's also the part about Michigan not having faced this line + Carlos Hyde before. I expect to see at least 250 rushing yards out of the Buckeyes Saturday. 
Kyle: Way more than Michigan's average. The Wolverines haven't seen an offense like Ohio State's, and while they haven't been the team's biggest problem, it's not like they're shutting people down. The Buckeyes just have too many weapons on offense to be completely hamstrung. Carlos Hyde, Braxton Miller, Dontre Wilson, etc. are too much. 
Chad: Much more than that. The Wolverines have done fairly well against the run - they're better than the NCAA average, and Mattison deserves some credit here. However, the Buckeyes have played two exceptional run defenses in Wisconsin and Iowa and have been able to run at will in the second half. I expect similar results here. 
One glance at any UM message board reveals an incredibly despondent fan base. Is this the most depressed you've seen Michigan fans heading into The Game?
Chad: Wolverine fans must be in a weird place right now. I'm looking from afar, but there seems to be a rough consensus that Borges isn't the answer, but then there are more uncertain, existential worries about whether their Michigan Men head coach and athletic director are making decisions in their best interest as well. I'd be interested in how this compares to the RichRod years - guess it's time for another John Bacon book. 
Jason: No. See 2008-10.
Kyle: I don't think anything can top the Rich Rod years. But the one thing about now compared to then is Ohio State is undefeated and in the thick of the national title hunt. Also making matters worse is that many thought Hoke was the answer after Year 1. Combine that with the fact that Meyer was hired two days after Michigan's win in 2011 and you really can point to that day as when everything changed. 
Seemingly no one wants to win the Heisman this year. Could Braxton Miller dark horse his way back into the conversation with two marquee wins before the ceremony?
Kyle: He can dark horse his way to New York, but not as the winner. I think Boston College running back Andre Williams deserves serious consideration. The guy is over 2,000 yards rushing and is doing incredible stuff on the field. Obviously Jameis Winston has been out of this world, while A.J. McCarron is vastly underrated. 
Chad: I don't think so, honestly. Not that he doesn't deserve an offer, but the numbers aren't quite the same as his opponents because of being injured. He'll have the opportunity next year. 
Jason: I don't think so. He'd have to have incredible games to pull it off – like 5 or more touchdowns in each game and a handful of highlight reel plays. It's a shame to think of what may have happened if he had stayed healthy all year, or even if Hyde had not been suspended. They could each be in the thick of the race. 
Is this 23-game win streak the most fun you've had as a Buckeye fan? Discuss.
Jason: It's been a blast, but the lack of national respect and the postseason ban last year take something off of it.  For me, the most fun I had as a Buckeye fan was the 2002 season. It's going to be hard for any stretch to top that because it was so unexpected.
Chad: It's pretty darn fun and it's difficult to appreciate just how special this is. The 2005-6 seasons were fun too, with huge matchups, big wins, and legendary players - but this 23-game streak has all of those as well.
HYPOTHETICAL ALERT: Let's say the Scarlet and Gray hang 60+ on the Wolverines in the Big House. Would that be a fireable offense for Hoke, or does he have one more year in the tank? Why or Why not?
Chad: I don't think he would be fired immediately - it's impossible to quantify, but I think the cultural-fit stuff really matters for hiring/firing decisions, and Hoke is perfect in that regard. Regardless I think he has to have the Wolverines seriously challenging for the B1G or a BCS spot next season. 
Jason: Maybe. I think he's definitely back next season as it stands, but may have to can Borges. If his team is embarrassed similar to how Rodriguez's team was embarrassed against Mississippi State in the Gator Bowl, we might see a move. But it would have to be incredibly ugly for Dave Brandon to pull the trigger. Like the 60 you mentioned, but probably worse.
Kyle: I don't see any scenario where Hoke is fired this season. I do think he enters next year on the hotseat, though. He's recruiting too well to be let go. 
What is your final score prediction?
Jason: Ohio State 37, Michigan 17. 
Kyle: 56-17. My first thought is 42-17, but I think the Buckeyes score a couple late touchdowns to run it up on it on their rival and make the margin look more impressive. Urban Meyer is not Jim Tressel. If he can twist the knife inside Brady Hoke a little bit, he well. 
Chad: 45-13. 
No. 1 Alabama is set to take on No. 4 Auburn in the Iron Bowl. Can the Tigers topple the final domino for Ohio State? Why or why not?
Kyle: They can, but I don't think they will. Auburn is playing great, but I think some of what they've done is smoke and mirrors. The Georgia win was about as lucky as you can get, Washington State could have beat them in Week 1 and a bad Mississippi State team lost by four points. That said, I see this game shaping up to be a classic. I just feel Alabama wins with experience. McCarron is very tough under pressure. 
Chad: Yes, they absolutely can, but I don't think it's necessarily likely. I actually like the Auburn D-line vs. Bama O-line matchup, and Auburn's outside run game and short passing game against the Alabama secondary. Alabama still has greater talent overall, but I won't be too surprised if Malzhan is able to pull it off. 
Jason: Absolutely. #WarEagle
Chances of Hoke wearing a headset on the sideline this Saturday?
Chad: Zero.
Kyle: I'd think he'll wear it sporadically. But I can't imagine it becomes a normal thing. Coaches are creatures of habit. If he doesn't usually wear one, I don't think he will change just because fans are criticizing him. Along the same line, I doubt Hoke is wearing a coat. 
Jason: 5%. Why break tradition?