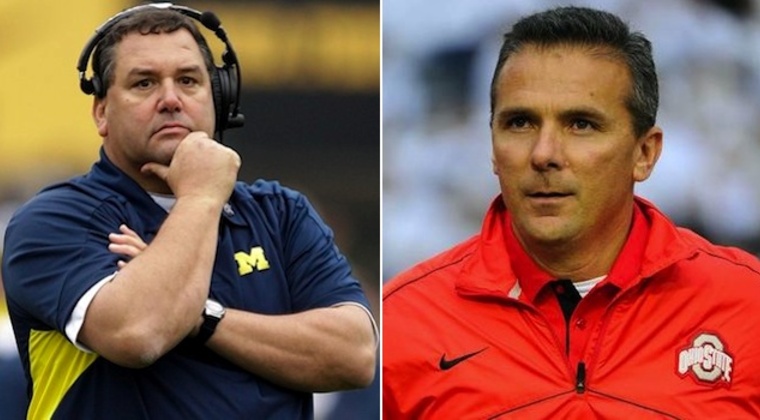 On November 28th, 2011 a new rivalry within the rivalry was born. A coaching rivalry that many hoped would approach a Woody-Bo level. Since Bo Schembechler retired in fact, the coaching battles have been a bit lopsided: Gary Moeller and Lloyd Carr dominated John Cooper, then Jim Tressel dominated Lloyd Carr and Rich Rodriguez. A promising first year from Hoke and the hiring of Urban Meyer set the stage for a possible resurgence of the rivalry, though on the field that doesn't seem to be the case just yet. Since the hiring of Meyer, Ohio State is 23-0, while Michigan is just 15-9 in the last two seasons.
Off the field though it's been a different story. Brady Hoke reeled in the 6th ranked class in 2012, the 4th ranked class in 2013 and currently holds the 11th ranked class for 2014 (according to 247 Composite Rankings). Meanwhile, Urban Meyer landed the 5th ranked class in 2012 (in three months, no less), the 2nd ranked class in 2013 and has the 5th ranked class for 2014, though is likely to finish even higher.
Stylistically, Meyer and Hoke are quite different, but despite these differences both have been very successful. Both coaches know that recruiting is critical for success in the rivalry as well as competing for championships, and have made securing top talent a major priority.
Words like "rockstar" and "all-business" are thrown around when describing Meyer's style, while Hoke is known for promoting a "family atmosphere" in the Michigan program. A lot of us have heard these descriptive phrases thrown around, but may not really know the specifics of how these two men recruit. Meyer's success on the trail is a bit easier to understand - many high school kids are simply mesmerized when they see him, think about his success at Florida and are told that he wants them. Meyer's track record on the field speaks for itself, but Hoke? Not so much. Yet Hoke continues to pull in top five and top 10 rated classes.
I can't count the number of times on this site and on others when I've seen people asking why players want to play for Hoke and why he is having so much success on the trail - even comparable to Urban Meyer. In fairness, Hoke hasn't really accomplished much on the field, but this is Michigan! Doesn't the brand recruit itself?
Well, yes and no. Lloyd Carr won a National Championship* at Michigan, but here are the rankings of his recruiting classes according to Rivals from 2002 to 2007: 16, 17, 8, 6, 13, and 12. While these classes are certainly good, Hoke has been better in his stint at Michigan despite not even winning a division title. Even Rich Rodriguez was a much bigger name than Hoke when he took the Michigan job, and he brought in classes ranked: 8, 8, 20 and 21 in his short time at Michigan. The fact remains, in the BCS era Brady Hoke has been Michigan's best recruiter (albeit in a small sample-size) despite little on-field success and not being an iconic name.
So what is Hoke doing? Well take it from Ben Gedeon, a consensus 4-star and one of the best players in Ohio for the 2013 class. Gedeon shared some details about the recruitment with an 11W source close to the Michigan program. The thing that stood out to Gedeon about Hoke was how down to earth he was. Gedeon said that when Hoke came to visit him, Hoke and Gedeon's dad had a beer together, which Hoke opened with his wedding ring. Gedeon called it "the sweetest thing I've ever seen." He actually went on to say that if Tressel was the coach at Ohio State he would have gone there, but Hoke is the reason he went to Michigan. When asked about Meyer, Gedeon called him "the biggest jerk I've ever met." Now this view obviously isn't shared by all of the recruits the two coaches are fighting for, but the source said that this style of recruiting is very effective with the blue-collar type kids and is a big reason why Hoke has been successful.
Hoke has done better than expected on the trail for Michigan and Urban Meyer is at least one of the top two recruiters in the nation, thus setting the stage for some classic recruiting battles.
The Battles Fought
Things escalated quickly between Meyer and Hoke shortly after Ohio State announced the hiring of their new coach. Bri'onte Dunn was one of the Buckeyes top targets at running back, and Michigan was making a strong push of their own for him.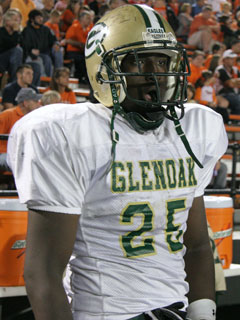 Most felt that the Buckeyes would eventually land Dunn, but the highly touted running back from Canton vistited the Maize Sun and Blue twice in November, and Hoke appeared primed to steal a top running back from the Buckeyes.
Urban Meyer was named head coach on November 28th, 2011 and called Dunn the same day. Shortly after, Dunn announced the Buckeyes were his leaders and committed to them two weeks later. He had barely been announced head coach and Urban Meyer had already set the tone with Brady Hoke.
The 2013 class featured a couple critical battles as the Buckeyes tried to steal a player out of Michigan and the Wolverines tried to sneak one out of Ohio. Actually, both David Dawson (4-star OL) and Gareon Conley (4-star DB) were committed to Michigan at one point before Meyer made every effort to try and flip them to Ohio State.
After committing to Michigan in February 2012, David Dawson picked up a scholarship offer from the Buckeyes in late July and ended up de-committing from Michigan in October. The Buckeyes, along with Michigan State and Florida were right in the thick of things until Brady Hoke and company eventually won out when Dawson picked the Wolverines for good in December.
Gareon Conley, on the other hand, was not going to get away from Meyer. Conley committed to Brady Hoke in March 2012 after taking a visit to Ann Arbor. Meyer and his staff were eventually able to get Conley to de-commit from the Wolverines and flip to the Buckeyes in December.
If 2012 and 2013 were any indication, Hoke and Meyer appeared destined to not only go head-to-head on the field, but on the trail as well. In the 2013 class Ohio State offered 134 prospects and Michigan offered 137. Fifty five prospects were offered by both Urban Meyer and Brady Hoke. Of the 55, eight picked Michigan and seven picked Ohio State. If you account for the fact that one of Michigan's eight (Dymonte Thomas) was committed to Michigan before Meyer even took the Ohio State job, the coaches were an even seven apiece. Now, not all of these commitments resembled the head-to-head battles of Dunn, Dawson or Conley. However, this is a good indicator of the success each coach has had recruiting against each other.
In 2014, the coaches have been statistically even again, with seven of Michigan's commits holding Ohio State offers and seven Buckeye commits holding Wolverine offers. This being said, only a few of them were truly "battles."
Landing Damon Webb has quite possibly been Urban Meyer's biggest victory over Brady Hoke on the recruiting trail.  With Webb, Ohio State secured arguably the best player in Michigan for 2014 and they stole him right out of Michigan's biggest pipeline, Cass Tech. Getting Webb to commit to the Buckeyes would be like if Michigan signed Marshon Lattimore - it was huge.
Kyle Berger was another big victory for the Buckeyes. Berger is a guy that both coaching staffs wanted very badly, and Michigan was confident they were going to snatch him out of Ohio. Landing Berger filled a major need for Ohio State and kept one of Ohio's top players in-state.
On the flip side, Drake Harris was a player that Ohio State really wanted, and Lawrence Marshall was originally a Buckeye commit (albeit for a blink of an eye). Both Harris and Marshall hail from the state up north, and preventing Ohio State from stealing three of the top four players in Michigan was a huge save for Hoke.
While Meyer's recruiting classes have been overall better than Hoke's, the two have been pretty even when they have gone head-to-head for kids. Some may argue that the players Hoke beat Meyer for were better or vice versa, but the fact remains that the coaches have been about dead even when they've gone head to head for players thus far.
Battles to come
For the remainder of the 2014 class, there doesn't appear to be any potential for Meyer and Hoke to go head-to-head on any prospects. Yes, Ohio State may have a small shot at Malik McDowell and Michigan may have a sliver of hope for Marshon Lattimore and Erick Smith, but in reality these players are most likely going to sign with the big boys in their respective states.
Looking ahead to 2015, things could once again get interesting. While Ohio State has started hitting the recruiting trail harder than Michigan for 2015, already giving out 88 scholarship offers compared to 35 by Michigan, the Wolverines have already landed a pair of major commitments of their own.
More so, 2015 could be the year where Hoke and Meyer go head-to-head on more than a few players. Blue-chippers Justin Hilliard (5-star LB from Cincinnati, OH), Mike Weber (4-star RB from Cass Tech, MI), Hjalte Froholdt (4-star DT from Warren, OH), Sterling Jenkins (4-star OT from Pittsburgh, PA) and several others all have Ohio State and Michigan near the top of their lists. Next season will be a defining year for Brady Hoke and company on the field, and it will be a time for the coaching staffs to really go head-to-head off the field. 2015 will be Meyer's third complete recruiting class and Hoke's fourth, with the coaches now fully established it may be the most competitive year yet.
The War
When the teams take the field tomorrow, the rivalry's next generation of players will line the sidelines. Nobody knows exactly what the rivalry will look like in two, five or ten years. Meyer has been dominant on the field and Brady Hoke has been far from it. Meyer is on top of the world and Hoke is on the hot seat. But on the recruiting trail the rivalry is strong and growing stronger. It probably won't look like it tomorrow on the field, but the work being done by these coaches in the recruiting trenches is laying the foundations for a return to competitiveness and national relevance for the rivalry, the way it was in the past and the way it always should be.