"I learned to dislike Michigan at a very young age." – Urban F. Meyer
I hate Michigan.
That may seem like an obvious statement by an Ohio State fan and alum on this, the holiest of Hate Weeks, in a season full of them. But I assure you, I mean it — not in that overwrought, hyperbolic way, like when you say you hate Brussels sprouts or cleaning the cat box. This is more like something primeval, innate, and terrifyingly real.
I absolutely despise that school up north.
As most of us are, I am prone to feelings of negativity and, for the most part, I try to weed out and extinguish those dark thoughts that we associate with words like "hate" and "anger" and "suspicion." But not so with this. No, I freely allow my hatred of Michigan to fly like a ballistic missile pointed straight at Ann Arbor.
Where did they come from, these feelings of rage and spite? What precipitated such scorn and vitriol? This wellspring of venom inside me must have a birthplace. I was born in New Jersey and lived my first four years on this planet there, so it is doubtful that I was simply born that way.
But was it one single action or circumstance that birthed this demon seed or an accumulation of misdeeds? A bit of self-analysis would indicate the latter.
My family moved to Heath, Ohio — about 30 miles east of Columbus — in 1970. The earliest recollection I have of Ohio State football is my father putting the Buckeyes on during their handful of televised games each year during the early 70s. At that time, the living room RCA console set was the only television in the house, and programming on that behemoth was confined to three major networks and the spotty reception of the local UHF channel.
While my mom cleaned or prepared something in the kitchen, my dad would put his feet up and watch Woody Hayes' Buckeyes bludgeon team after team.  Common scores during those days had Ohio State on the winning side of tallies such as 47-7, 51-10, and 35-0.
But Michigan was different. When the Buckeyes and Wolverines tangled, the games were tight, with scorelines that reflected that. Scores such as 14-11, 10-10, 12-10 and 14-6 were the norm, and the good guys weren't always on the winning side.
The blemishes were glaring. The tie in 1973 prevented a perfect season. The 1976 and 1977 losses prevented Rose Bowl trips. The feelings were starting to take shape. A very young version of me began to associate the Michigan Wolverines with imperfection and consolation games for my beloved Buckeyes.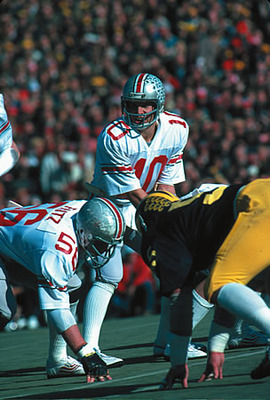 And they were becoming more and more beloved every year. I started missing fewer and fewer games and protesting vehemently if my parents dragged me out of the house on football Saturdays.
In 1979 I started a diary on regular notebook paper for no apparent reason. I still have it. One of the first entries mentions a discussion in home room of Art Schlichter and which NFL teams could most use his help. That was just an average weekday. Here is how the entry starts from the first recorded Saturday (Oct. 20):
"Well guess what. The Ohio State Buckeyes won 59-0 over Wisconsin. What a smear."
Yes, we used words like "smear" back then.
Ohio State's win was apparently the most important thing that happened in my life that day, taking precedence over going to see a local youth league game that featured two of my friends and a trip to spend the night at another friend's house.
The Saturdays that follow are similar. I mentioned the 42-0 win over Michigan State the next week. And so on. Clearly Buckeye football was becoming a very real presence in my life, and one of the more noteworthy events of my autumn Saturdays. I lived with the wins and died with the losses — especially those in The Game. Those generally decided Big Ten supremacy and bowl placement. It was the difference between a successful season and a lousy one. One stinkin' game in a schedule full of them.
It happened again my freshman year in high school. The Buckeyes dropped a horrible 9-3 home game to the No. 10 Wolverines, knocking Ohio State out of the Rose Bowl and into an eventual Fiesta Bowl loss to Penn State.  There were two blissful victories in the series and then a crushing 24-21 road loss to No. 8 Michigan, which relegated the Buckeyes to fourth in the conference and a trip to the Fiesta Bowl, which was not nearly as prestigious in 1984 as it is today.
That's why I hate Michigan.
My first Michigan game, and the second OSU game I ever attended, came in 1984. The Buckeyes won 21-6 to secure a trip to the Rose Bowl. It was exhilarating being in the Horseshoe for a win over Michigan to secure a berth in the 'Grandaddy of them All.' But it wasn't all great news. The girl I went to the game with broke my heart that day, relegating me to the "friend zone" forever. I was already familiar with the notion of Michigan breaking my heart. Now this? The association of losing to Michigan and heartbreak stuck.
That's why I hate Michigan.
I became a student season ticket holder in 1985. The Buckeyes fell at Ann Arbor that year, and they lost at home the next season, with me in Block O, helplessly watching a game-winning field goal try go horribly wrong.  Then came the disastrous 1987 season, but at least I got to see a win in The Game on the road, traveling with Block O to the Big House for Earle's final victory. That was a magical (and very cold) day.
The John Cooper years became a blur of outstanding talent and broken dreams, and those dreams were nearly always broken on the final Saturday of the regular season. This is where the roots from those seeds of hate took hold deep down in the lowest soil of my psyche.  The four straight losses, followed by a 13-13 tie in 1992.
Those were followed by the devastation of a 28-0 laugher in 1993, which was the difference between the Rose and Holiday Bowls, and a shot at an undefeated season (albeit with a tie against Wisconsin). Ohio State dropped three of the next four, too. Coop's teams couldn't get it done, and it was terrible.
That's why I hate Michigan.
The 1998 win was at least a little bit of a salve for the choke job against Sparty that cost Ohio State a shot at a national championship. But 1999 and 2000 were losses again and mercifully he was replaced by Jim Tressel. The long national nightmare was over and Buckeye Nation has enjoyed a great deal of success in the series ever since, falling only once during the reign of the Vest and once more during the zombie season under Luke Fickell in 2011.
But the success hasn't made me feel sorry for the Wolverines who have suffered at our hands. The rage and impotence of the Cooper years blackened and petrified something that originally became shriveled and raw at the look on Woody Hayes's face when Bo's teams got the better of him. There was something in the old man's eyes on those occasions that ate at me and made me never want to see it again.
That look in Woody's eyes…that's why I hate Michigan.
The season's defining game happens on the last week of the regular season. It's only natural that the feelings it inspires, for good or ill, stay with you throughout the year. It's the difference between feeling good for a full year or feeling unfulfilled. Now multiply that latter feeling several times over during the Cooper era and it's easy to see why that's how hatred is galvanized. No one wants to spend four straight years feeling bad. It's only natural for that much torment to blacken the soul.
Those prolonged periods in the 1990s of a sour stomach without a purifying victory to relieve it…that's why I hate Michigan.
It is those things and it is more. It is a lifetime of being foiled by the last obstacle in the way. It's the difference between a Rose Bowl you care about and a lesser bowl you don't. It's the culmination of all of the great moments that were great because Ohio State beat Michigan and those that weren't great only because the Buckeyes lost to the Wolverines.
Those ugly winged helmets…that's why I hate Michigan.
John Kolesar…that's why I hate Michigan.
Charles Woodson with a rose clenched in his teeth...that's why I hate Michigan.
Tim Biakabatuka…that's why I hate Michigan.
Jim Harbaugh, making good on his guarantee to beat Ohio State...that's why I hate Michigan.
Elvis Grbac…that's why I hate Michigan.
Being in Michigan Stadium when Desmond Howard did his Heisman pose…that's why I hate Michigan.
But, above all, because they turned tears of joy into tears of pain on so many occasions….that's why I hate Michigan.