The Ohio State defense turned in likely its best performance of the season in holding Indiana scoreless for much of the game Saturday.
The Buckeyes gave up yards but stiffened in the red zone, preventing Indiana from converting drives into points. Furthermore, many of the Hoosiers' yards were gained when the game was out of hand. To hold an offense as prolific as Indiana's to two late scores was an accomplishment.
The Buckeye defense played well by getting excellent performances from its top performers such as Michael Bennett and Ryan Shazier, as well as improved play from inexperienced players such as Josh Perry.
The Buckeyes are also showing improvements in fundamental issues, such as triggering underneath routes, an area where the team struggled early in the year. Luke Fickell and his defensive staff also deserve credit for settling on personnel groupings that put the Buckeyes in a position to succeed.
Below I address Ohio State's approach against the Hoosiers, the Buckeyes' speed defensive line, where the Buckeye defense has improved, and how Fickell & Co. may approach the Michigan Wolverines.
NASCAR...And 3-3-5?
Fickell responded to Indiana's spread offense by using his nickel, aka speed, defensive line. Specifically, he slid 3-technique Michael Bennett to nose guard, 5-techinque Adolphus Washington to 3-technique, with Joey Bosa and Noah Spence remaining at the 5-technique and Viper, respectively. Though Ohio State has used this front in pass situations, never before have they used this combination for such a sustained period.
In theory, the concern with this line is stopping the run because it lacks a true nose guard to create a pile. But Ohio State largely limited the Indiana run game. With this concern ameliorated, it provided an opportunity for the Buckeyes to play their best four defensive lineman and put four pass rushers on the field. 
From this personnel grouping, Ohio State often played what was in essence a 3-3-5 defense. Bosa, Bennett, and Washington aligned in a Bear front, meaning that Bennett played heads-up on the center, with Bosa and Washington both in 4i techniques. Noah Spence aligned as a stand up outside linebacker to the weak side, with Star Tyvis Powell aligning to the strong side gray area. Inside linebackers Josh Perry and Ryan Shazier assumed their normal inside alignments.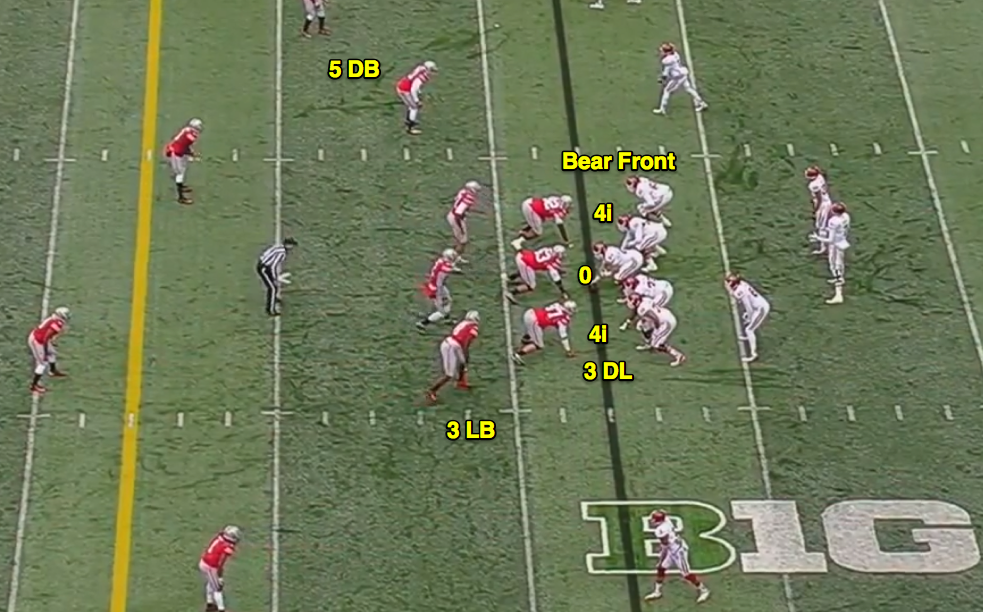 The Bear alignment covers up the center and both offensive guards. This prevented Indiana from getting double teams with their inside zone run game, allowing the Buckeyes to use the smaller front. Spence was utilized in a variety of roles, both in rushing the passer as well as dropping to cover the boundary flat in cover 3.
On third down, the Buckeyes went even smaller. Fickell utilized a 4-1-6 dime look with Shazier becoming a hand in the dirt pass rusher. Vonn Bell entered to in essence play Will linebacker.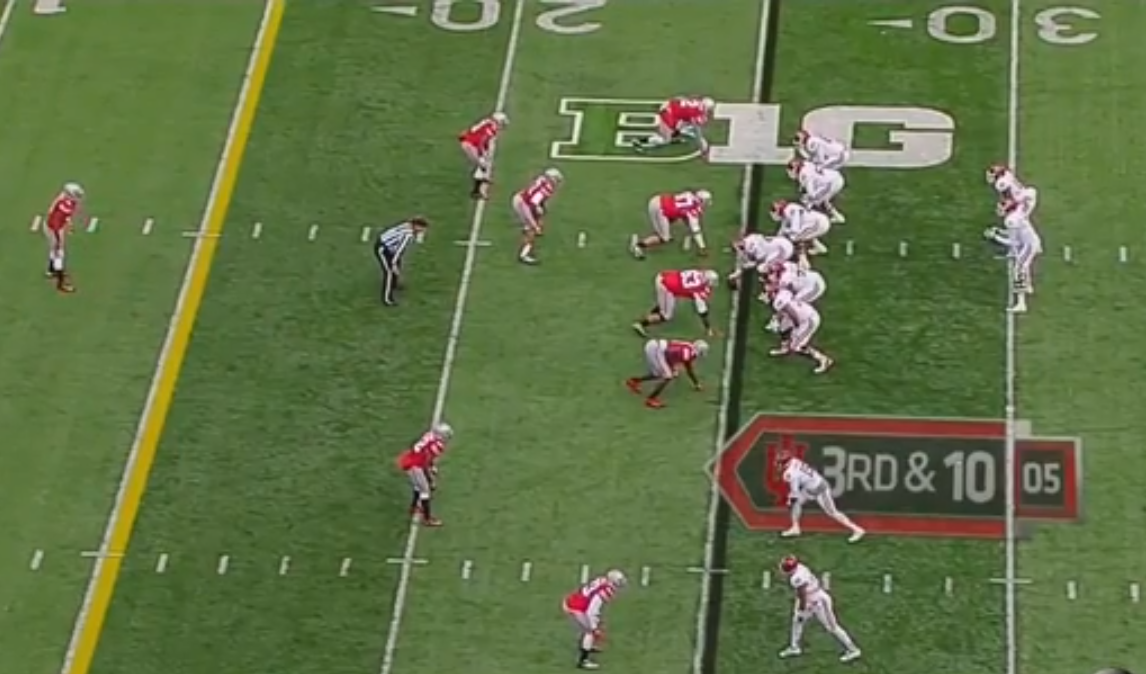 Stepping up
As noted, the Buckeyes were successful against the Hoosiers because they were largely able to make Indiana one-dimensional. Ohio State is getting improved play across the board from its young players but several performances stood out. Michael Bennett was nearly unblockable operating at nose guard. As discussed, Indiana could not get double teams inside with the Buckeyes in a bear look, and Bennett used his quickness to consistently beat his would-be blocker into the backfield, creating several tackles for loss. 
Josh Perry, after being noticeably missed at Illinois, continued his improved play from the nickel Mike linebacker position. Perry is staring to see the hole and take good angles to the ball. He is still too often catching a runner past the line of scrimmage rather than attacking the hole, but he is eliminating breakdowns that were previously present. Bell and fellow freshman Cam Burrows also flashed in extended playing time.
But no one may have had a bigger game than Ryan Shazier. With 20 tackles, Shazier was all over the field and made play after play in space. As Meyer discussed, the key to Shazier's improvement has been how he pursues the football. Shazier was always a great athlete but had a tendency to overrun a ball carrier. But he is now doing a great job of inducing a blocker to make a particular decision and then filling from underneath, knowing that he can use his athleticism to make the play.
Pull the Trigger
As a result, the Buckeyes were able to largely render Indiana one-dimensional, forcing the Hoosiers to throw against the Buckeyes' cover 3 zone.
The Buckeyes have surrendered passing yards in the underneath flats all season long from this zone look for two reasons. The Buckeyes' second level defenders have failed to get proper drops and pattern read within their zones, leading to easy completions. Even against Indiana Bradley Roby was working with Spence on getting the proper depth. 
The second primary issue has been that the Buckeye secondary has failed to adequately trigger underneath pass plays, meaning that Buckeye defenders failed to quickly recognize the pattern, come up and make a play on the ball or make a tackle.
On Saturday Ohio State still surrendered underneath passing plays to the Hoosiers. But Indiana was not able to turn these completions into explosive plays because the Buckeyes did a much better job triggering. Buckeye corners Doran Grant and Bradley Roby were particularly effective doing so. Grant made several plays where he recognized the potential throw, came underneath and deflected the pass.
Roby also made several nice plays based on recognizing where the football would be delivered and making a play.
It is in these often overlooked fundamentals where the Buckeye defense has improved. For instance, the screen pass below was notable for Shazier's big hit. And Shazier did a nice job taking an inside-out pursuit angle. But what allowed that play to happen was Star Tyvis Powell maintaining contain, which forced the tailback inside, allowing Shazier to make the play.
The Ohio State defense was able to combine these elements together to hold a prolific Indiana offense to 14 points, their second lowest season total, with the Hoosiers averaging only .152 points per play. The Hoosiers have legitimate playmakers such as Shane Wynn, and it was the Buckeyes' best effort to date of slowing down a good offense.
Two Ships Passing in the Night
An improving Buckeye defense now faces a Michigan offense that, if anything, is stuck in reverse. I have analyzed Michigan's offensive issues in-depth, but it suffices to say that the Wolverines have had little success running the football and should have a hard time doing so against a stout Ohio State run defense.
The Wolverines' best hope to move the football is through the air in the aforementioned underneath zones with their two best offensive play makers, Jeremy Gallon and Devin Funchess, hoping they can run after the catch to create explosive plays. Michigan must also likely rely upon running quarterback Devin Gardner to create some semblance of a run game.
Look for Ohio State to counter the Michigan offense by counting on its front six defenders to control the run game, allowing their secondary to play the pass. If Ohio State can force Michigan to be one-dimensional, it allows Fickell to use his speed defensive line. The Buckeyes' best pass defense against Michigan is their pass rush. The Buckeyes' defensive line – in particular Bennett – should be a mismatch against the Wolverines' porous interior linemen. Michigan's interior has also struggled with A-gap stunts and blitzing. Look for Fickell to use Shazier to blitz inside to continue the Buckeye defensive trend of creating negative plays.