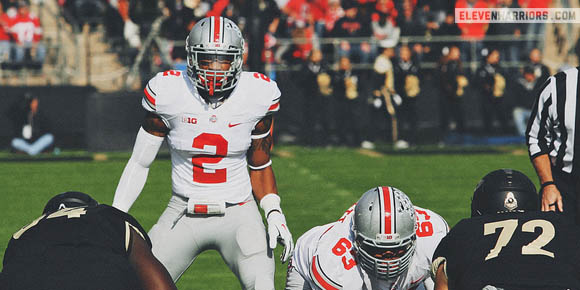 Ryan Shazier doesn't want to talk about it. Did you play your final game in Ohio Stadium Saturday? That question has been posed to Shazier in various capacities to which he's not yet answered, at least not directly. What's blatantly obvious is that his performance in the 42-14 thrashing of Indiana was his best as a Buckeye.
It is no secret that Shazier has evolved into one of the top linebackers in the country. The junior from southwest Florida counts a Big Ten-best 109 tackles and 20.5 tackles for loss to his credit. His NFL draft stock has soared this season with current projections tabbing him as a mid-first-round selection. That's why Saturday could have been his swan song in the Horseshoe.
Consider it a lasting image if it was his final act in Columbus. Shazier finished with a career-high 20 tackles, 16 solo, five tackles for loss, a sack, forced fumble and pass breakup. The 16 solo tackles tied a school record set by Tom Cousineau in 1978, the five tackles for loss tied a school record held by five players and the 20 tackles were the most by a Buckeye since A.J. Hawk tallied the same number in 2004.
It led to Big Ten defensive player of the week honors for Shazier, an award that is quickly becoming his own personal weekly pat on the back.
"I felt like I had a pretty good day, but I was just going out and doing what I had to do," Shazier said. "I didn't really know I had 20 tackles until the end of the game."
Pretty good is a curious way to describe one of the top defensive efforts in school history. Head coach Urban Meyer said Shazier's 54 production points were by far the most he's ever seen. This on top of 16 tackles, 3.5 tackles for loss, 1.5 sacks and a forced fumble against Illinois. Since switching to the No. 2 in honor of injured teammate Christian Bryant – six games – Shazier has recorded 72 tackles, 13.5 tackles for loss, 5.5 sacks and two forced fumbles. He's a first-team All-American candidate and surged to front-runner status for the Butkus Award. 
The increase in production is no coincidence. Shazier admitted the number change and absence of one of his best friends weighed on him.
"I think it's a really big impact. I've been playing for [Bryant]," Shazier said. "Before, I was just playing for myself and the team. Now it's like there are two people in me almost. I'm trying to make sure both of us are happy with the game I play. I'm just trying to do my part."
Shazier shares a close bond with many of the seniors, being just one class behind them. He confessed to crying in his hotel room before making the walk to St. John Arena and the stadium Saturday afternoon because of his attachment to the 19 fourth- and fifth-year players.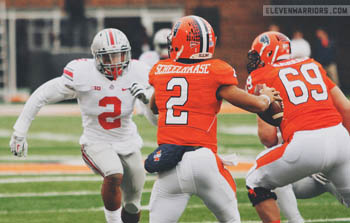 "I did everything I could to make sure Christian and the seniors went out with a bang," Shazier said.
Desire comes naturally when Ohio State and Michigan meet, which means Shazier could go into overdrive in Ann Arbor. If the trend in recent games continues, he might match or even surpass Chris Spielman's school-record tying 29 tackles in the 1986 edition of The Game. For Shazier, a week of feasts is on tap.
Michigan ranks last in the nation – 123rd – in tackles for loss allowed and 110th in sacks allowed, a whopping three per game. The porous offensive line creates no running space for running backs, leading to a field day for linebackers. The Wolverines rushing offense stands at No. 100. In back-to-back games in November, they ran for minus-48 and minus-21 yards. 
"That sounds good to me, but like every week, we're always going to get their best," Shazier said, when Michigan's TFLs were pointed out. "I know they've probably given up a thousand tackles for loss this season, but I know going into this game that they're going to try to give up as little as possible."
Last Saturday afternoon brought snow flurries and gusty winds to Central Ohio, making Ohio Stadium resemble Bedford Falls, N.Y. When you've grown up on the Gulf of Mexico, late Novembers in the Midwest wreak havoc with your mind and body. Shazier snickered at the suggestion that it was football weather.
"To me, football weather is 95 degrees," he said, laughing.
Emotion drives Shazier on the field, something he's learned to harness into production. A bulk of it coincides with fellow linebackers Curtis Grant and Joshua Perry still not at the level Meyer and Luke Fickell expect. But even running back Carlos Hyde, who doesn't have too many opportunities to watch the defense on the sideline, has taken notice to Shazier's on-field exploits and referred to him as the top linebacker in college football.
The same goes for Meyer, an offensive-minded coach, but he's observed Shazier's gangbuster style and also credits the passion Shazier exudes each time he steps foot inside a stadium.
"He's playing at a very high level," Meyer said. "His heart is everything. He wears his feelings on his sleeve, and the players love him for it. And so do I. He's a very emotional player who plays that way on the field."
Said Shazier: "My goal is to be one of the best. I'm just going to keep doing what I do and do my job."