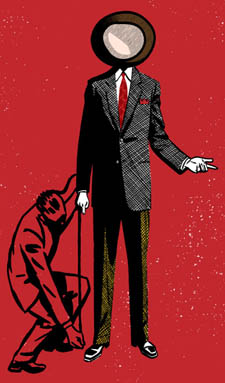 When Brady Hoke and Urban Meyer came along, the Ohio State-Michigan rivalry was as down as it'd been in decades. Following en epic No. 1 vs. No. 2 showdown in 2006, the Rich Rodriguez era high-jacked one of college football's greatest rivalries.
The outcome of The Game was known long before the bitter rivals took the field during a three-year period, from 2008-2010. Then Hoke, an Ohio-born Michigan Man, arrived in Ann Arbor to resurrect the once mighty program.
Year 1 was a resounding success. The Wolverines won 11 games, beat the Buckeyes for the first time in eight years and capped the season with a thrilling overtime victory in the Sugar Bowl. But great expectations in Hoke's second season ended almost before they began. An embarrassing 41-14 loss to Alabama in the opener gave way to an inconsistent 8-5 record and loss to Ohio State.
Meyer was hired two days after Michigan beat the Buckeyes in 2011. From that day on, they've beaten the Wolverines in nearly every facet – games, recruiting, etc. As the teams prepare for the next chapter in a non-fiction drama, the renewed 10-Year War many thought was on the horizon appears far-fetched.
Ohio State is riding a 23-game win streak, while Michigan, ranked as high as 11th in September, has won just seven games. The Wolverines are still recruiting at a high level, but questions about Hoke's coaching ability are at an all-time high.
"People are going to have opinions, and I understand what they're going to say," Hoke said. "I would hope there would be higher expectations. This is Michigan."
A loss to the hated Buckeyes followed by another bowl defeat could put Hoke on the hotseat entering the 2014 season. The 10-Year War could turn into the Three-Year Surrender.
Opponent Breakdown
Unexpectedly, it's turned into a lost year for Michigan. The season had high hopes in August. Talk of the Wolverines and Ohio State meeting in back-to-back weeks dominated conversation in the Midwest. But it quickly went up in smoke once Michigan lost one game, because the floodgates opened soon thereafter.
The Wolverines enter Saturday's game having lost four of six games. Instead of winning a Big Ten championship, they're likely to finish in fifth place in the Legends Division. The downfall starts with the offense.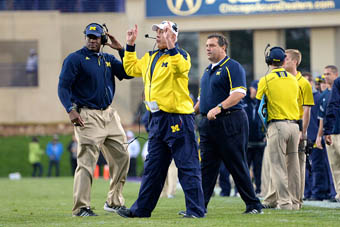 Michigan ranks 95th (out of 123) nationally in total offense, 100th in rushing offense and 123rd in tackles for loss allowed. In November, the Wolverines are averaging 32.5 yards rushing per game thanks to minus-48 and minus-21 yards in consecutive games.
The warning signs came early after squeaking by Akron and Connecticut, two of the worst teams in the country. At halftime of the Notre Dame game – the second game of the season – all appeared right in Ann Arbor. Michigan was throttling the Irish and quarterback Devin Gardner looked like a perfect fit for Al Borges' system. But the second half started a downward spiral for Gardner that truly hasn't been corrected.
On the season, he's completed 58.7 percent of his passes for 2,509 yards with 17 touchdowns and 11 interceptions. Eight of those picks came in the first five games. Gardner's last interception was Nov. 2 against Michigan State.
In the last four games, Gardner is averaging 182.5 yards passing and he's lost a total of 47 yards rushing.
"He's had some really good moments and some moments that he would rather redo if he could," Hoke said. "I think we all have that. I do as a head coach. There are always moments that you think about and say, 'Maybe we should've done this.' He's been pretty resilient. He's a guy who comes to work every day to get ready to play."
Part of Gardner's downfall is due to the inconsistent offensive line protecting him, but his decision-making has been average at best. The passing offense only ranks 62nd in the nation. But they've shown an ability to put up mega numbers.
The Wolverines had a school-record 751 yards against Indiana, a game wide receiver Jeremy Gallon set a conference mark with 369 yards receiving. Tight end Devin Funchess is another playmaker on offense. 
Michigan's defense has been a bend-but-don't-break-unit all season. The record shows four losses, but it's not a huge fault of the defense. They rank 21st in total yards allowed and 52nd in points allowed. What Ohio State does well, though, could drive the Wolverines mad. Containing dual-threat quarterbacks and competing against stout offensive lines isn't their forte – nor is it anyone's, quite frankly.
Linebacker Jake Ryan still isn't the player he was due to an injury, but he can still bring energy in spurts – he did so last week at Iowa – and give the defense an added inspirational value.
Where the Wolverines could make up ground is special teams. That's an area they've used before to create upsets over Ohio State. Kick returner Dennis Norfleet is one of the best in the Big Ten. Brendan Gibbons could also change field position with booming punts.
Buckeye Breakdown
If you go through a tale of the tape for the Ohio State-Michigan game and grade out every position, there are only one or two the Wolverines might have the upper hand. Perhaps the most lopsided battle is the Buckeyes' defensive line against Michigan's offensive line. The cliché games are won in the trenches may never be truer than Saturday in Ann Arbor.
The Wolverines' erector set O-line presents little challenge to an Ohio State defensive line that's overpowered opponents since the season opener. Michigan has used five different lineups, which has made the revolving door of linemen look like a game of musical chairs.
In 11 games, the Wolverines have allowed over 100 tackles for loss and 32 sacks.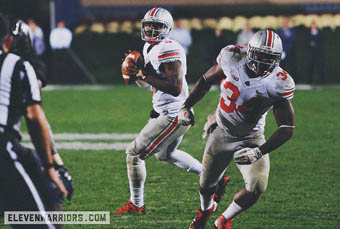 "Watching film, they have a good group of O-linemen," junior Michael Bennett said. "I don't know what motivates them day-by-day. I know they will be motivated against us. I know we have to come ready to play, too."
It shouldn't be a problem for the Buckeyes. Noah Spence has 42 tackles on the season, 13 tackles for loss, 7.5 sacks, one fumble recovery and a forced fumble; Joey Bosa (nine tackles for loss, five sacks, fumble recovery) and Bennett (10 tackles for loss, 5.5 sacks, two fumble recoveries, two forced fumbles) each have 31 tackles; and Adolphus Washington has recorded 26 tackles, 3.5 tackles for loss and two sacks. Tommy Schutt and Joel Hale are also part of the defensive line rotation.
"I think they're doing an amazing job right now," senior linebacker Ryan Shazier said. "Those guys, they're opening so many lanes for us to run through. They're making plays in the backfield, just causing so much destruction to the offense. It just makes it easier for the back half of the defense to play. With them guys just making all that noise in the front, it's making it a lot easier for us."
Watching the Ohio State offensive line proves how valuable an effective unit upfront is. Defense might win championships, but the O-line is the key to everything on offense. Without a good one, it's nearly impossible to win at a high level.
Michigan's 128 rushing yards per game is not enough to open up the passing game, while Ohio State's 315 yards afford it the freedom to do just about anything it pleases.
"I think it's the communication," said senior center Corey Linsley about what makes the Buckeyes' line so good. "Nobody's freaking out. Everybody is calm, relaxed, they know I'll get the call. If I don't get the call, they know we will say it's this way, and they'll say yeah, yeah. So there's a level of comfort with each other that is definitely special."
How it Plays Out
It's back to the mid 90s for Michigan. Problem for the Wolverines is those teams that upset Ohio State underachieved much of the season until reaching late November. The 2013 Michigan team hasn't underperformed, it just isn't that good.
If the name on the jersey were anything other than "Michigan," this game would draw little fanfare and wouldn't create near as much focus for the Buckeyes. While it's a throw-out-the-records type game, Michigan's offensive line is so bad that it's hard to envision a scenario where it can limit Ohio State's havoc-inducing front seven.
It will take more than just the Wolverines' best game of the year to derail the Buckeyes. Ohio State would have to turn the ball over several times leading directly to Michigan touchdowns.
This game sets up perfectly on both sides of the ball for the Buckeyes. Braxton Miller and Carlos Hyde know what success looks like against the Wolverines because they've already experienced it in their careers. Those two players are even better now and playing at their highest level. The same can be said for Ryan Shazier and the defensive line.
Michigan's great hope is that Gardner can return to form, like the Notre Dame and Indiana games when he set a school record with five touchdown passes. But even though the Ohio State secondary has given up yards the past two weeks, the unit has improved drastically since the midpoint of the season.
---
ELEVEN WARRIORS STAFF PREDICTION: Ohio State 42, Michigan 17