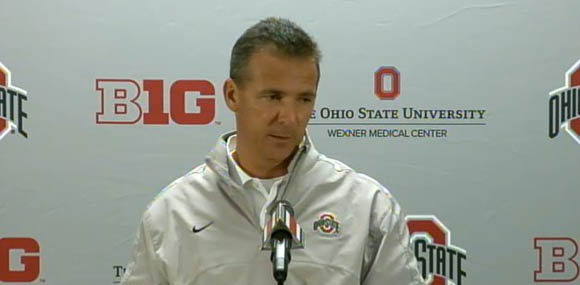 Here comes Baylor, here arrives national headlines and there goes Ohio State. Following the Buckeyes' 60-35 victory amid less than ideal conditions – injuries and weather – head coach Urban Meyer proclaimed that the Buckeyes would no longer glance outside its own world. Concentration is on Indiana and staying focused on happenings in the Woody Hayes Athletic Center.
"We weren't really playing a good game, but we still put up 60 points," said quarterback Braxton Miller. "Just have to put a hard effort in. You have to give it your all."
This week, the Buckeyes welcome Indiana into Ohio Stadium for Senior Day. The 18 fourth- and fifth-year players have been through endless ups and downs during their time in Columbus.
Years under Jim Tressel were spent beating Michigan and winning BCS bowls, then came a year of upheaval followed by unprecedented success. What those players mean to the program is not lost on Meyer. The group has invested and restored what it means to be a Buckeye, returning the tradition-rich school to a lofty place on college football's totem pole.
Urban Meyer
Offensive champions: Corey Linsley, Jack Mewhort, Jeff Heuerman, Evan Spencer Philly Brown, Carlos Hyde and Andrew Norwell.  Hyde and Norwell were co-players of the game.
Defense: Michel Bennett, Joey Bosa, Ryan Shazier, Noah Spence and C.J. Barnett. Shazier, Spence and Barnett were tri-players of the game.
Special teams: Cameron Johnston and Ron Tanner. Tanner player of the game.
Meyer said this week is all about the 18 seniors and getting healthy. Ohio State has nine scholarship players who are out for the season.
Joey Bosa (neck) should be available Saturday, according to Meyer. Joshua Perry is probable, Curtis Grant 50/50.
Talk of the winning streak is non-existent. Meyer said there is no emphasis on it. Instead, they're focusing on special teams, where five offensive players are on the unit.
Meyer said the BCS is a flawed system that did the best it could. "It worked great for a while." He said controversy will still exist with playoff.
The impact Kenny Guiton's had on Braxton Miller and the football program is "profound," Meyer said.
On Carlos Hyde's improvement from 2012 to 2013: "He's more mature, handles his business. He's 230 as opposed to 240 and change. Much faster now. He has acceleration now and is playing very aggressive."
Meyer was asked about the national title and OSU's perception in media and instead talked about special teams with sly smirk on his face. It caught a chuckle from the media.
Asked if Miller needs another year of college, Meyer answered, "I don't know." Meyer said he hasn't had NFL conversations with any players, but think Miller, Shazier and Bradley Roby are the candidates.
Meyer said he had a pit in his stomach leaving Illinois Saturday afternoon. He gave himself grade of "C" and said coaches have to get better.
On defending Miller and Hyde: "It's a problem. We are blocking the perimeter as well as I've ever seen. The guys blocking for them are really really good right now. Difficult to defend."
Tom Herman
Herman said the public gets enamored with offensive skill players, which is how Jack Mewhort's appreciation goes under the radar. Meyer called Mewhort the offense's MVP and Herman expanded, saying he's the glue that keeps everything together up front.
Miller's throwing was hampered by wind, but Herman said to totally blame it is overboard. That said, he admitted he should have called a better game.
Herman was asked about his newborn son, Maverick. He quips, "I'm glad he's not blond-haired and blue-eyed, because I haven't been home much."
Herman said despite all the offensive success this season, OSU can still get better at throwing the ball. Teaching to do in several areas.
On defending the read-option: "Teams have gotten better at having a couple of different answers. You can't play the dive the same way every time.  Teams are switching it up, I don't know if there's one way more common than the other. We see a variety every game."
Herman said you adapt to expectations where you're at. Team and offensive success at Rice, Iowa State, OSU very different.
"Wins are really, really hard. And winning on the road is really hard." –Herman.
Herman said Dontre Wilson deserves to play more. But points out OSU has so many playmakers on offense. "Every time he touches the ball, Miller, Hyde, Philly don't." Herman said he needs to find more ways to get Wilson the ball.
On Miller's long TD run: "We were in jet tempo, going fast. Illinois had a check where any time we went into jet they went into cover zero and blitzed. The guy he made miss was unaccounted for. He made a great read and then made the guy miss like I've coached him to."