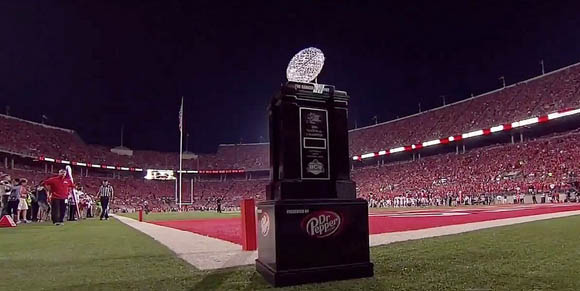 | RK | Team | BCS |
| --- | --- | --- |
| 1 | Alabama | .991 |
| 2 | Florida State | .946 |
| 3 | Ohio State | .887 |
| 4 | Baylor | .886 |
| 5 | Oregon | .792 |
| 6 | Auburn | .786 |
| 7 | Clemson | .768 |
| 8 | Missouri | .723 |
| 9 | Stanford | .624 |
| 10 | Oklahoma State | .589 |
Sunday morning began with a thud in Columbus. Ohio State dropped to fourth in the AP Top 25, perhaps signaling a succession of falls resulting in a fourth-place ranking in the newly released BCS standings. Storms brewed all afternoon and evening, but instead of following suit, the Coaches and Harris Poll voters kept the Buckeyes third, the same location as the BCS.
Alabama is No. 1, followed by Florida State, Ohio State and Baylor. The Buckeyes' lead on the hard-charging Bears is just one thousandth of a point. Ohio State owns an average computer rating of four, Baylor's is five.
After Stanford beat Oregon last week, there was chatter about the Buckeyes being in danger of Stanford passing them. But USC took care of that possibility by defeating the Cardinal Saturday night. Stanford plummeted to ninth in the BCS.
For Ohio State, the task has not changed since the first standings were released in October: win and root for chaos in Tuscaloosa and/or Tallahassee. Taking notice of the events in Waco has now become a weekly routine.
Baylor is the nation's highest-scoring team that also located a respectable defense. But the Bears must travel to No. 10 Oklahoma State this Saturday, a game that will garner a high TV rating from Columbus, Dayton, Cleveland and other Ohio cities. A Baylor victory will almost certainly allow them to leapfrog Ohio State. In the Coaches and Harris Polls, the Buckeyes' advantage on Baylor is 18 and 32 points, respectively. 
The Big Ten has been maligned for nearly a decade now. However, in a season where the mighty SEC's depth has been exposed, its Midwestern colleague is showing signs of life. Michigan State, ranked 13th, continues its rise and Wisconsin is No. 19.
Fresno State remains in the catbird seat for a non-automatic qualifier berth in the BCS. The Bulldogs are 15th, three spots clear of Central Florida. Northern Illinois is ranked 16th.