Historic winning streaks that span multiple years used to be soured only by the fear of losing.
That inevitability of creeping death - usually via Ann Arbor, a California school on New Year's Day, or more recently something toxic and alien from West Lafayette - was all that spoiled the enjoyment of lengthy unblemished Saturday sequences.
You kept bracing for the end of it all, and only that worry was capable of diminishing the fun you should have been having.
Those culprits are all still there, but fear isn't wrecking your pride anymore. It's those damn media people with their obvious biases and their unending attack on everything you love.
It's plastic narrative merchants dedicating their deadlines to making sure everyone understands just how inconsequential Ohio State's 22-game run is. They're overtly and unabashedly biased without any nuance or objectivity, resulting in Buckeye fans dedicating significantly more energy to hating the media than to enjoying this streak.
And you know what? It's exhausting.
Media disrespect didn't always feel like this. Contempt by pollsters never stung so badly. The line of schools poised to jump Ohio State in the rankings - BCS rankings, poll rankings, some computer guy's rankings, all of the rankings - forms directly beneath your favorite team.
You feel helpless. You're angry. These aren't the typical emotions for fans of any team that has won 22 goddamn games in a row.
        OHIO STATE & 2013 AP POLL:
    THE CONSEQUENCES OF WINNING

| WeeK |              Result | AP Rank | +/- |
| --- | --- | --- | --- |
| 1 | N/A (preseason poll) | 2 | - |
| 2 | Beat Buffalo by 20 | 3 | (1) |
| 3 | Beat San Diego St by 35 | 4 | (1) |
| 4 | Won at Cal by 18 | 4 | - |
| 5 | Beat Florida A&M by 76 | 4 | - |
| 6 | Beat #23 Wisconsin by 7 | 4 | - |
| 7 | Won at #16 N'Western by 10 | 4 | - |
| 8 | Bye | 4 | - |
| 9 | Beat Iowa by 10 | 4 | - |
| 10 | Beat Penn State by 49 | 4 | - |
| 11 | Beat Purdue by 56 | 4 | - |
| 12 | Bye | 3 | +1 |
| 13 | Beat Illinois by 25 | 4 | (1) |
It's not that you're upset with imaginary contempt, either: The voters responsible for the AP Poll have not rewarded Ohio State even once for any of its ten victories this season. The Buckeyes have either maintained their spot or taken a demotion - for every win.
The only instance where the Buckeyes were rewarded by the AP came ahead of last week, when they climbed one spot…while on a bye. Then came the 60-point outburst struggle against Illinois in the cursed Champaign wind tunnel, which promptly knocked them back down a spot again
Yeah, the AP doesn't figure into the BCS formula, but it seems that none of college football's judges are taking Ohio State's side this season.
The latest recipient of your angst is Baylor, the newest media darling and benefactor of the season-long who-will-jump-Ohio-State-next media campaign. Despite its conspicuous offensive fireworks, you're struggling with Baylor because your football memory extends beyond the past 20 minutes. It's your curse.
Baylor has played just two road games this season, both in Kansas, with one a ten-point come-from-behind 4th quarter escape (like, a real escape - not a 25-point win over Illinois escape) at Kansas State, which left the Wildcats with a 2-4 record. 
It's also a program which has played in three bowl games over the past two decades, finished the season ranked in the top 25 one time since 1986 and who gave Indiana its most recent bowl victory.
ESPN is now manufacturing more intrigue about Baylor's rise, citing Ohio State's weak strength of schedule (72nd) while failing to provide the same metric for Baylor's (it's 85th, but why waste the keystrokes).
This is Baylor football. It gets the benefit of the doubt over Ohio State in 2013.
Hey, random guy on Twitter named Rob Hayes - is this unreal or what?
@ramzy this is unreal. '09 win Rose. '10 win Sugar. Institutional nuke in '11. 22 straight wins. That's how you turn into Boise.

— Rob Hayes (@RTHayes44) November 16, 2013
Rob Hayes says it's unreal.
Your Buckeyes are already guaranteed to end the BCS era with more BCS bowl appearances and BCS bowl victories than any other program. They are commandeered by that Urban Meyer guy who has won everything, everywhere. He has an .847 winning percentage despite only taking over messy situations in his coaching career without exception.
Yet despite those favorable variables and history, apparently it's just safer to discount the weakness of the Buckeyes' opponents than to assume that maybe Ohio State is worthy of consideration over the likes of Baylor. Or even Florida State, which will likely play Duke in the ACC title game.
Duke. The ACC is 3-13 in BCS history, with those three triumphs coming against Northern Illinois, Cincinnati and current member Virginia Tech. The Big Ten is 12-14 and Ohio State is 6-3. Florida State is assumed to be superior this season for rampaging through a conference that is mathematically no better than Ohio State's.
You understand facts and history, which is why you detest the narrative. You tolerated almost half of the OSU-Illinois game broadcast listening to nepotism hire Brian Griese transparently manufacture intrigue about the Buckeyes' ranking based on a few possessions with the game out of hand.
Ohio State, down two starting linebackers, a starting safety and a starting defensive lineman allowed 29 points to a team averaging 30 per game. It scored 60 despite playing inconsistently. Once Tom Herman recognized how effectively the wind was turning Braxton Miller's lasers into kites, he defaulted to telegraphed El Guapo runs the Illini could not stop.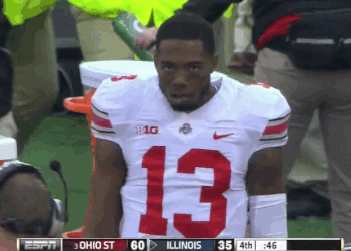 This performance was the most recent cause for a demotion. Add the Illinois game to the growing list of reasons to doubt the Buckeyes.
It's all an orchestrated function of marketing college football's title chase, combined with - deny it all you want - the lingering, catastrophic damage inflicted on Ohio State's national perception almost seven years ago by Meyer at Florida.
It's exhausting. But it doesn't have to be.
Someday in a distant future long after flag football replaces tackle football - in a world with flying cars and lab-grown ribeyes - you will be faced with preparing for your death. If you're like everyone who passed through the threshold before you...you'll have a few regrets.
You'll wish you handled several things in your life differently. You'll wonder what your career might have been had you pursued something different. You'll wish you talked to that girl.
The death bed for this 2013 seasons arrives in a little under two months. Four Ohio State football games are all that remain; just one in Ohio Stadium. Then it all expires, and all you'll remember are the highlights you're currently glossing over with angst.
In mid-January you won't remember staying up too late last Saturday night hoping Texas Tech wouldn't fade against Baylor, or how over-hyped Miami was when the Seminoles made yet another statement in the annually mediocre yet lightly-ridiculed ESPN TV property ACC.
You'll barely recall breaking your remote when Mississippi State settled for chip-shot field goals against Alabama - that they missed - helping the Crimson Tide to a workmanlike 20-7 win against an SEC West foe that Northwestern blew the doors off of earlier this year.
Instead of worrying about holes in Baylor's resumé, try wrapPING your head around Carlos Hyde averaging eight yards per carry.
Instead of worrying about the holes in Baylor's resumé, try to wrap your head around Carlos Hyde averaging eight yards per carry. His final home game is Saturday, and if he wants to rush for 200 yards on 20 carries against the Hoosiers, he will.
Miller, Ryan Shazier and Bradley Roby may opt for professional football next season. Jack Mewhort and Philly Brown don't have the option of returning. It's Senior Day, and if you're too wound up about media disrespect and BCS rankings, you might miss it.
For as long as you can remember being an Ohio State fan - and being in love with being an Ohio State fan - it's been about the Buckeyes. This is one of the most talented, entertaining and likable teams you will ever have the pleasure of enjoying.
Don't wait until the season expires to appreciate that. Historic winning streaks that span multiple years used to be soured only by the fear of losing. This streak is different. The media and the final season of the BCS are both diligently and preemptively souring it for you.
And it's exhausting. But it doesn't have to be.