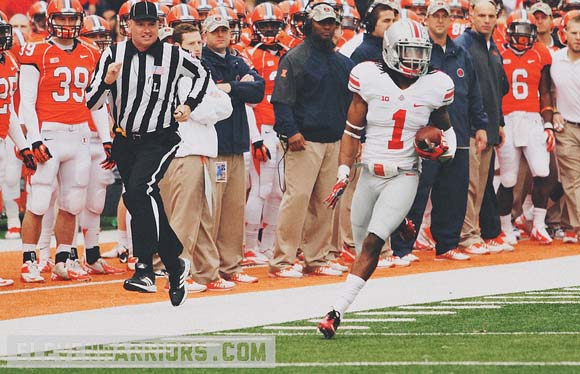 This game had it all. A fast start, a young defense taking its foot of Illinois' throat, sadness and frustration from Ohio State fans worried about teams jumping the Buckeyes in the BCS standings, and then the late heroics of Carlos Hyde to put the game out of reach.
Here are 16 GIFs that tell the story of Ohio State's 60-35 win over the Fighting Illini.
Braxton Miller got the party started early with this 70-yard touchdown run just 36 seconds into the game.
On the very next possession, Illinois quarterback Nathan Scheelhaase gave the ball right back to the Buckeyes, thanks to this C.J. Barnett interception.
We laughed until we cried two years ago when Michigan punter Will Hagerup muffed a snap in The Game, so it's only fair that we laugh at ourselves a little here. Miller doesn't quite share the mortified expression of Hagerup, thankfully.
Hey, it's Braxton Miller making something out of nothing. Again.
A few plays later, Miller found Carlos Hyde on this 18-yard pass to put Ohio State up 14-0.
And then Scheelhaase decided it would be really cool to see what Bradley Roby looked like racing down the sideline.
Just Joey Bosa, doing Joey Bosa things. Bosa would finish with 2.5 sacks Saturday.
This 11-yard pass from Miller to Philly Brown put the Buckeyes up 28-0 four minutes into the second quarter.
After a V'Angelo Bentley punt return put the Illini on the board, Ohio State answered with this 8-yard run from Carlos Hyde to push the lead back to 28.
Apparently angry that Bentley had returned an earlier punt, Cam Johnston drilled this on 71 yards, pinning the Illini deep in their own territory.
Three plays later, Ryan Shazier met backup quarterback Reilly O'Toole and a safety did ensue (though Noah Spence will surely get clowned on during film session for not coming away with a touchdown).
Life in Champaign these days.
Hyde's third touchdown of the afternoon put Ohio State up 44-21.
After Illinois had cut Ohio State's lead to 12, Hyde answered with this 51-yarder to put the Buckeyes up 53-35.
Two minutes later, Hyde would add another touchdown, his fifth, coming on a 55-yard run to finish of the scoring. Hyde ended his day with a personal best 246 yards on 24 carries. That's why he's so handsome.
---
Want more GIFs from this game? Head to the Illinois GIF Overflow.