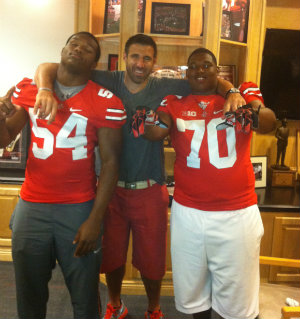 The Big Ten added two new pledges, but Rutgers lost one of their top commitments this week. High school seasons are beginning to wrap up, therefore many prospects will begin to refocus their attention toward their upcoming college decision. That means we're just three months away from National Signing Day 2014.
The two schools that picked up commitments this week? Iowa and Michigan State. The Hawkeyes' latest commitment moves them up to eighth in our rankings. 
In Buckeye land, Ohio State's coaching staff spent a few days dedicated to recruiting. Urban Meyer attended Glenville's playoff game to see two key targets, while the other Buckeye coaches were all over the country checking out some of the top prospects. The relentless effort by the staff is setting up for a strong finish to this class. 
The Buckeyes aren't the only school recruiting well. The Wolverines are expecting to land a five-star commitment from Da'Shawn Hand, Nov. 14. 
Now, on to the rankings.
14. Minnesota
The Gophers continue to win but they really haven't turned that into any recruiting success. Jerry Kill remains adamant about returning to the sideline, although recruits could be weary with the medical conditions he has been dealing with. College GameDay recently mentioned that the Minnesota-Wisconsin game, Nov. 23, in Minneapolis is a possibility for the show. That would be huge for the Gophers and a great story. 
Commitments: No new commitments this week. 
Visitor news: Minnesota will take an 8-2 record into their bye week. The coaching staff will surely spend a little extra time recruiting. 
13. Illinois
Tim Beckman and company continue to do a less than impressive job on the recruiting scene. The highlight of Illinois recruiting is possibly poaching a low two-star recruit, Isaiah Wharton, from Florida A&M and Weber State. 
Commitments: No new commitments this week.
Visitor news: The Illini will host Ohio State this weekend. This weekend figures to be a big recruiting weekend for Illinois, but Buckeye fans will probably cover a good portion of the stadium. 
12. Purdue
The Boilermakers continue a season they soon hope to forget. Attendance is poor and performance is terrible. Purdue could very well finish with a 1-11 record, with the lone win being a six point victory over Indiana State. Darrell Hazell's job is probably safe, but he has one heck of a rebuilding job ahead.  
Commitments: No new commitments this week.
Visitor news: Purdue will be heading to Happy Valley. No recruiting visitors. 
11. Indiana 
The Hoosiers have struggled this season and it's looking like a bowl game is a long shot. Missing out on a bowl game will give Kevin Wilson more time to recruit, however, he needs on the field success to sell to recruits. The bottom Big Ten teams need to recruit better and hope that translates to on the field success. 
No one is more excited for basketball season than the Hoosiers. 
Commitments: No new commitments this week.
Visitor news: Indiana will head to Madison to take on Wisconsin. The following weekend, they will head to Columbus before wrapping up their season with a home game against Purdue. There will be no visitors until Nov. 30.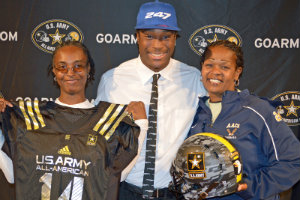 10. Maryland
Maryland continues to sit in the tenth spot since they are waiting on many of their top prospects to announce. Five-stars Damian Prince and Jalen Tabor plan to wait until later in the process to decide. Brock Ruble and Demetrius Johnson are two other big time names to keep a close eye on. 
Commitments: No new commitments this week. 
Visitor news: The Terps will head to Virginia Tech, so they will be quiet on the recruiting scene. 
9. Nebraska
The Cornhuskers fall a spot in our recruiting rankings, with Iowa moving up a spot. The Nebraska staff finally gets a good game for a recruiting weekend. This season, a lot of their games have been 11 a.m. kickoffs, which hurts recruiting. 
Commitments: No new commitments this week. 
Visitor news: Nebraska will host Michigan State in what could decide who matches up with Ohio State in the Big Ten title game. There is also a chance that Dallis Todd will visit. Todd is currently committed to Oklahoma. Colorado commitment Chance Waz is scheduled to visit and a flip commitment shouldn't be ruled out. 
8. Iowa
Projecting how Iowa will finish on the recruiting trail is difficult. Landing Markel Smith was somewhat a surprise. Brian Wallace, a four-star offensive lineman, is considered to be one of Ferentz's top targets. Wallace recently picked up two crystal ball predictions to Alabama. The Hawkeyes will look to add a few more recruits into the fold. 
Commitments: Iowa landed their second highest recruit this past weekend. Smith, a four-star recruit chose the Hawkeyes over Missouri and Ole Miss. The 5-foot-11, 210-pound running back is the nation's no. 19 rated back. Iowa now sits with 16 commitments. 
Visitor news: The Hawkeyes will be enjoying a bye week, which means the coaching staff should be hitting the roads to recruit. Iowa will also be preparing for a home game versus Michigan.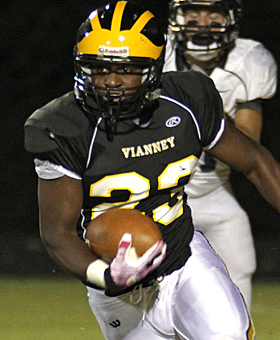 7. Northwestern
Northwestern coaches spent some of their bye week on the road checking out numerous 2015 prospects. Pat Fitzgerald doesn't have too many scholarships left in '14, but Parrker Westphal and Garrett Dickerson have their spots reserved. Dickerson is considered a Stanford lean, but his brother playing for NU could be a deciding factor. Landing those two highly rated prospects would be a good finish to NU's recruiting class. 
Commitments: No new commitments this week.
Visitor news: After a bye week, the Wildcats open as a three point favorite at home against Michigan. 
6. Michigan State
The Spartans coaching staff spent most of their bye week on the road recruiting. Dantonio visited Cass Tech, a long time Michigan pipeline. Michigan State already has one Cass Tech prospect committed in 2015 and more could join. An assistant coach visited Hubbard (Ohio) High School to watch Larry Scott and Matt Jones. Both figure to be OSU targets. 
MSU is on commitment watch as 2014 receiver JJ Pinckney is inching closer to a decision. He is considered to be a heavy lean toward the Spartans. 
Commitments: Florida three-star running back Madre London committed to Michigan State over Wisconsin, Nebraska and Illinois, last Monday. The 6-foot-1-inch senior cited possible early playing time as one of the reasons he selected the Spartans. 
Visitor news: The Spartans will travel to Nebraska after enjoying their bye week. No visitors this weekend.
5. Penn State
After the recent developments with Thomas Holley, Penn State appears to be the favorites. A decision isn't expected for a few more weeks, but landing Holley would be a huge get for Bill O'Brien and company. With lessened scholarship reductions, PSU will look to add at least a couple more commitments. 
Commitments: No new commitments this week.
Visitor news: The Nittany Lions will host Purdue this weekend. Penn State doesn't currently have any official visitors scheduled for this weekend. 
4. Wisconsin 
The Badgers inch closer to the third spot in the rankings with Rutgers losing a commitment. Wisconsin hosted a few visitors this weekend, but came away with no new commitments. Three-star corner  Keishawn Richardson almost pulled the trigger on his visit. Gary Andersen continues to recruit very well in his first year. 
Commitments: No new commitments this week. 
Visitor news: Indiana will travel into town. After hosting some visitors last weekend, the Badgers list is bare this weekend. That will probably change as we get closer to Saturday. One prospect that could visit is sleeper tight end Kano Dillon. Dillon was recently offered and some believe that he will eventually commit to the Badgers.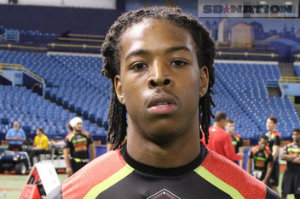 3. Rutgers
The Scarlet Knights lost one of their top commitments in Adonis Jennings. The four-star receiver has decided to open up his recruitment. It doesn't look like he will be recommitting, which is a big loss for Rutgers. 
Kyle Flood and staff has had to deal with a few de-commitments lately. Rumors have been swirling involving many of their key commitments. They must keep this class together. 
Commitments: No new commitments this week. 
Visitor news: Rutgers will host Cincinnati after having last week off. 
2. Michigan
The Wolverines are expecting good news, Nov. 14, when five-star Da'Shawn Hand is scheduled to make his commitment. Michigan also is confident about their chances with highly rated defensive end Malik McDowell. 
Brady Hoke has had plenty of recruiting success during his stay at UM, but some fans are now turning on him. 
Commitments: No new commitments this week.
Visitor news: Michigan will head to Evanston to take on Northwestern. No visitors this weekend. 
1. Ohio State
You can cross Thomas Holley off the list. Many of the Buckeyes' top targets drew visits during the bye week. At least one member of the staff visited Johnnie Dixon, Chad Mavety, Mike Rogers, Marshon Lattimore, Erick Smith and some other 2014 prospects. 
Ohio State's top ranking is safe for now, even if Michigan lands Hand.
Commitments: No new commitments this week.
Visitor news: The Buckeyes will travel to Illinois, Saturday. Expect a quiet week on the recruiting trail after the staff hit the road hard during the bye week.  
---
Rankings Overview
| No. | School | Commits | Scout ★ AVG | Rivals ★ AVG | 247 ★ AVG | ESPN ★ AVG | Overall ★ Avg |
| --- | --- | --- | --- | --- | --- | --- | --- |
| 1 | Ohio State | 18 | 3.72 (8) | 3.61 (3) | 3.89 (3) | 3.72 (9) | 3.74 |
| 2 | Michigan | 16 | 3.56 (13) | 3.47 (18) | 3.44 (10) | 3.86 (7) | 3.58 |
| 3 | Rutgers  | 24 | 2.96 (22) | 2.78 (24) | 2.87 (25) | 3.13 (18) | 2.94 |
| 4 | Wisconsin  | 18 | 3.17 (27) | 2.94 (26) | 3.11 (26) | 3.00 (33) | 3.06 |
| 5 | Penn State  | 15 | 3.27 (30) | 3.13 (38) | 3.33 (29) | 3.40 (26) | 3.28 |
| 6 | Michigan State | 17 | 3.18 (28) | 3.13 (33) | 3.35 (33) | 3.24 (38) | 3.23 |
| 7 | Northwestern | 13 | 3.08 (42) | 3.08 (46) | 3.31 (41) | 3.31 (32) | 3.20 |
| 8 | Iowa | 16 | 2.94 (38) | 2.75 (50) | 2.88 (46) | 3.20 (NR) | 2.94 |
| 9 | Nebraska | 13 | 3.08 (47) | 3.00 (48) | 3.15 (49) | 3.23 (NR) | 3.12 |
| 10 | Maryland  | 11 | 3.09 (51) | 2.91 (56) | 3.00 (47) | 3.36 (NR) | 3.09 |
| 11 | Indiana  | 14 | 2.86 (55) | 2.64 (60) | 2.71 (63) | 3.00 (NR) | 2.80 |
| 12 | Purdue | 11 | 2.62 (63) | 2.70 (72) | 3.00 (66) | 3.00 (NR) | 2.83 |
| 13 | Illinois | 14 | 2.57 (67) | 2.69 (54) | 2.62 (67) | 3.00 (NR) | 2.72 |
| 14 | Minnesota | 8 | 3.13 (62) | 2.88 (75) | 3.14 (78) | 2.86 (NR) | 3.00 |
Number in parentheses is national rank