Some weeks tell you more than others. Coming into Week 11 of the college football season, it wasn't clear if Minnesota was actually good, if Michigan's negative rushing yardage against Michigan State was a fluke, if 2013 would witness the worst Big Ten team of all time, or Wisconsin would be bitten by strange scheduling. All of these questions and more were answered.
Nebraska (7-2, 4-1) 17, Michigan (6-3, 2-3) 13

Nebraska and Michigan demonstrated the most obvious rule about offensive line play on Saturday: it matters. Tommy Armstrong Jr. and Ron Kellogg III platooned for the ever-efficient Taylor Martinez, while Devin Gardner was still aching from what Michigan State did to him the week before. Though Gardner was the better talent by far, the offensive line's failure to get any push proved the difference as Nebraska handed Brady Hoke his first home loss.
Ameer Abdullah was king for Nebraska, scoring touchdowns and powering through tackles. He scored the first touchdown of the game to put the Cornhuskers up 10-0, and received an awkward double pump option pitch/forward pass for the go-ahead touchdown with 2:03 remaining.
In between, not much happened. Brendan Gibbons kicked a second quarter field goal for Michigan, a few series of flailing begat Michigan's one touchdown drive, and a muffed punt by Jordan Westerkamp set up Michigan on Nebraska's 30 with under five minutes to go, allowing Gibbons to deflect the ball off the upright through the goalposts and give the Wolverines a 13-10 lead. At the end, Nebraska went for it on 4th-and-2 from the Michigan 32, resulting in a reception for 26 yards. Two plays later Armstrong Jr. pulled off the funky shovel/pitch to Abdullah to give the Cornhuskers its final lead, and Nebraska's defense stopped a fourth down conversion to secure the win.
Michigan's offensive line play is abysmal. One could have argued that the seven sacks and minus-48 yards rushing Michigan managed against Michigan State the week before was because of MSU's top-ranked defense and hyper-aggressive blitzing. Nebraska's passive, far less sound, 85th-ranked rushing defense also netted seven sacks and held Michigan to minus-21 yards rushing. Schemes, coaching, talent, youth, execution... something if not everything is terribly wrong, and Michigan might want to resolve it so they don't rush for minus-300 yards next year.
To add insult to injury, Michigan football's official Twitter account makes drive infographics that coming from anyone else would be mocking:
Coming into 2013, Devin Gardner was tough, talented, and confident. After nine games of being battered, Gardner has had the confidence beaten out of him. He deserves better from his team than 175 yards of total offense, though that's not going to happen with Michigan's woefully ill-prepared line. Fortunately for Gardner, Michigan's next opponent is Northwestern, a demoralized team with the conference's smallest defensive line. Maybe he'll only be sacked five times.
Now that Nebraska has escaped with two close wins against middling teams and the loss to Minnesota is defensible, Bo Pelini's seat has cooled off. Nebraska's defense had its best performance of the year, blowing the Wolverines off the ball and often putting them in a tough down and distance. Fans still have their complaints about offensive coordinator Tim Beck and some of the defensive staff, but a strong finish might buy Pelini enough goodwill to clean house and start fresh in 2014. Next week Nebraska has a golden opportunity when it plays Michigan State to determine who's in control of the Legends division. The Spartans look like the better team, but Nebraska has the talent to win. Beat MSU and Iowa, and it's onto the Big Ten Championship Game. If this happens, Lil' Red will dance with joy.
Minnesota (8-2, 4-2) 24, Penn State (5-4, 2-3) 10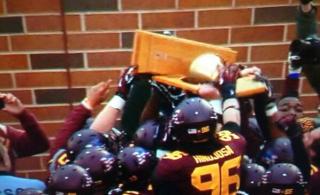 Philip Nelson took Minnesota to its highest point in a decade with a convincing victory over Penn State. On the day, the only thing that went poorly for the Gophers was breaking the rivalry trophy.
Penn State's errors let Minnesota build a lead it would not relinquish. Bill Belton fumbled on the first snap of the game, leading to a field goal for Minnesota and a benching for Belton. The Gophers showed flair by attempting and succeeding on some nifty fourth down conversions to build a 10-7 lead, and Nelson's touchdown run and 24-yard pass to Maxx Williams built a 24-10 lead by halftime. The Golden Gophers defense shut out Penn State in the second half  – including two stops in the red zone – to give Minnesota its best season since at least 2003. Another bewildering fact: this is the first time since 1973 that Minnesota football has beaten four Big Ten teams in a row.
Penn State is where everyone except the crazies expected it to be. The offense could hardly move, the defense couldn't get Minnesota off the field, and the team was nowhere near as effective as last year's 8-4 squad. The real concerns are recruiting effectively and staying healthy; Allen Robinson was 22 yards away from PSU's single season receiving record but left with a shoulder stinger. Fortunately, the balm for sadness arrives next week with Purdue.
Minnesota's season is going as well as could be expected. Jerry Kill has been an excellent press box coach and defensive coordinator Tracy Claeys has done a fantastic job filling in for Kill on the field, which might have something to do with the 124 years of continuity on Minnesota's staff. The Golden Gophers' pathetic defense has stiffened, and Nelson and David Cobb running down opponents' throats they have a good offense. My most resilient belief for this season has fallen: Minnesota is a good team.
If the Gophers beat No. 21 Wisconsin on Nov. 23, after a bye week, they will be ranked in the top 20. Jerry Kill is a miracleworker, and though it rankles certain Ohio State fans his name is already engraved on the Big Ten Coach of the Year Award.
Iowa (6-4, 3-3) 38, Purdue (1-8, 0-5) 14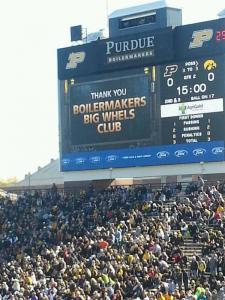 Iowa defeated Purdue to join Minnesota as a fellow unexpected bowl eligible team. With the heartpounding win over Purdue, the Hawkeyes are bowl eligible again.
The game started as sluggish as expected; Iowa displayed some of its worse "horizontal offense" tendencies and Purdue was its usual inept self. Iowa eventually broke through with a 90-yard touchdown drive capped by a nice Jordan Canzeri run. Purdue responded by driving into Iowa's red zone – its first drive to the opponent's red zone since September – and throwing the equalizing touchdown. After that it was all Iowa, culminating in Canzeri knifing for 161 rushing yards and Iowa's 38-7 fourth quarter lead before Danny Anthrop scored a garbage time touchdown for the Boilermakers.
This game speaks to Iowa's blandness, which is an unenthusiastic canvas for other teams to demonstrate how good or bad they are. Still, when the offense is working Iowa is a reasonably competent team that deserves the 7-5 record and Music City Bowl it will probably end up with. Iowa has a bye, then hosts Michigan on Nov. 23.
There's some bad news and some less-bad news for Purdue. The bad news is that Purdue lost by four scores to a mediocre opponent that gave a C- performance. The less-bad news is that Purdue looked the best it has in nearly two months. By scoring two touchdowns, not only did Purdue's offense show enough life in its coffin to creep out the funeral goers, it avoided the kind of point differential that would make it the worst Big Ten team of all time. The pain continues at Penn State this week, and then it's a game against fellow loser Illinois to determine the conference's most depressing team.
#24 Wisconsin (7-2, 4-1) 27, Brigham Young 17

It was the James White Show for Wisconsin, as the Badgers held off a strong Brigham Young team at home on White's three touchdowns and 196 all-purpose yards.
Wisconsin began the scoring with a short touchdown run by White in the first quarter, but BYU kicked a field goal to make it 7-3. Before halftime, Wisconsin made the most of its takeaways to kick a field goal and score on a White touchdown catch to go up 17-3. BYU tried to get back in it with Cody Hoffman's touchdown pass to make it 20-10, but White's third touchdown of the day made it 27-10 in the early fourth quarter. With the game decided, BYU doubled its yardage in the fourth quarter and scored a touchdown to look respectable. It's a good victory for Wisconsin, but the closer score will impress the voters less than a 17-point win would have.
Wisconsin picked a tough opponent for the unusual November game, and it paid off. BYU is known for its rigid defense and devastating option offense, both of which Wisconsin manhandled. Wisconsin extended its home winning streak against nonconference opponents to 29 games; if the Badgers win out, it'll be tough to pick between them and a potential 11-2 Michigan State team for an at-large BCS berth. Wisconsin fattens up its offense one more time against Indiana's defense.
Indiana (4-5, 2-3) 52, Illinois (3-6, 0-5) 35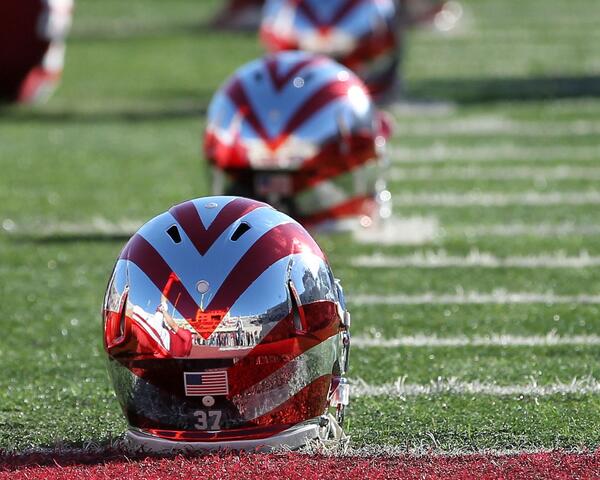 Indiana kept its quest for a bowl game alive and extended Illinois's losing streak as the Hoosiers ran wild on the Illini defense.
The game started as the shootout everyone imagined. Tevin Coleman gave Indiana the first score with a 64-yard run, but Josh Ferguson tied the score with his own touchdown run a few minutes later. From that point on, the two teams traded touchdowns until the score was 35-all, and then Indiana blew Illinois away. After Illinois's Corey Lewis recovered a fumble in the end zone to retie the game, Coleman had a 75-yard touchdown run on the next play from scrimmage. A quick Illini turnover led to another Hoosier touchdown, and a late field goal padded the score.
Indiana has the best offense in the Big Ten. Its ability to match home run threats like Coleman and solid pounders like Stephen Houston (17 carries, 150 yards, two touchdowns) with franchise receivers like Cody Latimer (11 catches, 189 yards, two touchdowns) and lightning pace makes it hard to stop. By contrast its defense is a horrorshow, something coach Kevin Wilson must improve in future years for the Hoosiers to contend in the Big Ten. Indiana plays at No. 24 Wisconsin next week.
This is the second straight Big Ten game Illinois looked like it had a shot of winning, making the fall all the worse. It has the offensive resurgence to thank for a return to power, and though Indiana's defense is just a hair better than a youth football league's defense, it's hard to gain 612 yards against air, let alone an opposing defense. It's a shame that Steve Hull's nine catches for 224 yards went to waste. It doesn't get any easier for Illinois as it hosts No. 4 Ohio State next week.
Syracuse 20, Maryland (5-4, 1-4) 3

Maryland started the year hot, and then Florida State ruined everything. The Terrapins had to beat Syracuse to break out of the slump, but Syracuse embarrassed Maryland to further the Terrapins' downward spiral.
The most dispiriting part of the game for Maryland is how little competitive fire it showed. C.J. Brown's return from injury didn't help the offense as Maryland's offense shuffled its way for 292 yards and a lackluster 3.84 yards per play. Syracuse didn't do anything particularly well, yet a touchdown run by Jerome Smith and two field goals by Ryan Norton gave it a 13-0 halftime lead. Late in the third quarter, the Terrapins got on the board with Brad Craddock's 23 yard field goal – an odd decision, considering how hard moving the ball had been and close Maryland was to the goal line – to cut it to 13-3, but Smith's second touchdown put the game away.
Maryland fans are livid with Randy Edsall, and I can't blame them. His Maryland teams are winless in November, 0-15 in the second half of the season over the last three years. The team is one point away from a five-game skid, and none of the last three games is a gimme for bowl eligibility, starting with Virginia Tech next week. Maryland's athletic department is going through hard times, but it might fire Randy Edsall in time for its Big Ten debut next year. When beat reporters are laughing at your program, it's hard to blame them.
That's all for Week 11. Week 12 has three themes: desperation (Purdue-Penn State, Michigan-Northwestern), desolation (Ohio State-Illinois, Wisconsin-Indiana) and coronation (Michigan State-Nebraska). Adjust your TV schedule accordingly.