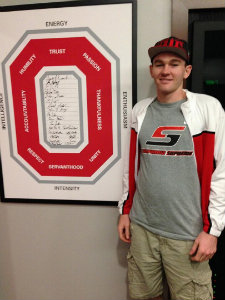 Thad Matta finally landed another big man from the class of 2014.
Unfortunately, fans will likely have to wait to see him step onto the hardwood. Dastrup still plans on serving a two-year Mormon mission before enrolling in school. In his freshman season, the Arizona native will be 20 years old. 
Dastrup's father, David, tweeted about his son verbally committing to the Buckeyes, as Payton announced his decision at the Mountain View High School gym. He chose OSU over offers from BYU, Florida and Virginia.  
Payton took an official visit for the Ohio State – Iowa football game, and watched a couple basketball practices before spending time with members of the current roster. David accompanied him on the trip, and took notice of the camaraderie within the program.
"Having the opportunity to see the way the coaching staff creates a unity and a family-type atmosphere between themselves and the players was important to us," David told Eleven Warriors, following the visit. "We were impressed with the unity and support demonstrated by everyone associated with the program."
The Payton dastrup File
Size: 6-9/218
Position: PF
Class: 2014 (enrolling in 2016)
School: Mountain View High School (Mesa, Ariz.)
Composite Rating: 4-star
247Sports Rank: 4-star
Scout Rank: 4-star
ESPN Rank: 4-star
Rivals Rank: 4-star
The 6-foot-9-inch forward earned praise from scouts for his natural size for the power forward position, his hustle and rebounding.
"He is a beefy power forward or center prospect, who is an exceptional high-post passing big," Future150.com's scouting report said. "He also runs the floor extremely well for a player his size, and is a reliable finisher on the low block."
Among the skills, Payton Dastrup needs to improve upon, according to Future150.com, are his footwork on both sides of the floor.  
Coincedentally, former Buckeye quarterback Joe Germaine also attended Mountain View. Germaine served a two-year Mormon mission, himself, before attending Ohio State. The Horseshoe was one of the highlights of the Dastrup family's visit.
"The atmosphere of the crowd and watching The Best Damn Band In The Land in person is something everyone should do at least once in their life," David said. "Our visit to The Ohio State was memorable and gave us everything we hoped for as we support Payton through his decision making process." 
---
Stay tuned to Eleven Warriors for more on the Dastrup commitment.