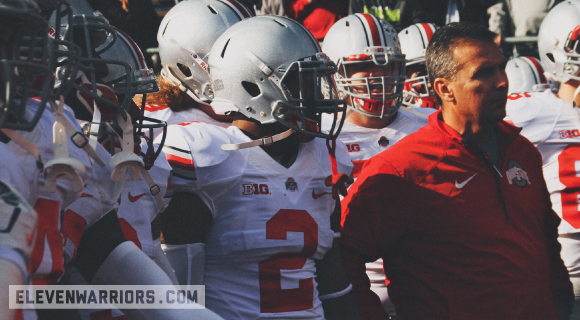 All season, even during the summer months, Urban Meyer has preached a message of keeping focus and not allowing distractions to creep in. Ohio State's bye week presents a different set of circumstances. Instead of worrying about a future opponent, Thursday night will be spent with eyes and ears turned toward the television as two games that could greatly impact the national championship race take center stage – No. 3 Oregon at No. 5 Stanford and No. 10 Oklahoma at No. 6 Baylor.
"I'll watch them both," Meyer said. "I've been there before a couple of times where some things had to happen right. For us to waste energy on that, that's not fair to the players we coach. But we'll certainly be watching."
Winners of 21 consecutive games, the Buckeyes are in an unenviable situation where they need help to make their way to Pasadena for the Jan. 6 title game. College football has been turned into a giant job fair with head coaches, players and fan hurriedly flashing their resume and talking points memo. Unfortunately Ohio State, its slip of paper isn't as fancy as Alabama, Florida State or Oregon's. But the Buckeyes' remaining schedule poses little in the way of roadblocks.
"All we can control is how we beat the teams we're playing," defensive lineman Michael Bennett said. "I don't stress over the things we can't control."
Ohio State has entered the month of November in the thick of the national title hunt four times in the 16-year history of the Bowl Championship Series. Twice – 1998 and 2007 – it needed a miracle to reach the national championship game. The Buckeyes received one dream Saturday, in 2007, while another resulted in everything coming up scarlet and gray until the last instant.
In 1998, the first year of the BCS, Ohio State ran roughshod over the competition until Nick Saban's Michigan State Spartans upset the Buckeyes in the Horseshoe the first week of November. Ohio State won its final two games and then had to wait until championship Saturday on Dec. 5 to find out its fate.
The Buckeyes needed the top 3 teams – Tennessee, Kansas State and UCLA – to lose and thus sneak into the Fiesta Bowl. UCLA was the first to fall, then came Kansas State's defeat in overtime. When Mississippi State returned a punt for a touchdown, taking a second-half lead over the Vols, Columbus erupted. But Tennessee generated a comeback and would beat Florida State for the national championship one month later.
Nine years after that chaotic Saturday, Ohio State again found itself in need of what many thought was an unrealistic series of events after losing the first week of November. On Dec. 1, three-win Pitt had to beat No. 2 West Virginia in Morgantown and the top-ranked Missouri Tigers needed to lose to Oklahoma in the Big 12 Championship Game. Both happened.
"The chase is on, man. It's real."
The calendar hasn't flipped to December yet and the Buckeyes are still unbeaten, but the second week of November presents a smorgasbord full of opportunities for Ohio State to vault into the championship discussion. Along with the two Thursday night games, No. 1 Alabama hosts LSU on Saturday. A not-too-far-off scenario could place the Buckeyes as the second-ranked team in the country when they take the field at Illinois Nov. 16.
"That's not something we discuss," Meyer said. "We discuss playing for championships in November and that's what we're doing."
Three games remain in the regular season, and Ohio State is a game up and owns the tiebreaker over Wisconsin in the Leaders Division. It would take a cataclysmic series of events for the Buckeyes to not appear in the Big Ten Championship Game. Then winning a title in December becomes the objective. From there, January could be in the offing.
"The chase is on, man. It's real," Meyer said. 
With each win, the realization that Ohio State is entering unprecedented heights becomes clearer. The school record of 22 consecutive wins, set in 1969 thanks in large part to arguably the greatest class in program history, is inevitably going to fall. There's a noticeable buzz among the players and fans. Interviews might yield all the right answers, but the honor of being in such select company shines through.
"We try not to focus on it too much, we just try to focus on our opponent," running back Carlos Hyde said. "I feel like if we get caught up focusing on this winning streak, we'll lose track of who we're playing, so we're just trying to focus on our opponent."
"I definitely feel like everybody's more focused. We're getting towards the end. We have this bye week to let everybody get rested and come back fresh. We need to come out these last three games and be explosive."
The phrase Buckeye since birth is overused in the state of Ohio, but for wide receiver Evan Spencer, it rings true. He's the son of a former running back and assistant coach and was born at the OSU Medical Center. He literally grew up on the practice fields at the Woody Hayes Athletic Center before he moved to Chicago, where dad, Tim, took a job with the Bears.
If there's anyone one the roster who understands the significance of the current streak, it's Spencer.
"I know that we have to keep taking care of business and keep winning," he said. "It's unbelievable. I try not to think too much about it because we have to keep winning. The camaraderie we have with our team is great."
On Thursday, that togetherness will continue as groups of players watch two games that could push Ohio State closer to the national championship. But what Meyer doesn't want is the mindset straying from the tone he's set since fall camp.
"I've got to make sure we're not worried about anything like that," Meyer said.
"It's a big thing we talked about all week," admitted tight end Jeff Heuerman in the aftermath of last Saturday's win. "We've got a really focused team right now."