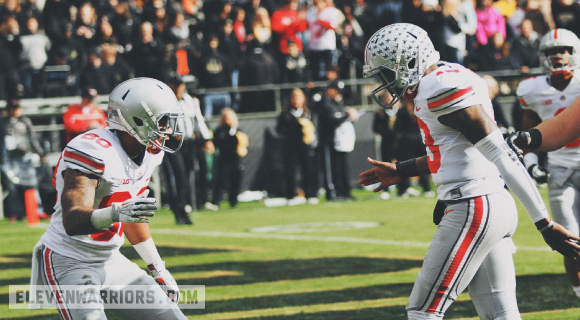 Urban Meyer has coached multiple national champions and undefeated team during his dozen years as a head coach. So where do the 2013 Buckeyes fit in? Ironically, Meyer would compare them to the 2006 Florida Gators, the team that blasted the Buckeyes 41-14 in the national title game.
"I can relate it to the 2006 team where they continued to get better and better," Meyer said Tuesday on the Big Ten football coaches teleconference. "No question the way we're playing right now, we're playing at a very high level."
During the bye week, Meyer hopes to keep the momentum going. Two items on the docket are kick returns and pass defense. Another off week activity for Meyer will be relaxing on the couch Thursday night while watching Stanford-Oregon and Oklahoma-Baylor, which he said is in the plans.
Notes
Urban Meyer:
Meyer gives himself grade of "B" in how well he balances football and rest of life. "There's only so many hours you can put into this job."
Tyvis Powell and Vonn Bell are "our future," Meyer said. "We have to continue to get them ready."
"I'm interested to watch that film, which I'm going to in the next couple days." -Meyer on MSU holding Michigan to minus-48 rushing yards.
Taylor Decker, who sprained his MCL on Saturday, should return at Illinois Nov. 16, according to Meyer.
Jordan Hall's issue is a chronic knee injury, Meyer said. Hall woke up Saturday to a stiff and sore knee.
Brady Hoke:
"There's a lot that we need to get better at."
Hoke admitted Michigan has to play better on the road, but he said it has nothing to do with a lack of focus or preparation.
Michigan's offensive line has been a sore spot throughout the season. That was evident against Saturday with a negative rushing output. Hoke said the unit needs to improve fundamentals and be better disciplined with technique.
Hoke said he still believes Michigan can be a great team before adding "most of you think I'm nuts." He cited youth, turnovers and an inconsistent offensive line has issues holding the Wolverines back.
Gary Andersen:
Wisconsin hosts BYU this weekend, a team Andersen is familiar with having played at Utah and coached at Utah and Utah State. The Cougars are a very solid team this year and coming off a bye week. Andersen called it a "great challenge" for Wisconsin.
Andersen said one of the most surprising things about taking the Wisconsin job was glancing at the schedule and seeing BYU.
"They do it the right way. I know we're playing a quality team with great people."
Andersen said James White and Melvin Gordon don't have agendas. Both want the other to succeed and for the team to win. Andersen said White is a leader that other players should look at as example.
Bo Pelini:
Pelini said he was looking all over the field for some sort of confirmation that Nebraska's Hail Mary did, in fact, count.
All programs have highs and lows, Pelini said. Emotionally you have to stay the course.
Freshman Jordan Westerkamp is the Cornhusker who caught the game-winning touchdown pass Saturday. Pelini said he has "phenomenal hands." 
Pelini said if healthy, Taylor Martinez will be in the mix at quarterback this week.
Mark Dantonio:
Doing his best Jim Tressel impersonation, Dantonio spoke at length about freshman kicker Michael Geiger, saying, "He's an extremely confident young man."
Dantonio said he's amazed that Michigan State hasn't allowed 100 yards rushing this season. "We've been very, very stingy."
Dantonio actually downplayed Michigan State limiting Michigan to minus-48 rushing yards because so much of it came on sacks. Said Wolverines had around 60 pure rushing yards.
On the Taylor Lewan fiasco: "Football is football. It's a tough game. I accept people's apologies."
Kirk Ferentz:
"We challenge the whole team. We do it every week. We don't ever want to settle for field goals."
Iowa has five wins. Ferentz said the team doesn't talk much about bowl eligibility. He said the players are smart enough to know that six wins are needed. The main focus is on the current week and opponent.
Ferentz was asked to compare Ohio State, Wisconsin and Michigan State. He didn't really sway one way or another, only saying that all three are great football teams. Said the Big Ten Championship Game will be a very good contest in December.
Tracy Claeys:
Claeys has taken the Big Ten by storm, leading Minnesota to three straight victories. He said he's very appreciative and respectful to be where he's at in the Big Ten. Claeys has been Jerry Kill's defensive coordinator for years.
Told Minnesota has not won four consecutive conference games in 40 years, Claeys said, "That's pretty amazing." To accomplish it this week would be huge, he added.
Claeys didn't pay off his student loans until he became the defensive coordinator at Minnesota. His first job was a work-study no pay position at Kansas under Glen Mason.
Tim Beckman:
Senior quarterback Nathan Scheelhaase is the team leader, Beckman said. He said Scheelhaase has embraced that role and been great in the locker room, on the field and in the huddle. "He has a lot to do with the success we've had on offense this year."
Asked if he mentions bowl eligibility to his team, Beckman said, emphatically, "All the time." The Illini needs to win three of its final four games to get there. Beckman said he and the players strive to move the program forward.
Beckman said this year's team has improved leaps and bounds from last season. He believes the team will be competitive in its final four games of the regular season.
Darrell Hazell:
"I feel good about the future of this football program. We're going to do everything we can to get things corrected. I'm very optimistic."
On Ohio State, Wisconsin and Michigan State: "This conference is loaded. I can't tell the gap between each team. They're all good."
Hazell said he believes Ohio State might have the upper hand over Michigan State with more offensive playmakers.
Bill O'Brien:
O'Brien said running back Bill Belton is a more patient player in the backfield this season. Belton was the conference co-offensive player of the week for his performance against Illinois. O'Brien also attributed health and another year in system as improvement in Belton's play.
Pat Fitzgerald:
The focus for Northwestern is health. Fitzgerald said it's not a good situation right now health-wise for the Wildcats. They aren't practicing during the bye week until Thursday.
Northwestern has to win two of its final three games to reach a bowl. Fitzgerald said it's obvious the team has its back up against the wall the final few weeks. He said he won't mention it to the team.
Venric Mark is day-to-day. Fitzgerald said he'll sit down and talk with him and they'll make a long-term decision. Mark wants to play, according to Fitzgerald. But he said as the head coach he wants to make sure they are making the right decision for Mark's future.
Kevin Wilson:
Wilson said he continues to be disappointed in the Indian defense.