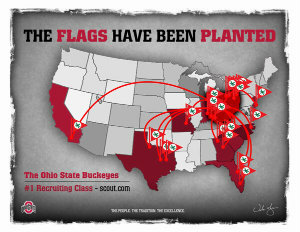 The Big Ten welcomes in November with only one new pledge. We are just about three months away from National Signing Day 2014 and even less than that for the All-American games. As these key dates approach, prospects continue to narrow down their college choices and come closer to their final decisions.
Purdue welcomes the only new football recruit this week. The latest commitment moves the Boilermakers up a spot in our recruiting rankings. 
This past weekend, the Buckeyes were on the road and won their 21st straight football game. Ohio State is on a bye this week, but that doesn't mean the coaching staff will get any time off.
Urban Meyer and staff have already been spotted at numerous high schools across the country. Kerry Coombs was in Georgia. Zach Smith was in Virginia. Meyer and Ed Warinner were in New Jersey. The coaching staff has hit the recruiting trail hard this week. Stay tuned to 11W for the latest on where and who the coaches are visiting. 
Now, on to the rankings:
14. Minnesota
The surprising Gophers are off to a 7-2 start, however, they have yet to capitalize on their success on the recruiting scene. Minnesota currently has eight commitments with the staff looking to take up to 15 prospects. Jerry Kill's health has yet to scare any of their current commitments away.  
Commitments: No new commitments this week. 
Visitor news: The Gophers will be hosting Penn State, this weekend. Minnesota will also be hosting a few official visitors including three-star RB J'vonte Herrod. Three-star defensive end Demetrius Hill and unranked tight end Jerry Gibson are also expected to attend. 
13. Illinois
The Fighting Illini slip a spot in our rankings. It's not surprising that Illinois has struggled after hiring a MAC coach. Despite have 14 commitments, they find themselves near the bottom of the rankings and things aren't looking too promising. 
Commitments: No new commitments this week.
Visitor news: Illinois will travel to Bloomington. No visitors this weekend for the Illini.  
12. Purdue
Although Purdue was blown out by the Buckeyes, Darrell Hazell did manage to land another commitment. The first-year coach has struggled to win games and recruit at any level for the Boilermakers. While they move up a spot this week, it's looking like they are destined to stay near the bottom of our rankings. 
Commitments: The Boilermakers landed a commitment from 2014 defensive end Will Colmery after earning a scholarship offer earlier in the week. Purdue landed Colmery over offers from Central Michigan, Fordham, Colgate, North Dakota and Wyoming.  
Visitor news: Iowa is traveling to Purdue, this weekend. The Boilermakers will host three-star offensive tackle Marcus Applefield for an official visit. The Florida product has crystal ball predictions to Rutgers, Florida State and Vanderbilt. 
11. Indiana 
Kevin Wilson hasn't had as much luck as Tom Crean at recruiting. C.J. Conrad, a TE in the class of 2015, was one of quite a few junior prospects in attendance for their latest game. He is getting a close look from Ohio State and they would be very tough to beat, if they offer. 
Commitments: No new commitments this week.
Visitor news: Indiana takes on Illinois in Bloomington on Saturday. There are not currently any prospects scheduled to officially visit.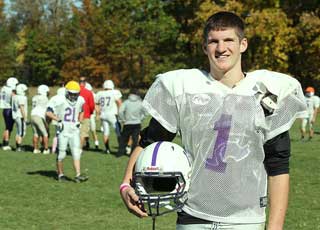 10. Maryland
While Maryland is currently ranked no. 10 in the recruiting rankings, they are a safe bet to finish in the top third. The Terps are poised for a strong finish with five-stars Jalen Tabor and Damian Prince continuing to trend their way. As long as Mike Locksley stays, Maryland should finish with a solid recruiting class. 
Commitments: No new commitments this week. 
Visitor news: The Terrapins will host Syracuse, Saturday. Five-star corner Jalen Tabor will be back at Maryland. The frequent visitor has the Terps at the top of his list. 
9. Iowa
All is still quiet in Iowa. Kirk Ferentz is still getting an outrageous amount of money to field a solid football team filled with three star prospects. Nothing much to see here. 
Commitments: No new commitments this week. 
Visitor news: Iowa will travel to Purdue, Saturday. The Hawkeyes will continue to be quiet on the recruiting trail. 
8. Nebraska
A tipped ball on a Hail Mary saved Bo Pelini's job. That game was the first big recruiting weekend for Nebraska. The Cornhuskers have struggled to put together a big recruiting for numerous reasons, including 11 a.m. kickoffs. There is a lot of uncertainty in Lincoln, but they'll aim for a strong finish. Nebraska continues to pursue JUCO players and prospects committed elsewhere. 
Commitments: No new commitments this week.
Visitor news: Nebraska will be traveling to Ann Arbor, therefore the Cornhuskers will be quiet on the recruiting trail. A surprise visit from Suh and a game-winning Hail Mary capped off a good recruiting weekend for Nebraska.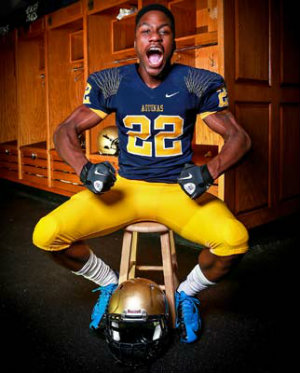 7. Northwestern
Northwestern has completely fallen off the map. The once hyped football team is now preparing to take their final exams. Much like the team, their recruiting ranking has fallen in recent months. It has been a while since the Wildcats last landed a commitment. 
Commitments: No new commitments this week.
Visitor news: The Wildcats limp into their bye week. Pat Fitzgerald will be able to spend their bye week on the recruiting trail. 
6. Michigan State
The Spartans did not land a commitment, but their big recruiting weekend couldn't have went much better. Michigan State hosted well over a hundred prospects for the Michigan beat down. This can only be a positive for them moving forward. 
Florida three-star running back Madre London is expected to commit to Michigan State over Wisconsin, Nebraska and Illinois. The six-foot-one inch senior is hoping to land early playing time. 
Commitments: No new commitments this week.  
Visitor news: Michigan State is on a bye week, which will allow their staff to continue on the recruiting momentum gained from a huge recruiting visit weekend. 
5. Penn State
Penn State continues to chase after a few four-star prospects including Thomas Holley, Alex Bookser and Dravon Henry. Bill O'Brien is working hard to beat out Urban Meyer for two recruits this cycle. After already securing a commitment from Mike Gesicki, the Lions have pushed hard for Thomas Holley is strongly considered the Nittany Lions. Holley keeps quiet, but PSU feels like they have a legit shot to land the four-star defensive tackle.
Commitments: No new commitments this week.
Visitor news: The Nittany Lions will travel to Minnesota, this weekend. No visitors for Penn State. 
4. Wisconsin 
The Badgers have quietly climbed their way to fourth in the recruiting rankings and they could soon make a push for the third spot. Wisconsin is expected to have another big recruiting weekend and it is believed they could land up to three new commitments. By landing three commitments, they could definitely challenge Rutgers for the third spot. 
Commitments: No new commitments this week. 
Visitor news: BYU will travel to Madison to take on the Badgers. There are a few official visitors scheduled to head to Madison, including Keishawn Richardson, Kadeem Goulbourne, Richard Dorvilus and Rafael Gaglianone. Wisconsin fans are confident about landing another commitment this weekend. They sit in a good position for Richardson and Dorvilus, and Gaglianone could be an instant commitment if he lands an offer.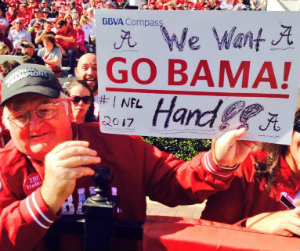 3. Rutgers
Rutgers' class continues to be ranked third in the rankings, mostly due the size of the class. While the Scarlet Knights have some quality recruits at the top of their list, the quality at the bottom is low. 
There has been some talk about three-star running back Jonathan Hilliman switching his commitment to Notre Dame. Hilliman was a one time Ohio State target. 
Commitments: No new commitments this week. 
Visitor news: Rutgers is on a bye week, allowing their coaching staff to spend the week on the recruiting trail. The Scarlet Knights still have a few more '14 targets, but this week will be spent mostly on junior prospects. 
2. Michigan
Despite another loss to "little brother," Michigan probably doesn't have to worry about losing many top prospects to Michigan State. There has been some internet talk of Malik McDowell to Michigan State, but I'd be surprised if he didn't end up at Michigan. Wolverine fans are ten days away from Da'Shawn Hand's announcement. It still looks like Hand will choose Michigan over Alabama. Ohio State's spot at the top of the list is safe. 
Commitments: No new commitments this week.
Visitor news: The Wolverines will return home to play Nebraska, this weekend. Michigan will host some underclassmen, but the next big recruiting weekend will come when Ohio State travels to Ann Arbor, later this month. 
1. Ohio State
The Buckeyes continue to win on the field and the recruiting success has followed. While it has been a little while since the last commitment, we are getting closer and closer to possible decisions from quite a few targets. The staff will hit the recruiting circuit hard over the next week, as they look to finish with another highly rated national class. 
Commitments: No new commitments this week.
Visitor news: The Buckeyes are on a bye week, which allows the staff to hit the road to recruit. We'll be following the coaches on the recruiting trail here. 
---
Rankings Overview
| No. | School | Commits | Scout ★ AVG | Rivals ★ AVG | 247 ★ AVG | ESPN ★ AVG | Overall ★ Avg |
| --- | --- | --- | --- | --- | --- | --- | --- |
| 1 | Ohio State | 18 | 3.72 (8) | 3.61 (3) | 3.89 (3) | 3.72 (10) | 3.74 |
| 2 | Michigan | 16 | 3.56 (13) | 3.47 (17) | 3.44 (10) | 3.86 (6) | 3.58 |
| 3 | Rutgers  | 25 | 2.96 (20) | 2.83 (22) | 2.92 (22) | 3.17 (18) | 2.97 |
| 4 | Wisconsin  | 18 | 3.17 (26) | 2.94 (26) | 3.11 (25) | 3.00 (36) | 3.06 |
| 5 | Penn State  | 15 | 3.27 (28) | 3.13 (29) | 3.33 (28) | 3.40 (25) | 3.28 |
| 6 | Michigan State | 16 | 3.19 (27) | 3.13 (36) | 3.40 (33) | 3.29 (39) | 3.25 |
| 7 | Northwestern | 13 | 3.08 (40) | 3.08 (48) | 3.31 (41) | 3.31 (NR) | 3.20 |
| 8 | Nebraska  | 13 | 3.08 (46) | 3.00 (47) | 3.15 (47) | 3.23 (38) | 3.12 |
| 9 | Iowa  | 15 | 2.87 (41) | 2.73 (52) | 2.80 (50) | 3.07 (NR) | 2.87 |
| 10 | Maryland  | 11 | 3.09 (53) | 2.91 (56) | 3.00 (45) | 3.36 (NR) | 3.09 |
| 11 | Indiana  | 14 | 2.86 (55) | 2.64 (62) | 2.71 (60) | 3.00 (NR) | 2.80 |
| 12 | Purdue | 11 | 2.62 (64) | 2.70 (71) | 3.00 (66) | 3.00 (NR) | 2.83 |
| 13 | Illinois | 14 | 2.57 (67) | 2.69 (54) | 2.62 (67) | 3.00 (NR) | 2.72 |
| 14 | Minnesota | 8 | 3.13 (63) | 2.88 (75) | 3.14 (77) | 2.86 (NR) | 3.00 |
Number in parentheses is national rank