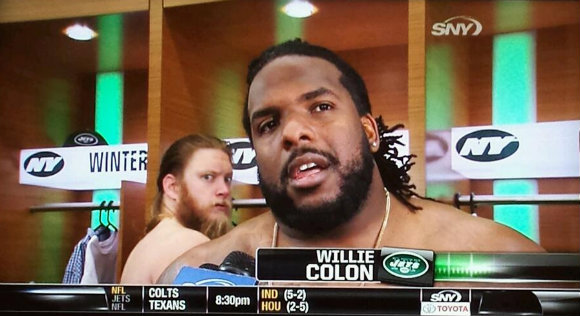 The SNY cameras have incurred the wrath of Nordic God Nick Mangold, who does not care to be filmed while undressing behind teammate Willie Colon. Feel free to use his glare as your avatar, however. 
Meanwhile, a former Buckeye continues his transition to offensive line, but he should be leery that his new home will hinder his development. Cleveland, after all, is where football careers go to die. 
One tight end is gaining notoriety for his blocking, rather than being used as a weapon in the passing game.
The highlight of the week is a toe-tapping, sideline catch from a receiver who has a reputation for such plays. Plus, Eleven Warriors has stats from all former Buckeyes in the NFL.
Browns grab Fragel
The Purdue game reminded Buckeye fans about about the historical inability to groom tight ends. This week's NFL news proved there are a couple, solid tight ends who wore the Scarlet and Gray. To be fair, one of them converted to offensive line.
Despite the improved play of their line, the Browns plucked Reid Fragel from the Bengals. Cincinnati selected Fragel in the seventh round of this year's draft, and placed him on the practice squad before the start of the regular season.
The 6-foot-8-inch, 308 pound tackle played 3 years as a tight end at Ohio State. In the 2012 season, Fragel converted to tackle and started all 12 games. He has yet to appear in a regular season game as a pro, however, and was inactive for Sunday's game against the Ravens. 
The Browns also signed a friend of the program – former Appalachian State quarterback Armanti Edwards. 
Hartsock does the dirty work
The Carolina Panthers are roaring towards the top of the NFC South, on the strength of their top-10 rushing attack.
Cam Newton is a tank, obviously. Outside of him, the Panthers (still) use D'Angelo Williams and Mike Tolbert, while a (somewhat) healthy Jonathan Stewart is getting more carries. Individually, none of those guys are highly regarded. 
Still, Carolina's run game is one of the best in the NFL. Their offensive line's ability to open holes cannot be underestimated, with a former Buckeye tight end leading the way: 
.@Panthers' Ben Hartsock has earned @PFF's highest overall TE grade this season, despite 0 pass targets. He's been THAT good run blocking.

— Matt Claassen (@PFF_MattC) October 31, 2013
Highlight of the week
I hate to do this to Bengals fans, but we must revisit Thursday night's overtime loss via walk-off safety. That's because Ryan Tannehill's clutch drive in the final minute of the fourth quarter featured this phenomenal catch by Brian Hartline to put them in field goal range.
How ex-Buckeyes Fared During Week Nine 
| Player | team | position | stats/Notes |
| --- | --- | --- | --- |
| Mike Adams | Pittsburgh Steelers | OT | Marcus Gilbert injured, Adams replaces him at RT |
| Will Allen | Pittsburgh Steelers | S | Active, not asked to help stop Patriots from scoring 55 |
| Alex Boone | San Francisco 49ers | OG | 49ers on bye week |
| Michael Brewster | Jacksonville Jaguars | C | Jaguars on bye week, and still lost! lolwut |
| Chimdi Chekwa | Oakland Raiders | CB | 2 tackles in loss to Nick Foles, who threw 7 TDs  |
| Kurt Coleman | Philadelphia Eagles | DB | 4 tackles, team won by 29 but Philly never satisfied |
| Jim Cordle | New York Giants | C | Giants on bye week |
| Nate Ebner | New England Patriots | DB | 2 tackles in win over Steelers  |
| Reid Fragel | Cleveland Browns | OT | Signed with Browns, inactive in win over Ravens |
| Ted Ginn Jr. | Carolina Panthers | WR | 1 rec, 10 yds, Rich Arleo's "dud of the day" |
| Johnathan Hankins | New York Giants | DT | Giants on bye week  |
| Brian Hartline | Miami Dolphins | WR | 3 rec, 39 yds in win Thursday. Boat show on Sunday! |
| Ben Hartsock | Carolina Panthers | TE | Key contributor to CAR rushing for 131 yds in win |
| A.J. Hawk | Green Bay Packers | LB | Plays tonight vs Bears |
| Boom Herron  | Indianapolis Colts | RB | Active, but no carries in win over Texans  |
| Cameron Heyward | Pittsburgh Steelers | DE | 5 tackles, 1 sack, only Steeler defender who didn't suck |
| Santonio Holmes | New York Jets | WR | Inactive with injured hamstring, may return after bye |
| Malcolm Jenkins | New Orleans Saints | S | Inactive in loss to Jets due to knee injury |
| James Laurinaitis | St. Louis Rams | LB | 1 sack and led team with 9 tackles in loss to Titans |
| Nick Mangold | New York Jets | C | Jets run for 198 yds in win over Saints |
| Jake McQuaide | St. Louis Rams | LS | Snapper on 3 XPs, still obsessed with Breaking Bad |
| Mike Nugent | Cincinnati Bengals | K | 2 FGs, including a 54 yarder in loss to Dolphins |
| Ryan Pickett | Green Bay Packers | DT | Plays tonight vs Bears |
| DeVier Posey | Houston Texans | WR | 3 rec, 23 yds in loss to Colts |
| Terrelle Pryor | Oakland Raiders | QB | 22-41, 288 yds, 2 Int, 10 rushes, 94 yards, minor injury |
| Brian Robiskie | Atlanta Falcons | WR | Inactive again in loss to Panthers |
| Dane Sanzenbacher | Cincinnati Bengals | WR | Could he be a threat to the Dolphins? Nope.  |
| John Simon | Baltimore Ravens | LB | Inactive in loss to Browns |
| Rob Sims | Detroit Lions | OG | Lions on bye week |
| Jake Stoneburner | Green Bay Packers | TE | Plays tonight vs Bears |
| Donte Whitner | San Francisco 49ers | S | 49ers on bye week |
[Screengrab via @FrankGiasone ]