With their win against Purdue Ohio State extended the nation's longest winning streak to 21 games…and no one seems to care.
You see the national media is way too concerned with the three teams ahead of the Buckeyes in the BCS poll, even when two of those teams had bye weeks. Just have a look at this screenshot from last night: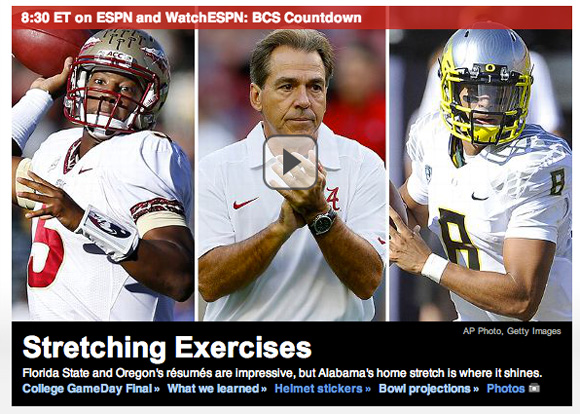 REALLY LOOK at that caption. "Florida State and Oregon's resumes are impressive, but Alabama's home stretch is where it shines". This is the national narrative in a nutshell: all three teams ahead of Ohio State featured with their "quality wins" trumpeted.
The inevitable by-product of said narrative is that the Buckeyes are left on the outside looking in; reduced to a team reeling off "easy" wins in your grandpa's conference. Twenty-one straight victories don't make a dent in the national perception because Ohio State "hasn't played anyone". 
But saying the Scarlet and Gray haven't been tested assumes the three teams ahead of the Buckeyes have. So let's put the "impressive resumes" of Alabama, Oregon and Florida State under the microscope. 
Alabama

The Crimson Tide are current CFB royalty. Winners of three of the last four national championships, it would take a lot to remove them from the No. 1 spot in the BCS. But, the wins of the past have nothing to do with the present and in 2013 Alabama has played just two ranked teams: #6 Texas A&M and #21 Ole Miss.
The win against the Aggies looked impressive at the time, but as the season wore on it became apparent A&M has no defense to speak of. Currently the Aggies are behind Purdue, Northwestern, Penn State, Iowa and Wisconsin in total team defense coming in at No. 98 in the country. Johnny Manziel is a surgeon, but if your defense can't stop anyone it's tough to make a case you're a top team. A&M already has two losses and will probably end up with three after facing LSU in the second to last game of their season. Of course those losses (and defensive stats) are all taking place in the MIGHTY SEC, so they're glossed over…national perception folks.
Alabama's other "big win" came against Ole Miss, a 5-3 team that somehow managed to beat LSU. They are currently unranked but again "S-E-C", so that's not an issue.
Other huge wins came against 4-5 Colorado State, 0-9 Georgia State, 2-6 Kentucky, 3-6 Arkansas and 4-5 Tennessee. Impressive indeed.
Oregon

The Ducks can score in bunches. They're second in the nation in rushing yards, points and total offense. What's even more jaw-dropping are the juggernauts those numbers came against: 4-5 Nicholls State, 2-7 Virginia, 4-5 Tennessee, 1-8 Cal, 3-5 Colorado, and 4-5 Washington State.
Oregon is 8-0 and has played exactly two teams WITH WINNING RECORDS. Read that sentence again, then douse yourself in gasoline and light a match.
The Duck's signature wins have come against #16 Washington (currently unranked with three losses) and #12 UCLA (currently ranked #20 with two losses). The two teams rank 62nd and 54th in the nation in total team defense respectively.
For those counting at home, that's six victories against teams with sub .500 records and two more against programs with defenses outside of the top 50. Truly a murderers' row.
Florida State

Unlike Alabama or Oregon, six of the Seminoles' eight victories have come against teams with winning records and two of those wins have come against teams in the top 10.
Their thrashing of Clemson was no joke. The Tigers probably weren't as good as their No. 3 ranking suggested, but they aren't as horrific as Florida State made them look. Jameis Winston had a field day against a solid defense (currently ranked 23rd in points against and 31st overall) and the Seminole D confused Clemson's 13th ranked offense all-night long.
Their beatdown of Miami was also impressive. Though maybe less-so. The Hurricanes barely eeked out wins against an unranked North Carolina and Wake Forest before heading to Doak Campbell stadium.
Last night the Seminoles jumped the Ducks in the BCS, and they probably have a case for jumping Alabama as well. But, that would make the SEC's collective head explode so don't count on it.
---
To recap Florida State is legit. The hype they're receiving is justified and should continue. On the other hand Alabama and Oregon have played just 5 teams with winning records and only two teams currently ranked in the top 25 COMBINED. Those are resumes national outlets find "impressive".
Meanwhile OSU's victories are consistently devalued despite coming against 5 teams with .500 or better records and two of the best defenses in the nation statistically: Wisconsin (6th) and Iowa (13th).
It's enough to make you question everything...and maybe you should.
**Immediately attacked from behind, head is bagged and lifeless body is later found floating in Lake Michigan inside ESPN duffle-bag.