Welcome to Sunday night and your weekly rewind of the weekend that was. This week the Buckeyes were on le road (that's French for "the road") and because of that it was a bit of a quiet weekend for Ohio State's recruiting efforts, but that won't stop us from checking out what happened elsewhere. Ohio State had key targets at big games and big weeks and the playoffs are coming and I'm rambling and my eyes have gone cross-eyed..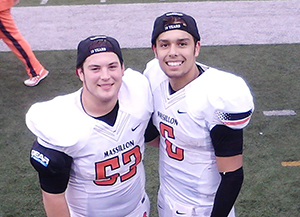 So, let's not waste your brain's time with my rambling because we're talking football in November in Ohio, and that means the biggest rivalry in the state was upon us as Massillon and Canton McKinley laced 'em up for the latest version of their century-old rivalry.
CLARK GETS FIRST TASTE OF "THE WAR OF 1894"
Danny Clark, the 6-foot-3 freshman phenom at Massillon (8-2), led the Tigers to a dominating 34-7 win against longtime rival Canton McKinley (9-1) yesterday afternoon in front of a packed house at famed Fawcett Stadium in Canton. The win propelled the Tigers into the playoffs, where they will host Nordonia Friday night.
"I think I played 'ok,'" Clark said via text message Sunday afternoon. "The great thing about the win was being able to get the seniors a win over McKinley one last time."
Clark has had an up-and-down year since being elevated to a starting role in the second week of the season, but the win against McKinley saw him play a mistake-free, controlled game and that is what made the difference for the freshman. 
"We've played in some hectic environments this season already, so I had an idea of what it would be like. I didn't feel any added pressure," Clark continued. "It was just an amazing feeling know I was part of something so great, (something) that's bigger than everyone of us on the field."
With his first playoff game ahead of him, Clark's career is just taking off and it's worth keeping a close watch for Buckeye fans.
(If you want to watch the replay of the game, click here.)
THERE'S SOMETHING HAPPENING HERE
We don't spend much time talking about recruiting if it doesn't pertain to Ohio State, but it's undeniable that Brady Hoke and his coaching staff at Michigan have done an exceptional job since arriving in Ann Arbor on a white horse in January of 2011. Hoke has won over recruits by stressing the strength of the Michigan brand, relying on historical relevance and the promise of a Maize and Blue rebirth under his kind, compassionate and understanding tutelage. A BCS bowl (despite an undeserving bid, in my opinion) win in his first year serving as fodder for future classes, Hoke has maintained momentum this year with a verbal commitment from the nation's top player in Jabrill Peppers and UM is still sitting pretty for Da'Shawn Hand, the premiere defensive end in the country for 2014 as well. 
But...
Michigan's losing steam inside of their own borders, and it's hard to see it any other way. Yes, they were able to successfully flip Grand Rapids wide receiver Drake Harris (who had committed to rival Michigan State initially,) but as each week goes by and Michigans on-field results don't match their off-field bravado, the state's top players for 2014 and beyond are seeing the painful truth: Michigan's coaching staff might not be as good as it's cracked up to be where it kind of matters, namely in the area of, you know, coaching football.
After yesterday's beatdown at the hands of the Spartans, there has to be some discussion as to what is going on around the Mitten. 
"(My son) and I had a long talk this morning and that game certainly raises a ton of questions," said one father of a top recruit from Michigan who attended the game in East Lansing yesterday. "MSU totally dominated them. That game was worse than the score indicated. There's a shared perception by many people that Michigan is not as capable of developing the players they bring in. Truly elite players that have knowledgeable people in their decision making process can't be 'sold' just on history and tradition. There has to be some substance in the product. There are a couple of (national recruits) going to Michigan over the next couple years. We will be watching their development very closely."
"Michigan State has very good coaches who have played the positions (they coach) in both college and the NFL and appear to relate to the players very well," he added. "They are very intense coaches who knows their stuff and they communicates expectations very well. Is Michigan just interested in being too 'comfortable?' Maybe. There is no substitution for production. There are certain measurables that don't lie. Tradition is about history, but recruits are looking into the future."
Interesting stuff. Michigan suddenly appears at a crossroad again and it's likely some difficult decisions inside of their coaching staff will have to be made this offseason.
KICKS ARE FOR KIDS
It's been quite a year for Ohio State commitment Sean Nuernberger. He's become one of the nation's most highly-sought kicking prospects thanks to a big leg (he kicked a Kentucky state record 57-yard field goal two weeks ago) and an athleticism that you might not expect from "just a kicker." Despite his personal accolades, his Oldham County team is struggling, limping into the Kentucky playoffs at just 2-8 (every team makes the playoffs in Kentucky.) When you're a competitive person, losing can take a toll on you but the future Buckeye is not letting it impact his confidence.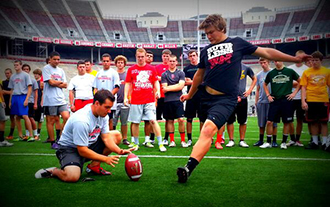 "I am learning a lot about how to lose," Nuernberger said of the challenges he's faced this year. "It's just taught me to keep my head up though,  and that no matter what I have to keep doing my job."
This past weekend was the worst of the season for Nuernberger, he finished 0-4 on field goal attempts in a game that saw Oldham County bested by his counterpart on a last second field goal, 17-15. 
"It's tough to see us lose a game like that," he said of the four missed field goal attempts (two blocked, two botched snaps that didn't get teed up). "They won on a game winning field goal, and that's what we're supposed to do. I know that a loss isn't the end of the world and things could always be worse, but it sucks without question. I'm just going to keep preparing to make every single kick."
With the playoffs starting this week, Nuernberger is hoping for a deep run, but he knows his team's struggles are unlikely to produce that. He's focusing on his job and what comes next.
"I am very excited to get to Columbus," the kicker, who will enroll at Ohio State in January, said. "I was invited to the Offense-Defense All-American game, but since I need to enroll at Ohio State the next day, I won't be playing."
RECRUITING TIDBITS
It was good week for Ohio State commitments, as Jalyn Holmes, the nation's fourth-ranked defensive end from Norfolk (Va.) was awarded his Army All-American jersey during a ceremony at Lake Taylor High School this week. Holmes drew negative national attention earlier this year when he was suspended for stepping on an opponent during a nationally-televised game in September, and he acknowledged this year has been a challenge.
"Yeah, you have no idea how good it feels," Holmes told 11W this afternoon. "It's been a tough year for with the suspension and the injury (Holmes missed games with a kidney issue). I am just glad to be back playing and to have this opportunity."
Holmes took his official visit to Ohio State on October 26th as the Buckeyes dismantled Penn State, and it's a trip that went very well and Holmes hopes it will be the end of people talking about his recruitment and any possibility that he'd still take a look at Florida State or other schools.
"It was really great just spending time with the whole team," Holmes said of the visit. "It felt like home. I spent a lot of time talking to Raekwon McMillan, we've known each other for a long time, he's like a brother to me. I don't know where he's going to go, but I'll support him no matter what he chooses."
---
Cleveland Glenville and Akron St. Vincent St. Mary's will also receive a stop from the Army AA tour, and three Tarblooders (and potentially three future Buckeyes) — as well as Irish linebacker Dante Booker — will be honored with their own ceremony on November 13th and 15th, respectively. 
Booker is also being honored as a semi-finalist for the high school Butkus Award, given to the nation's top prep linebacker. He's joined on the list of twelve semifinalists by a couple of familiar to Buckeye recruiting circles, including Raekwon McMillan, Michael Ferns, Nyles Morgan, Dillon Bates and Cleveland St. Ignatius linebacker Kyle Berger.
Berger's inclusion on the list was a bit of a surprise to him, since he's not played a snap this year after injuring his ACL in the Wildcats' final exhibition in August against Canton McKinley.
"I was really pumped when I found out, especially because I've not played this year," Berger said "I just saw I made the list on Twitter, I don't know what they base it on, but it was completely out of the blue."
Berger's injured knee has kept him a cheerleader this season, and ironically it's a trip to Canton McKinley this weekend that he hopes will be the start of a state title run for Ignatius.
"It's a little bittersweet," Berger said of the return to Fawcett Stadium. "But I am just pumped for the playoffs to start. We're trying to be the second Ignatius team to go 6-4 into the playoffs and win the state."
You can get a full rundown of the state's playoff slate here. 
---
Perhaps Ohio State's most important remaining offensive line target for 2014, Chad Mavety, took his official visit to Florida State this weekend as the Seminoles rolled over No. 7 and previously unbeaten Miami, 41-14. Florida State is the biggest threat to Ohio State getting a signature from Mavety, and this weekend's visit was a great chance for FSU to make an impact.
"I did not commit, but the trip was really nice," Mavety told Eleven Warriors this afternoon. "I can't commit anywhere without making my official visit to Ohio State."
Ohio State will get their last shot at Mavety on November 23rd when they host Indiana, a contest that is sure to lack the pomp and circumstance of Florida State's heated rivalry game against Miami. The Buckeyes will need to roll out the red carpet and convince Mavety that with four departing starters, they present him the best combination of playing time, national exposure and NFL development. Right now, Ohio State and Florida State each have four commitments along the offensive line, but Florida State is rumored to be in excellent shape with Maryland's Damian Prince, Missouri's Roderick Johnson and Florida's David Sharpe, each of whom play the same position as Mavety.
---
Ohio State commitment Stephen Collier is planning to enroll in January, and he's been watching closely how Braxton Miller has turned up his game the last few weeks. 
"I think just the chemistry between all of the players in finally clicking," Collier said of the suddenly exploding Buckeye offense. "Braxton is back to his usual self and we have so many weapons on offense it's ridiculous."
What adjustments has Collier seen Miller make and what will give him the best chance to succeed?
"It's a really fast paced offense but they're so smooth and under-control that it's hard to stop," he added, breaking down the game of his possible future mentor. "I think we're really seeing how Braxton's improving and going through his reads lately. It's going to be imperative that I know the offense top to bottom when I get on campus. It's a huge advantage for me to get enrolled early."
WEEKLY REVIEW
| Position | Player | School | Opponent | Comment |
| --- | --- | --- | --- | --- |
| QB | Stephen Collier | Lee County (Ga.) | at Columbus Northside (Ga.) | Won 56-0, Collier ran for two touchdowns and passed for one. |
| WR | Parris Campbell | St. Vincent-St. Mary (Ohio) | at Youngstown Ursuline (Ohio) | Won 40-7. Campbell had 130 yards rushing and two scores. |
| WR | Terry McLaurin | Cathedral (Ind.) | Zionsville (Ind.) | Won 35-21, had 10 carries for 48 yards and 4 receptions for 54 yards. |
| OT | Jamarco Jones | De La Salle (Ill.) | at Crystal Lake Central (Ill.) | Won 38-35 in double overtime. |
| OT | Kyle Trout | Lancaster (Ohio) | Newark (Ohio) | Lost 40-13, Lancaster ran for 195 yards on 20 carries. |
| OG | Marcelys Jones | Glenville (Ohio) | Cleveland John Hay (Ohio) | Won 40-0, played mostly defensive line in shutout win. |
| OG | Demetrius Knox | All Saints Episcopal (Texas) | Houston St. John's (Texas) | Won 49-27 as All Saints looks for third straight state title. |
| DE | Jalyn Holmes | Lake Taylor (Va.) | at Norfolk Granby (Va.) | Won 42-0, Holmes back to playing full strength. |
| DE | Dylan Thompson | Montini Catholic (Ill.) | Chicago Morgan Park (Ill.) | Won 43-6. You can watch full game recap here.  |
| OLB | Kyle Berger | Ignatius (Ohio) | Canada Prep Football Academy (Canada) | Won 35-14, DNP (Knee) |
| OLB | Dante Booker | St. Vincent-St. Mary (Ohio) | at Youngstown Ursuline (Ohio) | Won 40-7. |
| CB | Damon Webb | Cass Tech (Mich.) | Grosse Pointe South (Mich.) | Won 35-0 to remain undefeated. Webb had a 16-yard touchdown reception. |
| S | Malik Hooker | New Castle (Pa.) | at Natrona Heights Highlands (Pa.) | Lost 24-19, Hooker had a touchdown reception as his season came to an end. |
| ATH | Noah Brown | Pope John XXIII (N.J.) | at Flanders Mount Olive (N.J.) | Won 34-0, five tackles on defense, 36 yard TD reception. |
| ATH | Sam Hubbard | Moeller (Ohio) | Louisville Trinity (Ky.) | Won 42-14, 10 tackles, one tackle for loss. |
| ATH | Lonnie Johnson | West Side (Ind.) | Highland (Ind.) | Won 46-27, Johnson scored one rushing touchdown. |
| ATH | Curtis Samuel | Erasmus Hall (N.Y.) | Brooklyn Tech (N.Y.) | Won 55-7, Samuel scored three touchdowns. |
| K | Sean Nuernberger | Oldham County (Ky.) | vs Louisville Jeffersontown (Ky.) | Lost 17-15, 0-4 FG (two blocked, two fumbled holds) as team dropped to 2-8 on the season. |
| OT | Chad Mavety | Nassau C.C. (N.Y.) | Globe Tech (N.Y.) | Won 48-6 to improve to 9-1 on the season. |
| DT | Thomas Holley | Abraham Lincoln (N.Y.) | at Boys and Girls (N.Y.) | Unable to find results |
| DL | Solomon Thomas | Coppell (Texas) | Ryan (Texas) | Won 28-3. |
| ILB | Raekwon McMillan | Liberty County (Ga.) | South Effingham (Ga.) | Won 41-17 to earn playoff berth for Liberty County. |
| S | Mike Rogers | Campbell (Smyrna, Ga.) | Bye | Bye week, did not play. |
| S | Erick Smith | Glenville (Ohio) | Cleveland John Hay (Ohio) | Won 40-0. |
| ATH | Marshon Lattimore | Glenville (Ohio) | Cleveland John Hay (Ohio) | Won 40-0.  Was scheduled to visit Alabama next weekend but has postponed it |
| ATH | Eric Glover-Williams* | Canton McKinley (Ohio) | Massillon Washington (Ohio) | Lost 34-7, had 73 yards on 18 carries. |