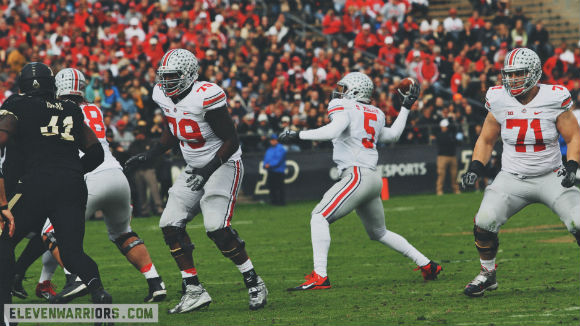 Ohio State visited Purdue with the knowledge that no Buckeyes on the roster had ever won at West Lafayette except for Purdue transfers Rashad Frazier and Devin Hill.
But this year's Boilermakers team has been historically bad. Purdue entered at 1-6 (0-3 in Big Ten play), getting its lone win in a 20-14 home struggle against a horrible Indiana State team. It failed to score a point in its last outing two weeks ago against Michigan State and hadn't taken a red zone snap in two games.
The Buckeyes remembered last year's home struggle against the Boilermakers and the overtime loss in Ross-Ade Stadium in 2011 all too well. Revenge was on the minds of Ohio State's players and leaders like senior tackle Jack Mewhort assured everyone in the buildup that the Buckeyes wouldn't take the game lightly. In fact, Ohio State players and coaches said all the right things in the week leading up to the game.
Would normalcy return to the Ohio State-Purdue series? Could the defense build on last week's game against Penn State? Would Braxton Miller do something Troy Smith and Terrelle Pryor couldn't (by winning at Purdue)? Could the offense keep humming despite the birth of Tom Herman's son, Maverick, this week?
Yes, yes, yes, and God yes. And Purdue didn't enter the red zone again, either.
Ohio State's 21st straight win was only surprising if you were expecting another meltdown against Purdue. Here are your weekly talking points:
Water Cooler prep (Everything you need to know…in one paragraph)
Ohio State took the lead two plays into the game on Doran Grant's pick six and rolled from there. Braxton Miller threw four TD passes, tight end Jeff Heuerman nearly doubled his season total for receiving yards, and Carlos Hyde put up 111 yards on just eight carries. Kenny Guiton ran for 98 yards and two touchdowns in relief and threw a jump pass to Chris Fields for another score. The OSU defense allowed only 116 total yards en route to a 56-0 road win, Purdue's worst ever defeat.
Talk before the game 
"Purdue is terrible, but that hasn't made any difference in recent years."
"I am way more nervous about this game than I should be."
"I hope Brutus found the switch to shut off Purdue's football distortion field."
Talk in the aftermath
"It was unsportsmanlike of Ohio State's tight ends not to report they were eligible receivers."
"Can't wait for more 'Buckeyes ran up the score' stories."
And this…
Braxton said Jeff Heuerman needed to be rewarded for all the blocking he's done this season.

— Kyle Rowland (@KyleRowland) November 2, 2013
Yep.
Give that man a buckeye leaf (Player of the game)
Braxton Miller and Jeff Heuerman were devastatingly efficient for Ohio State and will share this week's player of the game honors. Give them each a Buckeye Leaf.
Miller was 19/23 for 233 yards and four touchdowns, with one interception — on a play where he and Devin Smith appeared to be on different pages with regards to the route. He only ran the ball once, gaining seven yards on the play. It appeared he was under orders not to run it, and on one goal line play he bailed on rushing for it and flung the ball frisbee-style to Philly Brown for the score.
Heuerman was a beast, with five catches for 116 yards and a 40-yard touchdown. He entered the game with 15 grabs for 139 yards and a touchdown, so the Purdue game represented quite a spike in his production. It was the first 100-yard day by an Ohio State tight end since Rickey Dudley's 106 in the 1996 Citrus Bowl, and the most since John Frank's 123 at Michigan in 1983.
Snot Knocker of the Game
Ohio State set up this week's snot knocker of the week when Guiton scored the first of his two rushing touchdowns on the opening drive of the second half. Drew Basil floated the ensuing kickoff 58 yards downfield and Raheem Mostert took it at the seven-yard line for the Boilermakers. Heading left to avoid the coverage, Mostert was hemmed in by Ohio State players and eventually crushed by Ezekiel Elliott near the sideline for only a three-yard return.
After the Buckeyes forced a punt and moved the ball inside the Purdue 25, freshman safety Austin Logan avenged Mostert with a huge hit on Elliott on a third-and-two option play, blowing it up for a loss of five. Teammate Dontre Wilson hung Elliott out to dry when he missed his block on the edge.
Did you see that?! (Play of the game)
On just the second play of the game, Purdue quarterback Danny Etling faked a second-and-five handoff and rolled to his right. Locking on to his receiver, Etling unleashed a pass down the right sideline. Doran Grant stepped in front of Cameron Posey (I think), tucked it and followed a host of teammates 33 yards into the end zone. Curtis Grant, Joey Bosa and Tyvis Powell helped plow the way with outstanding blocks. It was Ohio State's first pick six of the season and set the tone early.
When you sank into your chair (The moment Buckeye football disgraced your family)
There weren't many bad moments, but you can take your pick between Bosa running into (but not roughing) the punter — seriously, what's with hitting the punter this season? — or Ohio State leaving Taylor Decker in much longer than the rest of the O-line starters, which led to him spraining his MCL during garbage time.
Jim Tressel's Least Favorite Moment of the game
Tressel was listening to the game on his portable transistor radio, while tending his herb garden. He was harvesting basil so Ellen could make her famous pesto when Elliott was blown up by Logan on third down at the Purdue 26. When Paul Keels announced that Ohio State's offense lined up on fourth-and-seven — and Guiton threw incomplete for Chris Fields — Tressel dropped his gardening shovel and muttered "Coach, you may wish you'd practiced more field goals at some point down the line, and so forth."
What you texted your friend at the end of each quarter
First: We have tight ends. And finally a pick six!
Second: Last week – avenged 1994 Penn State game. This week – avenged Purdue Harbor.
Third: PleaseBeOKTaylorDecker. PleaseBeOKTaylorDecker. PleaseBeOKTaylorDecker.
Fourth: The only thing missing was Cameron Johnston keeping it and scoring on that last punt. It was wide open.
It was over when
Ohio State was already up 7-0 when Miller led the offense onto the field for the first time. The Buckeyes had great field position after Cody Webster's punt went out of bounds after just 15 yards at the Purdue 49. Miller began the drive with a nine-yard throw to Brown, then effectively put the game away with a 40-yard touchdown toss to Heuerman. Braxton actually had his pick of wide open receivers for a touchdown on the play. Only 3:32 had elapsed but Purdue was never getting back in the game after that.
---
The Buckeyes are on a bye next Saturday and travel to Wind Tunnel Stadium in Champaign to take on the Illinois Fighting Illini (3-5, 0-4) on Nov. 16. Coming off a 24-17 overtime loss in Happy Valley, the Illini will continue to search for Tim Beckman's first Big Ten victory next week at Indiana. You read that correctly: for a change, Ohio State will be the team coming off the bye against someone else, who isn't.