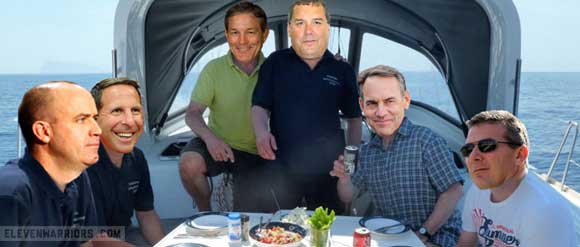 While reading this, imagine Jim Delany's maniacal cackling in the background. Per Forbes:
Over the past decade, perhaps no single organization has had a greater impact on its respective industry than the Big Ten Conference has on college sports. For the first hundred years of the conference's existence, both the Big Ten and the college sports landscape as a whole had a largely uneventful history. While new schools entered the highest levels of collegiate athletics, for the most part competition remained regional and leaders of academia scoffed at the idea of breaking tradition to pursue a national spotlight and new streams of revenue. It was not until the Big Ten hired James E. Delany as their commissioner in 1989, that the college athletics paradigm started to shift from a university afterthought to the multi-billion dollar industry it has become today.

As with many new leaders, in becoming commissioner of the Big Ten, Delany immediately went to work overhauling an organization with tremendous potential but one that was ill positioned to take advantage of an operating environment that was ripe with opportunity. While Delany was unsure what lay ahead for college athletics in the coming years, he did know that his time as commissioner was not guaranteed for very long, and if he was to make a potentially controversial move, he should do it fairly early on in his tenure when his superiors would be more forgiving of a mistake. That is why just a year into his tenure, the Big Ten expanded for the first time in over 40 years by adding the Pennsylvania State University (Penn State).

"There wasn't a lot of strategic thought involved [in our decision to expand]," reflects Delany.  "We were approached by Penn State, and most of our presidents were receptive to adding a likeminded institution. I was pretty certain change was necessary, but admittedly it was a gut decision.  A lot of our constituents and conference alumni disparaged us for breaking from tradition with such a sudden move. In retrospect, although we got the right results, we did it with terrible execution."
The B1G might not have the perception (or the reality) of the best football conference in America, but it definitely has the business acumen rivaled by none.