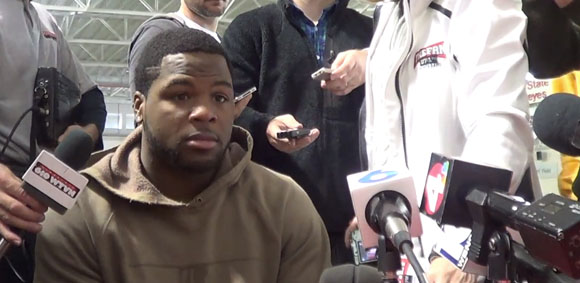 Ohio State may have won in impressive fashion on Saturday against Penn State, but the coaches and players remain hungry for improvement. Monday's interviews were highlighted by a guest appearance from Jeff Heuerman during Tim Hinton's press conference and talks of "Bloody Tuesday."
Speaking of Heuerman, Hinton and Urban Meyer raved about his improvements and what he means for the team. Not wanting to miss out on hearing his own praises, Heuerman snuck into the meeting room just in time to hear his position coach gloat about his strength and athleticism. Heuerman called his relationship with Hinton "incredible" and also mentioned that he likes to have a little bit of fun with him, citing his fake arrest this spring as an example.
Meyer and Luke Fickell spoke of the positive momentum of the team, while the Doran and Curtis Grant both spoke of the aggressive defense. Carlos Hyde mentioned his continued progression this year.