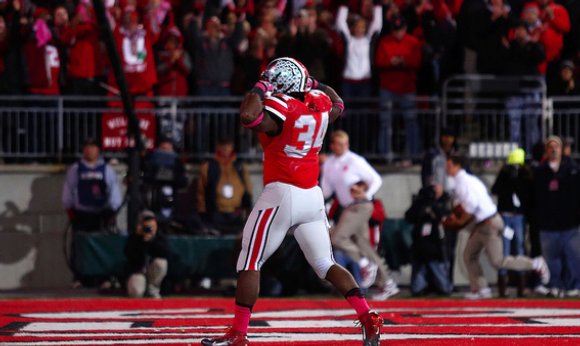 That escalated quickly. 
Ohio State was looking to make a statement in primetime and did exactly that, racing out to a 42-7 halftime lead before coasting to a 63-14 pasting of an overmatched Penn State squad last night in The Shoe. 
The two-headed monster of Braxton Miller and Carlos Hyde dismantled a Penn State defense that just doesn't have the horses while the Silver Bullets beat up on the quarterback, created three turnovers and held the Nittany Lions to 3.0 yards per carry. 
Oh, and Marcus Hall, you might want to find a safe house for a few days after that de-cleating of Deion Barnes. 
The win marks the 20th straight for the Buckeyes, improving them to 8-0 this season with a trip to West Lafayette on the docket for next week. 
But before we turn our attention to the Boilers, here are Five Things from last night's delicious destruction of Penn State. 
BLOCK HEADS
At the sexy position of wide receiver, you sometimes run into players only focused on what the offense can do for them instead of what they can do for the offense. 
Thanks to Zach Smith and Urban Meyer, the current crop of Buckeye receivers are totally committed to all facets of the position. And while it's hard to quantify, they might collectively be the best set of blockers an Ohio State has fielded in recent memory. There has actually been a fair amount of great downfield blocking receivers come through Columbus – Dane Sanzenbacher immediately comes to mind – but as far as depth, this group is outstanding with last night serving as the latest example. 
Devin Smith and Chris Fields were both particularly effective down the field with Evan Spencer also getting into the mix.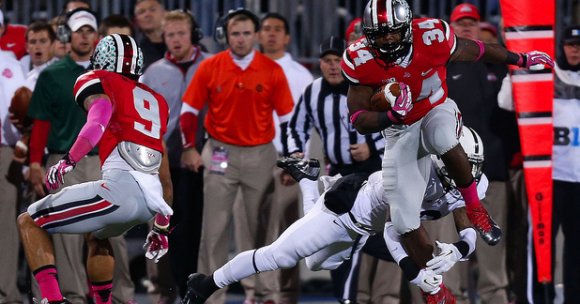 On Ohio State's third possession of the night, Spencer helped spring Dontre Wilson for 12-yards with a textbook block in the slot, giving Wilson the edge. Four plays later, Braxton would score from 39 yards out, thanks in large part Smith holding his block for a good 10 yards, giving Miller just enough space to break the plane to put OSU in front 14-0.
Three possessions later, Fields and Smith teamed up to spring Hyde's 39-yard dash to paydirt, creating a seam wide left allowing Hyde to reach full speed without ever having to juke a defender, giving the Buckeyes a 35-7 lead. Fields was very close to a hold but let up just as Hyde cut up field off his blocker's left shoulder.
Already up 42-7, Fields went back to work on Ohio State's second possession of the 2nd half. After Miller found Wilson in the left flat, Fields again sealed his man, helping Wilson find the end zone on a 26-yard scamper.
Finally, on the next OSU possession, Devin Smith threw the key block triggering Jordan Hall's 41-yard scamper to the Penn State 20-yard line. The Buckeyes would score three plays later to make it 56-7. 
I'll be surprised if Meyer doesn't gush about the efforts of these two in particular at some point this week. 
THE NEXT LEVEL
Braxton Miller, for the second straight week, showed just how ridiculously good he can be when he's healthy.
No longer struggling with the mental and physical effects of a nagging MCL sprain, Miller has looked like one of the top four or five offensive players in the country. 
Obviously, the aggressiveness with which he rushes the football – and the ensuing freakish cuts he makes in traffic – are once again on display thanks to improved health but it's the way he's performing in the passing game that has really jumped out at me. 
Last week, we looked at the fact he made just one bad throw in 27 attempts (five incompletions) and last night he was just as impressive connecting on 18 of 24 throws for 252 yards and three touchdowns against zero interceptions.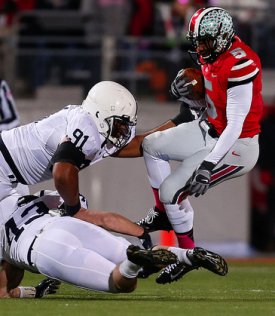 A great example of his growth came on the sixth play of Ohio State's fifth possession, already up 21-0. On 1st and 10 from the PSU 26, Miller dropped back, shuffled left after feeling pressure, went through his progressions, stepped up in the pocket and fired an absolute laser to Smith for a 20-yard gain. His eyes were downfield the entire play and even though he could've taken off for probably at least a 10-yard gain, he hung in the pocket for something bigger. 
That was probably only my second-favorite throw of the half thanks to his last toss of the opening 30 minutes that found Philly Brown for six. 
Having assumed possession with :55 left in the half, Miller quickly moved the Buckeyes down the field with a 12-yard run, and back-to-back strikes to Fields (6 yards) and Brown (23 yards) giving Ohio State 1st and 10 at the PSU 25-yard line with about :09 on the clock. Miller dropped back and stepped into another frozen rope that hit Philly between the numbers at the goal line on a decently covered post route. 
The throw was his 15th completion in 18 1st half tries, good for 204 yards and two touchdowns. 
The man is in command of the passing game and with a healthy knee now allowing him to also get freaky in the run game, opposing defenses are in a world of trouble. 
A QUICK NITPICK
When the Buckeyes strip a team of its collective manhood, it almost doesn't feel right nitpicking over a particular aspect of the team's play but I guess I'll do it anyway. 
Before I do, I will take a second to say the offensive line has been amazing all year and last night was no exception. 
They continue to create gigantic seams for the skill guys to run through as evidenced by Ohio State's 408 rushing yards on a ridiculous 8.0 yards per carry.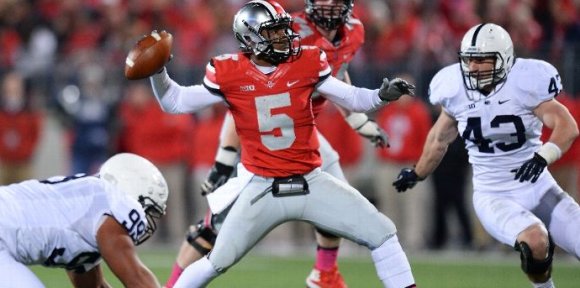 That said, I think it's fair to note they did not have their finest performance when it came to pass blocking. Penn State may have registered just one sack but it felt like Miller was consistently forced to move around in the pocket, or abandon it altogether. 
This wasn't a problem because Miller is once again completely healthy which has really complemented his overall growth as a decision maker and passer. 
At the same time, it would behoove the line to not rely on Miller to make up for their missed assignments because keeping him upright is so essential to Ohio State's quest for another perfect season. 
They weren't awful last night but they certainly didn't match their run blocking effectiveness as Braxton bailed them out quite a few times with his feet. 
WHAT A RUSH
Facing a freshman quarterback, it was clear the Buckeyes wanted to make Christian Hackenberg uncomfortable when he dropped back to pass. 
Before knocking him out the game, they did exactly that, forcing him to misfire on 11 of 23 throws, two resulting in interceptions, while sacking him four times for -21 yards. Hackenberg's 12 completions were good for just 112 yards, or roughly 166 below his average before he left with a bruised shoulder, and psyche. 
Noah Spence was chiefly responsible for the pressure as he recorded two sacks while generally setting up shop in the PSU backfield all night long.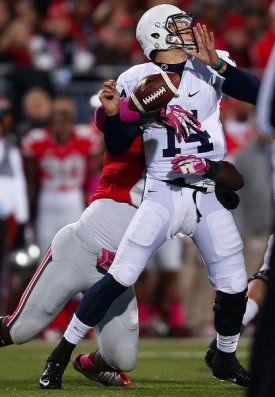 After Penn State's opening possession saw them march 69 yards in 12 plays before a Pitt Brown interception in the end zone, the defense tightened the screws. Over the next three PSU possessions, during which time Ohio State pushed their lead to 28-0, the defense gave up zero net yards on eight plays with an interception.
On their first series following the pick, Spence put just enough pressure on Hackenberg off a 2nd down rollout to cause a misfire to an open tight end. On 3rd down, Michael Bennett applied pressure off a twist and a completed pass was well short of the sticks to force a punt. 
On Penn State's next crack at it, Spence blew past the left tackle with a devastating speed rush and popped Hackenberg, causing a fumble and an 11-yard loss. Now facing 2nd and 21, Spence broke free after lining up on the left side this time, getting a hand in Hackenberg's face just as he let the ball go. C.J. Barnett took advantage, intercepting the ball at midfield. 
After Miller converted the Barnett interception into a touchdown and a 21-0 lead, Penn State once again took possession, desperately trying to make something happen but again, the defensive line had other ideas. 
On 2nd and 5 from the PSU 23, Adolphus Washington got into the act using a nice spin move to break free and sack Hackenberg for a 2-yard loss. On the next snap, Spence bull-rushed his man, forcing Hackenberg to leave the pocket and loft a duck too high for the intended receiver. 
Overall, the defensive line did an outstanding job of creating an organic pass rush and it also felt like Fickell and company dialed up a few more blitzes than normal in a successful effort to disrupt Hackenberg's ability to scan the field. 
A HEADS UP FOR THE POLLSTERS
Ohio State's drop from 2nd to 4th in the major polls was the result of a few things, most of which were out of the team's control. They don't make the schedule, they are the only bright spot in a much maligned conference and sometimes injuries happen. When one of those injuries happens to your best player, it's simply a tough thing to overcome. 
Now that Braxton has been 100% healthy for the last two weeks, Ohio State now one of the most devastating 1-2 offensive punches in the country when you factor in Hyde's spectacular play. Also, with the defense showing signs of life, it's time for the pollsters to reevaluate just how good this team is, versus what it was a few weeks ago with a quarterback still getting over his injury and the defense finding its way as it replaces a bevy of starters lost to graduation. 
Voters need to realize the OSU unit they love to disparage still sits 14th nationally in Total Defense, some 17 spots ahead of Oregon and not far behind Alabama (5th) and Florida State (8th).
OHIO STATE 63, PENN STATE 14
Plus, this offense, with a healthy Miller, has shown enough that voters should realize they would be a handful for any of those teams to slow down. 
In the last two weeks coinciding with Braxton's return to form, the kid has completed 78% of this throws (40/51) for 474 yards and five touchdowns. With his feet, he's added another 170 yards and two touchdowns. 
Meanwhile, Hyde continues to punish defenses rushing for a combined 296 yards and four touchdowns the last two weeks, on 7.4 yards per carry. In basically what amounts to the last seven quarters, the duo has piled up 940 yards and 11 touchdowns. 
Could Alabama or Florida State slow them down? Probably. But could they stop them completely? I don't see it. 
I'm not saying Ohio State should necessarily vault ahead of any of those three teams at this stage but I'm tired of feeling like they are 4th just by reluctant default, not because voters give them the credit they deserve.  
Bonus Thing: BSD is supremely butthurt. 
[Photos: Kirk Irwin Photography]