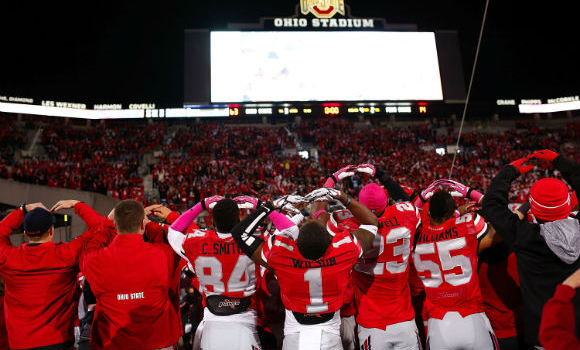 Bill O'Brien brought his Penn State Nittany Lions into Ohio Stadium looking to complete the sweep of the Big Ten's "big two" in back-to-back games. The Nitts had beaten Michigan in four overtimes two weeks ago, then spent a bye week preparing for the Buckeyes.
After Iowa's offense created all kinds of problems for Ohio State with their tight ends a week ago, most Buckeye fans probably expected a steady diet of the same from Penn State, which has a quarterback and tight ends that compare evenly or favorably with the Hawkeyes.
Freshman quarterback Christian Hackenberg has shown poise and NFL-level talent already this season and the Lions love to be physical behind their offensive line and to create mismatches with their rather large tight ends. Defensively, Penn State has a pretty good line but has had some issues defending the pass this season.
Could Ohio State shore up its defense against tight ends? Would the Buckeyes continue to bog down in the red zone? Would Hackenberg be the latest in a line of quarterbacks to look like Joe Montana against Ohio State's secondary? Would the Pick Six University magic continue?
Yes. Nope. No. Sadly, no, although there were a couple near misses. Ohio State's 20th straight win came much easier than expected. Here are your weekly talking points:
Water Cooler prep (Everything you need to know…in one paragraph)
The Buckeyes took the opening kickoff and marched right down the field for the first of nine touchdowns. They never trailed and Penn State only threatened to tie it on its first drive — which ended on an interception in the end zone by Pittsburgh Brown. Carlos Hyde ran wild for 147 yards and two touchdowns on only 16 carries (9.2 YPA). Braxton Miller ran for two scores and threw for three. Kenny G time came early and even Cardale Jones got two series' in the 63-14 romp. Ohio State didn't get a pick six, but scored more points against Penn State than any team since 1899.
Talk before the game 
"Hackenberg should be able to throw all over Ohio State's defense."
"I think this will be high scoring with the Buckeyes pulling away late."
"This will be one of the biggest recruiting weekends of the year for Ohio State."
Talk in the aftermath
"Braxton could do anything he wanted tonight."
"Cardale Jones is a Mack truck in a football helmet."
"We don't give a damn for the whole state of Michigan."
And this…uh…gem?
Interesting Urban felt the need to run it up and embarrass Penn Stare. Sorry, but it's too late. OSU needs help, period.

— Dan Wolken (@DanWolken) October 27, 2013
Give that man a buckeye leaf (Player of the game)
You're going to need at least five Buckeye Leafs (we decided on Leafs, right?). Jack Mewhort, Andrew Norwell, Corey Linsley, Marcus Hall, Taylor Decker and even the backups were outstanding on the offensive line. They opened six-lane highways for Hyde, Miller and whoever else toted the rock, and mostly kept Braxton upright on pass plays.
Action Braxton put up 261 yards in the air on 19/25 passing without an interception, and ran for 68 yards on 11 carries (6.2 YPA). Surprisingly, it was the first time in his OSU career that he ran for two touchdowns and threw for two (or more, in this case) in the same game.
El Guapo matched a 39-yard score by Miller on a play where I'm not sure if he was even touched. Come to think of it, add some Buckeye Leafs for tight end Jeff Heuerman and the receivers for their blocking. It was like having nine offensive linemen on every running play.
As a team, the Buckeyes ran for 408 yards and four different players gained 50 or more yards on the ground for Ohio State. Jordan Hall and Cardale Jones each averaged more than 10 yards per carry. It was an incredibly dominating performance by the O-line.
Snot Knocker of the Game
I thought Deion Barnes was dead. Facing third-and-16 from the OSU 14-yard line on just the second possession of the game, Miller dropped back to pass. Feeling the rush, he scrambled to his right and tucked the ball, heading upfield, with Barnes in close pursuit. Right guard Marcus Hall peeled back to help and destroyed Barnes, who only had eyes for Braxton. I don't think he ever saw Hall coming, and I was shocked he was able to get up after Hall demolished him. It was frightening.
Did you see that?! (Play of the game)
There were so many big plays that this may come as a letdown for some, but we finally got the long-awaited formation with both Kenny G and Braxton on the field at the same time. Guiton lined up at quarterback, with Miller split out as a wide receiver to the left. It was all a clever ruse by Meyer, because Guiton calmly took the snap and kept it for a two-yard score. Still, for all the times we heard that these two might be in a formation together, this is your play of the game, because it happened and it can never un-happen.
When you sank into your chair (The moment Buckeye football disgraced your family)
The game was well in hand and Penn State had already removed starting quarterback Christian Hackenberg. Backup Tyler Ferguson threw a screen to Allen Robinson, who had been mostly kept in check all game. Robinson saw a wall of Buckeyes and decided to slip out the back. He eluded a tackler in the backfield, found the left sideline, turned upfield and cut back against pursuit to score a 65-yard touchdown that was more run than catch. It was a great individual play for Robinson, and you tip your hat, but it was an ugly scar on an otherwise beautiful performance.
Jim Tressel's Least Favorite Moment of the game
This was it. It was the game when James Tressel had nothing to gripe about. And then...
With the game well in hand, Tress took the opportunity to sort and wrap a huge pile of loose change that had been building up for years. As he calmly counted out another $10 of loose quarters to fill another wrapper, Ohio State freshman punter Cameron Johnston trotted onto the field for only the second time all night. Kicking from his own 44, Johnston booted the ball deep into the Columbus night…and into the end zone for a touchback. With one mighty backhand, Tressel swept hundreds of dollars of change onto the floor in disgust.
What you texted your friend at the end of each quarter
First: El Guapo and Braxton – bash and dash. Great start!
Second: #BEATEMDOWN
Third: Kenny G and Braxton on the field together!
Fourth: 63-14…revenge for 1994. 20-0!
It was over when
Ohio State 63, Penn State 14
With 4:12 to play in the first half, Hackenberg hit Brandon Felder for a 12-yard touchdown, trimming the Ohio State lead to 28-7. That just seemed to make the Buckeyes angry. On the ensuing kickoff, Dontre Wilson nearly broke one, ending up with a 49-yarder to the Penn State 45. Two plays later, El Guapo broke a long run over the left side for a 39-yard score. The play was blocked so well that it looked like the easiest play that ever was. The Buckeyes were up 35-7 and the Nittany Lions were toast.
---
The Buckeyes travel to something called West Lafayette, Ind., next week to take on the Purdue Boilermakers (1-6, 0-3). Former Ohio State assistant Darrell Hazell is in his first season as Purdue's head coach. It has not been a good season so far for the Boilermakers, who, like all teams this season, will be coming off a bye before playing Ohio State.
We sincerely hope that late-game Kenny G heroics are not needed this year, but if they are, they are always welcome.
[Photo: Kirk Irwin Photography]