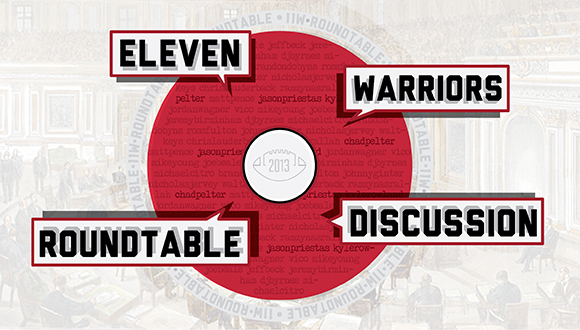 Your Buckeyes have another game in primetime against another team coming off a bye week. We've got everything you need to know and more to make you the smartest guy at your tailgate...or at least on your couch.
This week we've got Jason, Kyle and Chad along for the ride.
Keg's tapped and you've got a house cup. Let's get to it.
Freshman quarterback Christian Hackenberg is emerging as a legitimate passing threat in the Big Ten. How do you see his day playing out against an OSU secondary that's hit a bit of a rough patch?
Jason: Like so many that have come before him this season (Goff, Stave, Siemian/Coulter), I expect Hackenberg to have a good outing against Ohio State's secondary. In Allen Robinson, he has the league's best wide receiver, and let's not forget his coach turned Matt McGloin into an all-conference quarterback. I'm still not giving up on this secondary, but this won't be the week that they turn the proverbial corner. 
Kyle: He'll throw often enough to put up stats. I see Penn State playing from behind most of the second half, if not three quarters of the game. Zach Zwinak and Bill Belton are capable running backs, but I don't see them doing much against an Ohio State defense that effectively shut down Wisconsin's vaunted ground game. That puts the onus of Hackenberg to create offense with his arm.
Allen Robinson and the Nittany Lions' trio of tight ends might be the best group of receivers the Buckeyes face all season. Combine that with a pass defense that ranks near 80 in the country and a deficit on the scoreboard – you'll get yards. We saw that with Jared Goff earlier this season. What you'll also get, as was the case with Goff, is a freshman mistake or two.  
Chad: If Rudock was able to do well against the secondary, Hackenberg should do just fine against our secondary. However, if the Buckeyes learn from the Iowa game film and align the defensive secondary more effectively to the strong side (and have Doran and Roby triggering on short passes), the Buckeyes should both limit big plays and make Penn State drive the length of the field for points. As a result, I expect lots of yards but not as many points for Hackenberg. 
The defense started slow against Iowa. What do they need to do against Penn State to ensure it doesn't happen again?
Kyle: I don't necessarily agree with the notion that they started slow. I think Iowa was just playing well and they executed. If that happens, the defense is in trouble. If the defensive line plays well from the outset, the Buckeyes should be fine. It's going to take major deficiencies on offense, not defense, for Ohio State to lose to a Big Ten team.
Chad: I expect Penn State to have a similar game plan as Iowa - throw more than normal to tight ends and wide receivers on short passes and screens, while challenging Roby downfield on the wide side with Robinson. The defense might allow Roby to play man against Robinson, but this is dependent on his ability to prevent explosive plays. Otherwise, look for plenty of triggering by the secondary and more Tyvis Powell to counter passes in the flats. 
Jason: Well, the obvious answer is Roby and Grant need to limit Robinson like the Buckeyes were able to do last year when they held him to 5 catches and fewer than 70 yards. This year, Robinson is getting 40% of Penn State's yards through the air, so limiting him is key. If the defensive line can get to Hackenberg early, and maybe rattle the freshmen with hits, that'll help.
Carlos Hyde is playing some of the best ball of his life, but PSU's  rush D, aint no slouch. How do you see Hyde's evening playing out?
Chad: I'm pretty convinced Hyde can run on whoever he pleases. Neither Wisconsin nor Iowa were able to contain Hyde (with the threat of Donte or Braxton running as well), so neither will Penn State. 
Jason: I think this one will be close for a while, so expect to see a steady diet of Hyde. He'll get at least 20 carries and will top 100 again. 
Kyle: Typical, as in 100-plus yards and two touchdowns. When Hyde was believed to have been kicked off the team, a large faction of the fanbase thought no big deal. They thought Jordan Hall and others could carry the load. Guess what? That's not the case. I get that Hall played well during the non-conference schedule. But there's a reason he's not getting playing time now. He's a good kid, solid player. I just don't think he'd be near the producer Hyde is. Without Hyde at Northwestern, Ohio State loses. Plain and simple.
Penn State's defense has struggled containing dual-threat quarterbacks in recent year, which should only make things more helpful for Hyde to make his presence felt.
A pick 6 against Penn State is nearly a sure thing these days. Does it happen again this Saturday? If so, who's on the receiving end?
Kyle: I'll say no. Eventually that trend will come to a halt. But if someone does it, I say Bradley Roby. He always comes up big in primetime. 
Jason: The odds say no, but our math does not apply to this pick-six tradition. Ohio State has only scored one defensive touchdown this season – Bosa's recovery at the end of the Northwestern game, so the unit is due, independent of any voodoo applied from the history between these two teams. I'm going to go out on a limb and say Doran Grant gets one.
Chad: I expect Grant to have the most opportunity for one. I think Penn State will try Robinson over the top, so Roby (presumably covering Robinson) is less likely. Instead Doran Grant will likely have the opportunity to jump underneath routes while in zone coverage. 
What is your final score prediction?
Jason: 34-24. Buckle up. 
Chad: 35-17, but the Buckeyes are never worried. 
Kyle: 38-20, in what could possibly be very similar to last week's game. Wouldn't be shocked if Penn State takes a halftime lead with Ohio State overpowering the Nittany Lions in the second half. 
Last weekend was littered with upsets. Do you see any happening this week? If so, who?
Kyle: It's definitely a possibility. There are a lot of highly ranked teams that play decent opponents. I don't see Alabama losing to Tennessee or UCLA beating Oregon, but South Carolina over Missouri and Oklahoma beating Texas Tech are near locks, in my opinion. Stanford travels to Oregon State, which could also be a really good game. 
Chad: I don't think it'll be like last week. Oregon State might have a chance, as does South Carolina, but those aren't as big of upsets. 
Jason: Yep. Florida State will knock off NC State. No, nothing on the scale of what we saw last weekend.
All of the BCS contenders are getting weaklings or decent teams at home. Tennessee is playing with fire, but there's no way that team marches into Tuscaloosa and wins. UCLA is a very good team, but Oregon gets them in Autzen. Ditto South Carolina at Missouri.
Maybe Oregon State beats Stanford?
Florida State threw the hammer down on Clemson last week. Was that performance for real? Was Clemson flat, or was it a little bit of both? Explain yourself.
Chad:  Florida State is legit. They've been stockpiling talent there for years, and it seems like they've finally found a quarterback who can distribute the ball efficiently to that talent. Their offense is pushing .787 points per play and their defense is holding other offenses to .182 PPP, which is just ridiculous. Clemson may or may not have come out flat, but FSU kept them flat. Makes me really wish we had gotten Lamarcus Joyner a few years back. 
Jason: That performance was for real. Florida State has been recruiting freaks for years and now they have the best best freshman quarterback college football has seen since...last year. Winston is amazing, and he looks to be the difference between the overhyped Florida State we've seen for the last four years and a team that looks capable of living up to the hype.
Kyle: A little bit of both. There's no way Clemson is that bad. They already beat a very good strength Georgia team this season. But I think Florida State is really, really good. Jameis Winston is clearly the real deal, and most importantly for the Seminoles, the defense of the 1990s is back. Miami, Florida and a possible ACC title game remain, so I don't think an undefeated season is a shoo-in. That said, I think Florida State and Ohio State have the most favorable paths to 13-0. 
I've got to ask. Miami's NCAA ruling. What's your reaction?
Jason: Don't even care anymore. The NCAA is a tornado full of dumpster fires. On fire. The good news is that something new is coming soon. It has to be better, right?
Kyle: None, really. I didn't think the lack of a postseason ban was bad. They already gave themselves a two-year bowl ban and one of those years included the ACC Championship Game. I have scandal fatigue at this point. It's getting so old. I just don't care if people break rules. Everyone is bending them. The NCAA is a complete joke. College football is becoming a charade. 
Chad:  I don't really have a problem with it. They had the advantage of observing the NCAA with USC and OSU, so they were able to more accurately gauge what the NCAA would do and then self-impose penalties on their own. 
Is there any college football coach you'd trade for Urban Meyer? Feel free to say no…I would.
Kyle: Meyer and Nick Saban are far and away the top two coaches in the country. If I were Ohio State, I wouldn't trade Meyer away. But Saban is the only logical choice if your arm was twisted.
Jason: No. #blessed 
Chad: Not one.