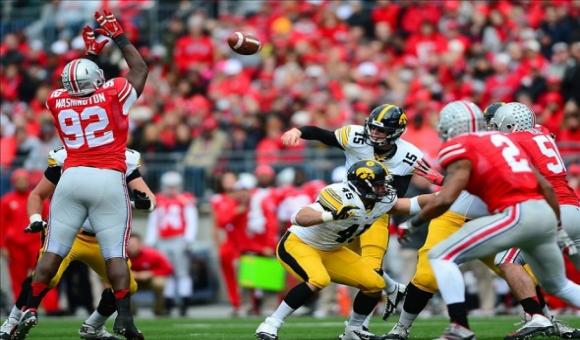 The first 30 minutes of Ohio State's eventual 34-24 win over Iowa last weekend did not go as planned. Coming off a bye week, the Buckeyes moved the football effectively but were sloppy when approaching the red zone. The defense was another story entirely.
They allowed 222 yards and a plethora of third-down conversions. It was bad enough that Mike Vrabel sprinted to the locker room, with head coach Urban Meyer describing the scene as "not pleasant."
Slightly overlooked was the fact that the Hawkeyes were also coming off a bye week. When you're Ohio State, opponents get up for you even if you're in the midst of a down year. But during a lengthy winning streak – that really gets teams' attention. Throw in an extra week to prepare for the Buckeyes, and it makes them vulnerable to an upset.
The Penn State game marks the third consecutive week Ohio State's opponent is coming off a bye week. And that streak will grow to four, as Purdue is off this week, ahead of hosting the Buckeyes on Nov. 2.
In recent years, Ohio State has run into the issue of playing several Big Ten teams each season coming off bye weeks. The same issue has plagued Alabama in the SEC, to the extent that head coach Nick Saban and late athletic director Mal Moore asked the conference investigate the matter.
"The consensus feeling of the group was that there was inequity in the number of open dates for opponents prior to playing Alabama as opposed to other schools," then-SEC associate commissioner Charles Bloom said.
It hasn't reached that level for the Buckeyes, but this season could be the tipping point. Eleven Warriors contacted the Big Ten and asked if the conference does anything during the scheduling process to alleviate issues such as one team facing a substantial amount of opponents coming off a bye. Associate commissioner Scott Chipman said it's "not a part of our scheduling parameters that are approved by our schools."
Double byes have only made the problem worse. Both Northwestern and Iowa started fast against Ohio State and added wrinkles on offense that hadn't otherwise been seen. Prior to both games, the Buckeyes' coaches and players stressed that they'd have to be alert and on the look out for such things. Instead, they were still caught off guard and went into the half trailing. 
"We have to be prepared," Meyer said. "Iowa did have a bye week, and 13 grouping, three tight ends, and we weren't ready for it. We didn't adjust well. That's something we have to be prepared for when you face a team that has a bye week, and that's going to happen again this week.
"We have to be ready, and we will be ready."
Halftime adjustments were made against the Wildcats and Hawkeyes, with each second half featuring efficient offensive play and proficient defense. But they remain the only two games Ohio State has fallen behind in all season.
"I think that's life in the big city," Vrabel said. "I think you've got to understand, whether they have a bye week or not, you're going to get a whole bunch of stuff. The stuff you've had trouble with is going to continue to show up until you stop it. The things that you do well, they're going to try to have answers for. We need to do a great job as a staff and we need to do a great job of getting that from our minds to our players' minds and ultimately give them an opportunity to play fast."
Last week was Penn State's second bye week of the season, a subject in its own right that's become controversial. Nebraska and Illinois' off weeks came one week apart. Ohio State appears to have the most friendly bye weeks – the midway point of the season and again three weeks later. 
The Big Ten has already dealt with multiple weeks of four-game slates. Mark Rudner, the conference's senior associate commissioner in charge of scheduling, told ESPN.com's Adam Rittenberg that the 2013 and 2014 schedules were set before expansion called for a championship game and a regular season that extended beyond Thanksgiving. It means 48 conference games over 10 weeks instead of nine. Next year, that number grows to 56 games.
"There's a lot of firsts going on with expansion," Iowa head coach Kirk Ferentz said.
With a whopper-jawed calendar, the college football season began in August, meaning an extra Saturday – 14 in all. It happens again next year and then there will be normalcy until 2019.
Coaches enjoy off weeks. They can recruit and it lets the team rest, self-scout and get a head start on the next opponent. Allowing injuries to heal is perhaps the biggest advantage to sitting idle. It didn't help the Buckeyes earlier this season, though, because Braxton Miller's MCL sprain didn't coincide with a bye. However, the Cornhuskers have struck gold with Taylor Martinez. Nebraska's two off weeks came when he was injured, lessening the amount of games he missed.
"Sometimes you get into a rhythm and you don't like that bye week," Pelini said. "If you're a real veteran group, sometimes it's real hard to get them through not only one bye, but a second bye."
The Illini's Tim Beckman takes the approach of not exerting energy toward something he has no control over. Health is the top priority, but he also wants his team's on-field product to make strides in the right direction when they're given extra time off.
"You live with it, you adapt with it, you make it positive," Beckman said. "That's what we're doing."
A few days rest and, say, 10 days preparation as opposed to five or six does not guarantee a win or even a sound performance. Penn State was off the final week of September before traveling to Indiana. The Nittany Lions discovered quickly that maybe they needed two weeks off after the Hoosiers steamrolled them, 44-24.
"I am probably more toward giving [players] a little bit of a break, let them study and get caught up on their academics and get healthy," Penn State head coach Bill O'Brien said. "To me, it's about being fresh and healthy and being ready to go on Saturday night."
Said Ohio State offensive line coach Ed Warinner: "Another team that's had two weeks. Here we go again. We've got to get ready."
Welcome to life in the big city.