One of my favorite blog tropes is when one team blog swaps "intel" with a site that reps the other side.
So when Devon Edwards of Black Shoe Diaries wanted to do one of those Q&A swaps with us, I had to jump at the chance. (You can read what I told them here, where I am referred to as 'hideous' right in the headline!) It's always interesting to field questions from the enemy because sometimes it can reveal what they think and fear about your squad. 
Other times they just want to get some basics, like which players the casual fan should watch for on your team. That's fine too. You have to cover all the bases.
Johnny and I got some of the Penn State perspective from Ben Jones on yesterday's Dubcast, so I decided to go beyond the game a little bit and find out what Penn State fans are thinking about outside of this Saturday night's prime time matchup in the Horseshoe.
Let's peel back the curtain and take a gander at the wizard.
As Penn State goes through a season wracked by NCAA sanctions and with a true freshman quarterback at the helm, what were your expectations for this season and how does it compare with the reality you've seen so far?
Devon Edwards: Heading into this season, there was so much uncertainty that even making any prediction seemed impossible. After the successes of last year, and the number of returning pieces around Christian Hackenberg, eight wins seemed to be a reasonable expectation, though that was before anyone knew how good UCF was, and, of course, the loss to Indiana. Really, though, considering that Penn State's playing with almost 30 fewer scholarship players than most of its opponents, I think the hope was that the Lions would be able to stick with the better teams, even if they lost, and that Hackenberg would develop over the course of the season to a point where starting next year, when we'll start to fill up the cupboards (but more realistically in 2015, when we're back near full strength) we can be competing for a Big Ten championship.
I'm not sure we're quite on track for that yet, and this season has been a bit frustrating at times, but hey, that Michigan win erased pretty much all the bad vibes left over from the catastrophe in Bloomington.
Penn State fans seem very happy with Bill O'Brien as coach and even most opposing fans can't find anything to dislike about him. But nobody's perfect. What are BOB's weaknesses so far as PSU head coach?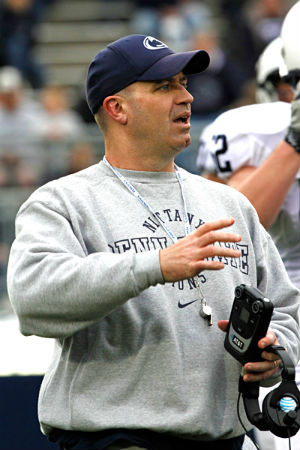 DE: Oh, I've got plenty of gripes with BOB, the first being that this year he really seems to have bitten off more than he can chew. Without the kind of senior leaders who led this team through a very uncertain summer —guys like Mike Mauti, Mike Zordich, and Matt McGloin — the team's gotten a bit undisciplined. Without a senior quarterback, his playcalling has really fallen off a cliff (although, oddly enough, in a pass-heavy direction), and despite the growth of Sam Ficken into one of the Big Ten's better kickers, he's still too willing to roll the dice when he doesn't really need to, like, say, going for it in the first half, from inside his own 40, last game. There were very public calls from some, myself among them, for O'Brien to hire an offensive coordinator. But off the field, he's just about perfect.
With Miami's sanctions being handed down earlier this week (and basically consisting of "time served"), what are Penn State fans saying about the NCAA and its punishment these days?
DE: The growing sense among Penn State fans is very similar to the one amongst pretty much all college football fans; that is to say, we believe the NCAA is corrupt, outdated, attention-seeking, arbitrary, and capricious in its punishments. There's not just the sense that we were punished for heinous crimes that were in no way violative of any NCAA bylaws (and without any NCAA investigation), but that Mark Emmert has no idea what he's doing.
A few players at Ohio State getting free tattoos is worse than boosters running the program in Miami, or paying handlers at Oregon? Or, far, far worse, institutionally-sponsored and rampant academic fraud at UNC? The NCAA's priorities are so backwards, it's disgusting. The vitriol has subsided a bit since the sanctions were lessened — and, should the bowl ban be the next domino to fall, will fade even more — but it's hardly just a Penn State sentiment to loathe Mark Emmert.
It seems as if Penn State views Ohio State as a rival but that's not universally reciprocated by Buckeye Nation. Is this a developing rivalry or are these two schools just recurring conference opponents that simply haven't learned to hate each other yet?
DE: Honestly, guys, the whole "We only have one rival and it's Michigan who cares about Penn State harumph harumph" thing is getting a bit old. In the past ten years, we've played, essentially, for three or four Big Ten titles, we play, pretty much, every game in primetime, on ABC, the atmospheres are always insane, we're close enough that plenty of fans make the trip from Columbus to State College or vice versa, we go after the same recruits, and almost every game in recent memory has been as closely contested as any other Big Ten team has consistently played you.
We're two of the most historically dominant teams in one of the best conferences in college football, we have this game circled at the start of every season, the players--on both sides--talk about this as one of the most important games each year, and the fans trash talk each other mercilessly. This is a rivalry, guys. Hate to break it to you. Just because we haven't been playing for 100 years doesn't mean it's not.
Personal note: OK, fella, but you'll have to line up behind the Wolverines and Badgers.
When the Buckeyes and Nittany Lions have met in recent years, there have been an uncanny number of pick sixes in the series thrown by Penn State quarterbacks. Do PSU fans live in abject terror of this happening again or is it seen as coincidental?
DE: Well, yes and no. No, it's not coincidental, because Matt McGloin was never really a quarterback known for taking care of the ball, but yes, we're still afraid of it happening because we have a true freshman quarterback who, while he's lived up to the 5-star, blue-chip, top-prospect label, is still a true freshman who is very prone to making very bad mistakes. Oh, and you still have Bradley Roby, who's one of the best corners in the country. I'll defer to my fellow blogger to illustrate that we Penn State fans are well aware of the trend.
What are your expectations for Bill O'Brien's tenure at Penn State? Is he in Happy Valley for 20 years or does he bolt for the NFL in the next five? Somewhere in between?
DE: Look, nobody's expecting another Joe Paterno who sticks around for 60 years and then dies. But given the incredible challenge of leading Penn State through this dark period, I think it would come as a real shock to a lot of people if he left before he got to see the other side. He's been promising recruits that he'll be here for the entirety of their time at Penn State, and while every coach says that, BOB's always seemed like a real straightforward, no-bullshit kind of guy, and by all accounts, he really does love it here. I think he'll be coaching on Sundays eventually, but I'd be surprised if he did in the next five years.