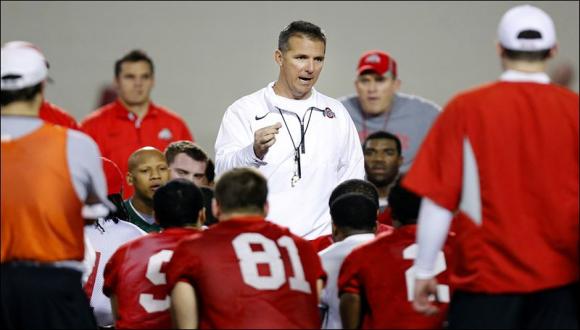 It wasn't long ago when Braxton Miller was a true freshman quarterback going through the growing pains of his first college season. Urban Meyer remembers it because he was a commentator that season and saw Miller up close and personal.
Ohio State faces a true freshman in Christian Hackenberg this week. He's the best rookie quarterback in the Big Ten since Miller came along, and Hackenberg is playing like anything but a first-year college player.
Meyer said its imperative that the Buckeyes get pressure on the signal caller. If he gets settled in the pocket, he can pick any defense apart. Hackenberg's arm is strong and capable of beating any opponent.
Watching from afar, Miller said he's impressed with Hackenberg's play because he knows just how hard the jump is from high school to college. The learning curve is immense and most true freshman don't succeed out of the gate.
Notes:
Meyer said he was disappointed last week in how long it took the defense to make adjustments. They weren't able to shore up their deficiencies until halftime.
Ohio State talked to the Big Ten on Sunday about Bradley Roby's targeting ejection. The Buckeyes were told it would have been very hard for the officials to overturn the call on the field because there was helmet-to-helmet contact. Meyer said he was satisfied with the explanation.
Tommy Schutt continues to get better health wise and his on-field play improves as he gets more healthy, according to Meyer.
Meyer believes Saturday's game will be a street fight. He said Penn State will carry momentum from beating Michigan into the game.
Miller said he still feels some soreness on the field. But his adrenaline on the field makes him play through it.
The offense got a solid A grade from Miller. He said they're operating at 92 percent.
Asked to describe his highlight-reel run at Penn State last season, Miller said the play was a blur. He did remember that Carlos Hyde was supposed to get the ball, though. Miller kept it instead.
Miller said he wants to get Jeff Heuerman involved in the offense on Saturday.
Ryan Shazier said he doesn't worry about where Ohio State is in the BCS standings.  He said it always have a way or working itself out. All Ohio State needs to concentrate on is winning the next game.
Philly Brown said Ohio State needs to start winning more impressively.
Shazier's happy about the win streak, but he said he and his teammates still just take everything game-by-game. No pressure.
Brown, a Pennsylvania native, said the Penn State game isn't something he circles on his calendar.
Asked if he was surprised at how well Penn State has withstood its sanctions, Brown said no. It's still Penn State, he said. Brown said no matter what Penn State isn't going to have some horrible season.
A big story of the season has been Philly Brown's blocking ability. He said he does it for several reasons: he wouldn't be playing if he didn't block, for the love of the team, and for Hyde. He said he and Hyde are best friends.
Brown said fundamentals can only take you so far. At some point, you have to get by on desire.
Meyer said earlier in the week that Brown gave a rousing halftime speech Saturday. Brown said it included some bad words, but also that he challenged both sides of the ball. Evidently, it worked.
Meyer also said last year he would go on the opposite side of the street as Brown, saying he wasn't a high character guy or leader. Brown said he sensed that and alluded that the feeling was mutual. He said it takes time to trust someone, even if it's Urban Meyer.