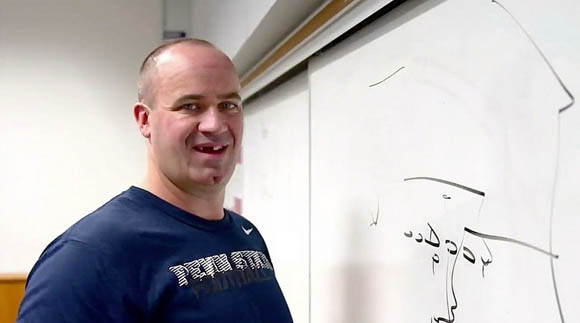 In late July 2012, Penn State was hit with what many believed to be program-crippling sanctions. The NCAA took unprecedented action in punishing the Nittany Lions, fining the university $60 million, taking away 10 initial scholarships and 20 over a four-year period and slapping them with a four-year bowl ban.
It was the death penalty without dying. Instead of lethal injection, Penn State's fate would be a slow, cruel death. But after an 0-2 start in 2012, with the drumbeat of failure growing louder, head coach Bill O'Brien began a turnaround that was beyond belief. The Nittany Lions won eight of their final 10 games to finish 8-4 and have since followed it up with a 4-2 start in 2013. They also own a victory in the Big Ten's game of the year – a four-overtime classic against Michigan.
All of the winning has been done with 61 scholarship players, two fewer than the limit for FCS schools. But O'Brien, a graduate of the Bill Belichick School of Coaching, is having none of the sappy story.
"It's not like we're 6-0," he said.
That scholarship number will begin to grow. In September, the NCAA reinstated some of the scholarships after Penn State showed it was going above and beyond in being compliant with the association. It will have 75 scholarships in 2014, 80 in 2015 and the full allotment of 85 in 2016.
Suddenly, O'Brien, already a superb evaluator of talent, will have extra scholarships in his back pocket. Just last week, the Nittany Lions beat out Ohio State for heralded tight end Mike Gesicki. For two years, O'Brien's motivational tactics have worked at every turn. He's been no slouch in the offensive department, either. But the whole team receives O'Brien's straight-forward message.
"It has a lot to do with Coach O'Brien's leadership," linebacker Glenn Carson said. "He had a lot to do with keeping the team together. The type of character guys that we have on the team was able to overcome that adversity."
Said O'Brien: "We have a resilient bunch of guys here that really just care about each other. They don't worry about what anybody outside says and just care about practicing hard, lifting weights hard, going to class, doing what they're supposed to do and play hard on Saturdays."
This Saturday presents another challenge for Penn State. It will be the most hostile environment it has played in since O'Brien took over, but that too is another sticking point. He embraces these moments and uses them to let his players know how fortunate they are.
"If you're not in a BCS bowl or playing for a national championship, to me, Ohio State, 100,000 people in the stands in the Horseshoe, I don't know of too many bowl games that are better than that," O'Brien said.
It's another chapter in a rivalry that's akin to a fine wine – it gets better with age. Ohio State and Penn State first played in 1902. The two land-grant universities have played 27 times since with Ohio State owning a 15-13 advantage in the series' history.
"We better be ready," Meyer said about Saturday's primetime showdown.
Opponent Breakdown
The past two seasons for Penn State have been about defying the odds. No, the Nittany Lions did not finish unbeaten like Ohio State nor they do sit inside the top 10 right now or any rankings, for that matter. But Penn State's 8-4 record in 2012 and 4-2 mark through six games this season is arguably just as impressive.
After all, the Nittany Lions are working with 61 scholarship players. In comparison, FCS schools have 63 scholarship players.
"Very good team. A team that has momentum, a team that had a bye week, a team's that's rested and well-coached," Urban Meyer said. "They're legitimate – this is Penn State."
And it's a Penn State team entering Saturday's game with confidence and momentum after an epic win over previously unbeaten Michigan.
"A lot of juice," Meyer said.
That juice on offense lies in the passing game, an area Ohio State has struggled to defend. Allan Robinson is arguably the top wide receiver in the Big Ten and Penn State's tight ends – all three of them – pack a wallop.
In six games, Robinson has 43 receptions for 703 yards and five touchdowns. He matched up against Bradley Roby a year ago and only caught five passes for 68 yards. The tight end trio of Jesse James, Kyle Carter and Adam Breneman has combined for 33 catches, 393 yards and a touchdown. That's a boost to the Nittany Lions after the Buckeyes gave up 167 yards and two touchdowns on 10 receptions to Iowa's tight ends.
Count Meyer among those aware of the danger.
"They're a little bit better throwing team than Iowa, and Iowa hurt us," he said.
Few true freshman quarterbacks have had more impressive starts to their careers than Penn State's Christian Hackenberg. The starter from Day 1, Hackenberg has completed 58 percent of his passes for 1,672 yards – a per-game average of 272 – and 11 touchdowns versus six interceptions. His legend in Happy Valley is soaring after his last minute drive in regulation to force overtime against Michigan.
Ohio State's pass defense ranks 78th nationally, giving Penn State an advantage when the ball's in the air. On the ground, it's all Buckeyes, though. The Nittany Lions have three rushers with at least 270 yards on the season but none – Zach Zwinak, Bill Belton and Akeel Lynch – averages 70 yards per game.
Linebacker Glenn Carson is the backbone of the defense. Of course it's a linebacker. Carson has a team-high 49 tackles, four tackles for loss and a sack. Many worried about who would anchor the defense after the losses of Michael Mauti, Jordan Hill and Gerald Hodges. But Carson has filled into a leadership and production role nicely.
"He's a tough guy," O'Brien said. "He's improved, he's quicker, he's faster, he's stronger. He loves playing for Penn State."
Carson will be tasked with slowing down the Buckeyes' high-powered offense, but he doesn't come alone. Defensive lineman DaQuan Jones, cornerback Trevor Williams and a host others are along for the ride. Jones has 39 tackles, second most on the team, an astounding 8.5 tackles for loss and two sacks. Williams has tallied an interception, seven passes defended and six pass breakups.
The entire defense will have its eye pointed squarely toward Braxton Miller. Penn State has struggled against dual-threat quarterbacks in recent seasons with Miller's 134 rushing yards and two touchdowns last year included on the list.
In the Nittany Lions' most recent game, Michigan quarterback Devin Gardner torched the defense to the tune of 121 yards. In the same game, Fitz Toussaint, the Wolverines' running back, gained just 27 yards on 27 carries. A small number of scholarship linebackers has contributed to Penn State's rush defense woes.
"We have a tradition here. We stop the run," defensive lineman Anthony Zettel said.
Buckeye Breakdown
PSU. Penn State University. In recent seasons, however, Ohio State fans have had fun with the initials for a Big Ten rival – Pick Six University, they insist.
In the past 11 years, the Buckeyes have returned eight interceptions for touchdowns against the Nittany Lions. It's a staggering number that defies logic, especially in a series involving two of the sport's grandest programs.
The first came in 2002, when Chris Gamble returned a Zach Mills interception to the southwest corner of the end zone in Ohio Stadium. It is still considered one of the loudest plays in the history of the Horseshoe and a shining moment in Ohio State's national championship season.
Tyler Everett, Malcolm Jenkins (twice), Antonio Smith, Devon Torrence, Travis Howard and Ryan Shazier have since been added to the pick-six club.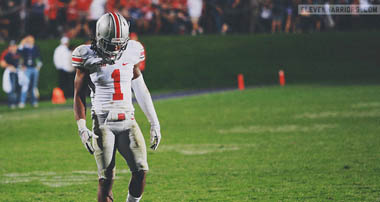 So who will become a member this season, or might Shazier get his second? Cornerback Doran Grant, hailing from Akron, which is near Penn State territory in Ohio, is aware of the past history.
"I'm pretty sure our defense is, too," he said. 
In six games this season, Hackenberg has thrown six interceptions. None have been returned for touchdowns. Grant, though, will be waiting patiently for what he calls the backdoor slider. Once it's there, you must react and make a play, he said.
When it comes to Buckeye defenders, Bradley Roby was the most talked about during the week. That's what happens when you're the first Ohio State player to be ejected for targeting. Meyer said he senses a breakout for the All-American cornerback whose redshirt junior season has been nothing short of a disaster.
That primetime performance could be coming Saturday night, a setting Roby relishes. He returned an interception for a touchdown against Nebraska last season and blocked a punt for a score at Northwestern this year.
"I love to make plays when everybody is watching," Roby said.
He'll be tasked with covering Robinson. One would be inclined to give the upper hand to the All-American defender. But Robinson has proven over time he can beat the defense and Hackenberg's arm can be as accurate as a missile.
"The whole back end's got to play well, and we haven't had our best game yet back there," Meyer said. "It's about time. I'm counting on them this week to be a strength. Giving [Hackenberg] time is a problem. He's getting better and better as you would envision from a freshman. Big strong strapping guy, really good arm."
Braxton Miller also has a big arm. Carlos Hyde has big legs. Making both of them go is a big offensive line. Punishing the Nittany Lions into submission is what they're aiming for. In the past two second halves, the Buckeye line has done exactly that.
The Buckeyes are averaging 45 points and nearly 500 yards per game. It starts with five offensive linemen linked like a chain, weighing in at over 1,500 pounds. Punishing, indeed.
"I feel good about the line," Meyer said. "They're my favorite players on the team."
How it Plays Out
On paper and film, Ohio State is the clear favorite and the better team. That doesn't always matter, though in Ohio Stadium after nightfall has cloaked the old Horseshoe, rarely has the better team lost.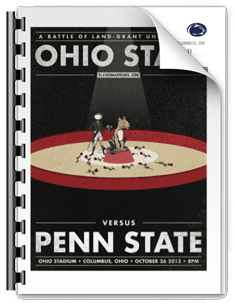 This game has the makings of an Iowa repeat. Hackenberg could be the best quarterback the Buckeyes have faced all season, and Robinson and the Nittany Lions' tight end duo present a formidable challenge for a secondary and linebacking corps that's struggled to contain the pass.
A slow start with adjustments coming in the second and third quarters would be par for the course. Hackenberg will throw frequently enough that he'll tally yards. But Penn State's rushing attack isn't the unit that comes to mind as possessing the first 100-yard rusher against Ohio State's stout run defense. 
Hackenberg can't beat the Buckeyes on his own, and freshman mistakes are inevitable. So too is Carlos Hyde rumbling for at least 100 yards and a touchdown. The Nittany Lion secondary has been known to surrender passing yards, which could mean a big night for Braxton Miller and his receivers, but also Jeff Heuerman. Penn State games have often meant memorable days for Buckeye tight ends.
Ohio State has reached a point in the season where it needs to start impressing voters. That means bigger margins of victory and impressive play, particularly on offense. Crooked numbers attract positive attention.
The past three games have included sloppy play from the Buckeyes, but the final result was never in much doubt. It's a combination of how much talent Ohio State has on the field and how big that gap is with conference opponents. This is perhaps the worst year for the Big Ten.
It becomes increasingly clearer each week that turnovers are the only hope for teams. Unless the Penn States, Illinois and Indianas scores multiple times off Buckeye turnovers, Ohio State is more than likely going to finish undefeated.
Two weeks ago, a shorthanded Penn State team had three takeaways against Michigan. The Nittany Lions won in four overtimes. 
---
ELEVEN WARRIORS STAFF PREDICTION: Ohio State 38, Penn State 21