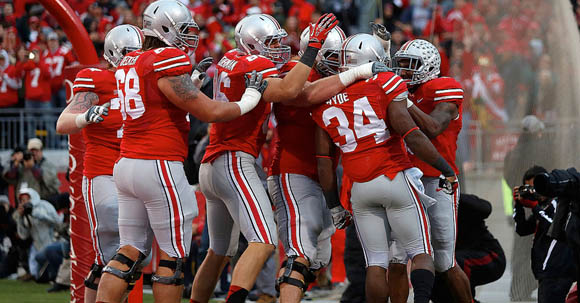 Relationships factor into every facet of one's life – family, friends, employment and on and on. It's no secret that cooperation makes all activities and interactions easier. For five Ohio State offensive linemen, a 1,500-pound steam engine behind which an efficient offense is powered, solid footing has meant camaraderie and cohesion on and off the football field.
Someone who shares in their good-natured friendship is head coach Urban Meyer. He's referred to the line as the backbone of the team and his favorite players. Jack Mewhort, Andrew, Corey Linsley, Marcus Hall and Taylor Decker form a unit that is unbeaten in trench warfare.
The latest shelling of an opponent came last Saturday in Ohio Stadium, when the offensive line contributed to a traditional Big Ten grind-it-out victory. Meyer was quick to build up the line in what has become a weekly tradition. Saturday's in the fall present multiple constants – college football, 105,000 people showing up to Ohio Stadium and the Buckeyes' offensive line pushing someone around.
The scoreboard showed a 10-point margin, but the offense's dominance went much further. Ohio State finished with 30 first downs and nearly 500 yards of total offense. The four returning senior starters on the line graded out as champions with Decker earning honorable mention accolades. The most impressive stat isn't the amount of rushing yards, points scored or first downs tallied. Far more astounding is the lack of penalties, as in zero. That's how many times the O-line was flagged against Iowa.
"We talk about them all being connected, almost like a chain," offensive line coach Ed Warinner said. "It's a strong unit that has a lot of camaraderie. They've played a lot of games together, and it's a lot of fun to watch them do their thing out there."
Aside from Meyer and Warinner, perhaps no one is a bigger supporter of the line than one Carlos Hyde.  In four games this season, Hyde has gained a team-high 443 rushing yards and scored five touchdowns. One of those touchdowns came Saturday and only seemed possible with the use of a joystick.
"To me, Carlos Hyde is the best running back in college football," Hall said. [That run] doesn't surprise me at all. He just looks at us and tells us when we go, he goes."
The team has six negative rushing yardage plays in 210 attempts. Hyde has zero in 72 rushing tries. Those types of stats are why every running back is accumulating at least five yards a carry.
"It says we probably don't have many missed assignments," Warinner said.
"We talk about them all being connected, almost like a chain. it's a lot of fun to watch them do their thing out there." 
– Ed Warinner
Part of why the line has gelled so well is due to their personalities, which contrast greatly with one another. Warinner described the quintet as unique. Scientists could study the offensive line meeting room and come away shaking their heads.
"That whole group is a bunch of characters," Warinner said. "There are five guys that are all very different, very different."
Said Hall: "We try to pride ourselves on being able to run the ball. Not taking anything away from the pass, but when we go to the run game we don't want anybody to stop us."
So far, they haven't been. It's become a ritual in the meeting room to give notable performance three claps. For instance, Hall received three claps from his linemates this week for his outing against Iowa. What the line should do is give themselves a standing ovation.
Warinner said the extra week of practice helped. But not every game has been met with an off week. Whether it's five, seven or 13 days of preparation they receive, the offensive line appears up to the task. Coaches are creatures of perfection, and when they speak in glowing terms on a consistent basis, rest assured the performances have been praise worthy.
The continued advancement of Decker has been a contributor in the entire offensive line's reputation. Game 1 for Decker left much to be desired. Reid Fragel made it possible to earn a paycheck from the Cincinnati Bengals after blossoming into a dependable right tackle last year. The drop off to Decker hasn't been visible.  
"I'm like a little brother to them," Decker said. "I do feel I've improved and gotten a little closer to them, but it's kind of a little brother relationship. I wouldn't have it any other way."
It comes full with teasing, thanks to the upperclassmen. The fun and games could have stopped after the opener, when Decker was overmatched a majority of his time on the field. But his buddies picked him up instead of letting him teeter.
"He's settled down and been very solid," Warinner said.
Friends and teammates – the Ohio State offensive line is a group of misfit characters, a band of brothers who've found a home and thrived in an atmosphere of patience.