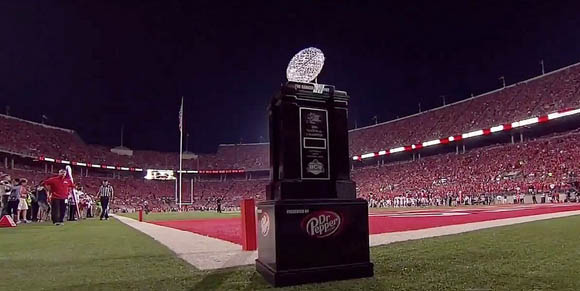 | RK | Team | BCS |
| --- | --- | --- |
| 1 | Alabama | .984 |
| 2 | Florida State | .935 |
| 3 | Oregon | .932 |
| 4 | Ohio State | .855 |
| 5 | Missouri | .822 |
| 6 | Stanford | .741 |
| 7 | Miami | .720 |
| 8 | Baylor | .712 |
| 9 | Clemson | .625 |
| 10 | Texas Tech | .622 |
Let the debate begin.
For the last time, the first Bowl Championship Series rankings were released, and they didn't favor the Ohio State Buckeyes. They're ranked fourth, behind three undefeated teams.
The top five is: 1. Alabama 2. Florida State 3. Oregon 4. Ohio State 5. Missouri.
The gap from three to four is sizable, too. Oregon's BCS average is 0.932, nearly eight hundredths of a point better than Ohio State's. In the BCS lexicon, it's equivalent to a two-touchdown lead. But before panic sets in in Buckeye Nation, remember it's still October and the BCS rankings are fluid.
The past week of college football – wild and filled with upsets, which dramatically changed the BCS landscape –was evidence of that. Florida State's blowout of Clemson vaulted them to second, while yet another surprising Missouri win – this time over Florida – solidified their place atop the SEC East and inside the top five of the BCS.
The Seminoles' 51-14 thrashing of the then-No.3 team on the road in a hostile environment at night is the most impressive victory of the season, and poll voters took notice. They jumped Ohio State and are third in both human polls. Florida State has the No. 1 average in the computer ratings.
The Seminoles' advantage over Oregon is by the thinnest of margins, just three thousandths of a point. With the Ducks playing UCLA and Stanford in the coming weeks, their deficit might not last for long. Florida State's remaining schedule includes Miami and Florida (and a possible ACC Championship Game), but also three very weak opponents.
Three undefeated teams – Clemson, Louisville, UCLA – lost this week, as did LSU and Texas A&M, both one-loss teams that were ranked in the top 10 of the Coaches and Harris Poll. The list of unbeatens has been whittled from 16 to 10 in just two weeks.
Ohio State's ranking is a combination of their place in the human polls – fourth in both – and a low computer ranking. The Buckeyes are ranked fifth or lower in four of the six computer ratings used. They don't just have to worry about the teams ahead of them, either. An undefeated Missouri would almost certainly pass them, and eighth-ranked Baylor might if they finished with zero losses.
Michigan is ranked 22nd and Nebraska, a possible opponent for Ohio State in the Big Ten Championship Game, is 24th. Wisconsin is not ranked.
Fresno State (17th) and Northern Illinois (18th) are in position to earn BCS bowl berths. The Huskies could become the only non-automatic qualifier to play in BCS games in consecutive years. Fresno State and Northern Illinois needs to finish in the top 16 to secure a bid.
---