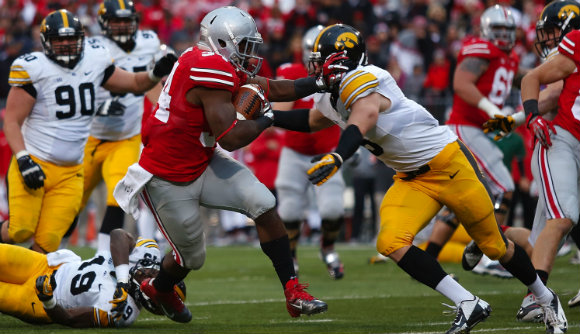 With top-ranked teams dropping all around them yesterday (Clemson, UCLA, UGA, Florida, both USCs, and Texas A&M), the Buckeyes turned in one of their most efficient performances of the season to do what those seven teams couldn't – just keep winning.
Sure, no Buckeyes hit NCAA statistical records yesterday, like UGA's Aaron Murray who set the SEC career all-time offense mark, or Jeremy Gallon's Big Ten receiving yards record with 369 versus Indiana, but the Buckeyes didn't need to. Highly efficient play was enough to put away the Hawkeyes and extend the win streak to 19-0.
Impervious to Negativity
One of the only stats you'll need to know when talking to your friends is zero: the number of times Ohio States punted against the previously number ten overall scoring defense in the country. That's the kind of day that the Buckeyes had yesterday. Sure, 34 points doesn't look like a lot compared to Alabama's 52 or Oregon's 62, but the Buckeyes seemed allergic to negative plays (except in the red zone in the first half).
In fact, the turnover on downs (and ending each half) was the only non-scoring possession of the game for the Buckeyes. I'll take 86% drive efficiency any day of the week. It wasn't all rosy, as Drew Basil had to be called out twice for field goals and the aforementioned turnover on downs made the Buckeyes' start seem slow, but Evan Spencer has some perspective here:
"When we got the ball it might have looked slow, but we scored the first two times we had possession and were moving the ball well. I think it was more Iowa starting fast, not us starting slow."
The second half was even more dominance as Hyde and Miller made it look pretty easy against the nation's eighth-ranked rushing defense (on a side note, while the stats haven't been updated for yesterday yet, five of the top ten rush defenses are in the Big Ten).
To continue that thought, Hyde had six carries in the first half and every one of them was efficient according to RBSR standards. He ended with a 75% RBSR on 24 carries. Those are incredible numbers even when you don't consider that it wasn't against Iowa's rush defense and with some of those inefficient carries coming on the final vanilla clock-eating drive. Those are just some of the reasons why 6.2 yards per carry doesn't tell the whole story.
Hyde wasn't the only efficient rusher for the Buckeyes, as Braxton also crossed the 100 yard mark on 18 carries. Miller's RBSR was only 62%, but that's still great – and indicative of fantastic game planning from Herman. Braxton continually made the correct read on inverted veer and packaged inside zone/hitches all day.
In fact, every ball carrier averaged over five yards per carry. Dontre was efficient on two of his three attempts and Hall made the most of his two carries in the game.
The Buckeyes managed 6.3 yards per play and .44 points per play. Not season-bests for sure, but this was due mostly to red zone inefficiencies, including one turnover on downs and two field goals. The nine additional plays to kill the clock in the fourth quarter also lowered these statistics somewhat artificially.
While it seemed like Iowa always had a tight end or four open every third down, the Buckeyes didn't slouch on third either, going 10/14.
Braxton's 8.2 yards per attempt won't blow you away, but his efficiency should. 22/27 (81%) for 222 yards, two touchdowns and no turnovers. That's a career high in completions.
The Buckeyes had .53 PPP in the second half on 45 meaningful (non-clock killing) snaps. That's 6.6 yards per play.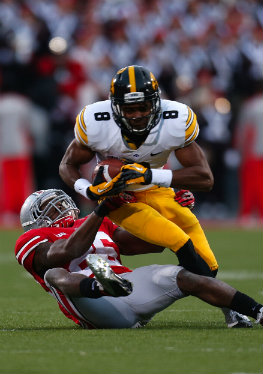 Doing Just Enough
So, about that defense. The Roby-less unit still struggled through the air, giving up catches to seemingly every tight end on the roster (and giving Duzey an 85 yarder when he entered the game with four total catches on the season).
Not that it makes it OK, but didn't we expect this to some degree? We knew Iowa was a rush-heavy team that liked to ride Weisman to victory, play field position football, eat up the clock, and constrain defenses' aggression against the run with some well-timed play action passes.
Naturally, we'd expect Fickell and Withers to counter with a run defense-intensive look that might leave some holes in the secondary – especially if those players are young and coached for run-support first.
Further, the defense got more efficient as the game went on. After ten first quarter points and seven in the second, the Hawkeyes only scored seven in the second half and were shut out in the final quarter. The Hawkeyes only had two possessions in each quarter, but the time of possession was drastically different in each half – six minutes and 55 seconds in the second half compared to 18 minutes and five seconds in the first half.
Here are some quick notes:
The Buckeyes allowed a touchdown on an opponent opening drive for the first time this year.
On the bright side, Ohio State has yet to allow a 100-yard rusher this year. Weisman gained 52 yards on ten carries, but you never got the sense the Hawkeyes wanted him to carry the day. Instead they used the threat of Weisman and Bullock to hit rollout passes to tight ends.
I was extremely surprised that the Buckeyes didn't manage any sacks against Ruddock. In fact, Mike Bennett was the only Buckeye defender to manage a negative play – one TFL for one yard. However, Joey Bosa managed two quarterback hurries in his first career start and Shazier tacked on one as well.
Shazier, Grant, and Perry led the team in tackles (9, 8, and 6), which is exactly the group you'd expect to lead the team against a rush-heavy offense like Iowa. However, Armani Reeves tied Perry with six tackles and no pass breakups. That's not good news for Roby's one-game replacement.
Tyvis Powell wasn't on the field as often against Iowa, but he did record the team's only turnover, a fourth-quarter interception.
Adolphus Washington must still be recovering, as he only recorded three stops on the day.
We'll have more in-depth analysis of Buckeye stats coming soon from the charting project, so go volunteer to chart a quarter or four!