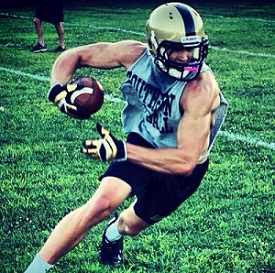 Welcome to another edition of the Ohio State football recruiting notebook.  We'll wrap the week up for you and give a preview of what's coming up next.
While the current Buckeye players were enjoying their bye week, the coaching staff was working as hard as ever recruiting the next wave of Buckeyes.
The coaching staff made three new scholarship offers this past week, we'll take a closer look at the latest recruits offered and see where Ohio State stands with them.
Ohio State lost out to a Big Ten rival on one of their top targets.  We'll recap the decision and discuss the impact of it.
The future Buckeyes continue to dominate the high school gridiron, we'll check in on them and look ahead to this weekend's slate of games.
Lastly, we'll take a look at who is visiting this weekend and the significance of this weekend's recruiting visits.
THE WEEK THAT WAS
After a long recruitment that saw Ohio State as the favorite for most of the time, 4-star TE Mike Gesicki chose the (close to) hometown Nittany Lions over the Buckeyes following a visit to Penn State last weekend.
"I'm so blessed, thankful, and joyful to announce that I am committed to The Pennsylvania State University!" Gesicki said via Twitter on Thursday night.
Gesicki's decision stings a bit, as he is a terrific player and prototypical tight end that Urban Meyer was looking for.  That being said, for the staff it's business as usual - next man up.  The question is, who is the next man up?  After essentially telling Tyler Luatua thanks but no thanks, the Buckeyes options at TE for the 2014 class are very limited.  Deandre Goolsby is the only remaining tight end in 2014 that has an offer from Ohio State and is considering the Buckeyes.  Goolsby visited Ohio State the same weekend as Gesicki (for the Wisconsin game) and the staff really likes what he can bring to the table.  Most see Goolsby as more of an Arkansas lean, with other southern schools in the mix, so it's hard to say whether or not Ohio State will recruit him harder with Gesicki being Penn State bound.  A couple other potential tight end names that Jordan mentioned the staff could be interested in are Ryan Izzo (Noah Brown's teammate, Florida State commit) and Ethan Wolf (Tennessee commit, from Minster, Ohio).
Personally, I don't think the staff is in any hurry to grab another tight end.  Ohio State is in pretty good shape at tight end, with Jeff Heurman (junior), J.T. Moore (junior), Nick Vannett (sophomore), and Marcus Baugh (current redshirt freshman) giving the Buckeyes plenty of dynamic depth.  Jalyn Holmes and Sam Hubbard have both played a bit of tight end in high school and would be comfortable playing there for the Buckeyes if need be.  Look for the Buckeyes to make a stronger push for a tight end in the 2015 class with C.J. Conrad, Garrett Williams (offered) and Jackson Harris being names to keep an eye on.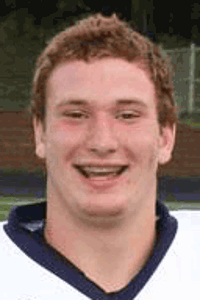 The news wasn't all bad this week, as Ohio State made three scholarship offers - to Frank Ragnow (2014 O-Line), Tee Shepard (2014 JUCO DB) and Steven Gonzalez (2015 O-Line).
Ragnow is listed as a 3-star recruit and has quickly become one of Ohio State's top targets on the offensive line.  Jordan recently predicted him to Ohio State, a testament to the mutual interest between Ragnow and the Buckeyes.
The 6-foot-6, 290 pound Ragnow has quite an impressive offer list, with Florida State, Wisconsin, Miami, Arkansas, Missouri and Nebraska among others.  The Minnesota prospect currently seems to be favoring Florida State, Minnesota, Ohio State and Arkansas.
Ragnow is planning to visit Ohio State this weekend for the matchup against Iowa, so we should have a better feel for where Ragnow and Ohio State stand after this weekend, but it seems as though Ohio State is in a great position for Ragnow.
Tee Shepard, a 2014 JUCO defensive back also picked up an offer this week.  Shepard was originally enrolled at Notre Dame as a member of the 2012 class before transferring to junior college.  Shepard was originally ranked as a high 4-star recruit and the third best cornerback in the nation.  He will now have three years of eligibility remaining.
Shepard seems to be favoring Oklahoma and West Virginia the most, but Ohio State is in the mix as they continue to offer athletic defensive backs.  Between Shepard and Mike Rogers earning offers the past two weeks, it seems pretty clear that the staff is planning on taking another defensive back in this class (presumably in addition to Lattimore and Erick Smith).  What does this mean?  It's hard to say, but it could be viewed as Ohio State wanting to try Marshon Lattimore on offense.  Lattimore is a dynamic play-maker and adding more depth in the defensive backfield will give Ohio State the option of playing him on offense if they choose to.
Lastly, Ohio State continues to try their luck in the New York/New Jersey area, offering top 2015 offensive lineman Steven Gonzalez from Union City (N.J.).  Gonzalez is ranked as the third-best offensive guard in the nation and a 4-star prospect.  In addition to Ohio State, he currently holds offers from South Carolina, Louisville, Wisconsin and Rutgers, among others.  Gonzalez has excellent size and quickness for a guard, and run blocking is considered his strength - qualities that really stand out to the Ohio State staff.  Ed Warriner will be his primary recruiter.
High school football preview
Be sure to check out Birm's complete report on last week's games here.
| Position | Player | School | Opponent | Comment |
| --- | --- | --- | --- | --- |
| QB | Stephen Collier | Lee County (Ga.) | at Thomasville Thomas County Central (Ga.) | Enjoyed bye week. |
| WR | Parris Campbell | St. Vincent-St. Mary (Ohio) | Barberton (Ohio) | Won 41-12. Ran for 203 yards on only 7 carries and 3 TDs. |
| WR | Terry McLaurin | Cathedral (Ind.) | at Cincinnati Moeller (Ohio) | Won 23-14. Ran for 132 yards on 12 carries. Faces off with future teammate Sam Hubbard this weekend. |
| OT | Jamarco Jones | De La Salle (Ill.) | Oak Park Fenwick (Ill.) | Lost 48-0. |
| OT | Kyle Trout | Lancaster (Ohio) | at Reynoldsburg (Ohio) | Won 22-19. |
| OG | Marcelys Jones | Glenville (Ohio) | at Cleveland Collinwood (Ohio) | Won 56-0. |
| OG | Demetrius Knox | All Saints Episcopal (Texas) | at Oklahoma City Casady (Ok.) | Won 52-3. |
| DE | Jalyn Holmes | Lake Taylor (Va.) | Norfolk Washington (Va.) | Won 55-6. DNP (Kidney) |
| DE | Dylan Thompson | Montini Catholic (Ill.) | at Aurora Christian (Ill.) | Won 40-35. Two TFL, one blocked punt. |
| OLB | Kyle Berger | Ignatius (Ohio) | at Lakewood St. Edward (Ohio) | Lost 32-29. DNP (ACL) |
| OLB | Dante Booker | St. Vincent-St. Mary (Ohio) | Barberton (Ohio) | Won 41-12. |
| CB | Damon Webb | Cass Tech (Mich.) | East English Village (Mich.) | Won 41-6. Recorded 6 tackles and made an interception. |
| S | Malik Hooker | New Castle (Pa.) | at Moon Area (Pa.) | Lost 37-31.   |
| ATH | Noah Brown | Pope John XXIII (N.J.) | at Vernon (N.J.) | Won 31-27. 146 receiving yards and 2 TDs, 67 rushing yards. |
| ATH | Sam Hubbard | Moeller (Ohio) | Cathedral (Ind.) | Faces off with future teammate Terry McLaurin this weekend. |
| ATH | Lonnie Johnson | West Side (Ind.) | at Gary Roosevelt (Ind.) | Won 82-20. 152 receiving yards and 3 TDs and a rushing TD. |
| ATH | Curtis Samuel | Erasmus Hall (N.Y.) | Brooklyn Lincoln (N.Y.) | Won 38-0.  Playing against Thomas Holley tonight and visiting Ohio State with him tomorrow. |
| K | Sean Nuernberger | Oldham County (Ky.) | Louisville Eastern (Ky.) | Lost 35-13. 40 and 37 yard field goals, 4/4 on touchbacks.  Also had a 73 yard punt. |
| OT | Chad Mavety | Nassau C.C. (N.Y.) | at Dean College (Ma.) | Visiting Ohio State on November 23rd. |
| OT | Damian Prince | Bishop McNamara (Md.) | at St. John's (D.C.) | Lost 61-27. |
| DT | Thomas Holley | Abraham Lincoln (N.Y.) | Erasmus Hall (N.Y.) | Playing against Curtis Samuel tonight and visiting Ohio State with him tomorrow. |
| ILB | Raekwon McMillan | Liberty County (Ga.) | Bye Week | Lost first game of the  season 24-7. Part of huge recruiting visit next weekend. |
| S | Erick Smith | Glenville (Ohio) | at Cleveland Collinwood (Ohio) | Won 56-0. |
| ATH | Marshon Lattimore | Glenville (Ohio) | at Cleveland Collinwood (Ohio) | Punt return TD in 56-0 win. |
| ATH | Eric Glover-Williams* | Canton McKinley (Ohio) | at Massillon Perry (Ohio) | Won 13-10.  Hampered by ankle injury - no rushing yards and only 50 passing yards. |
Looking ahead
Ohio State has another pretty big recruiting weekend lined up.  2014 targets Thomas Holley and Frank Ragnow will be in attendance and both have shown some serious interest in Ohio State.  In Birm's article, every member of the Eleven Warriors recruiting team picked Holley to sign with Ohio State and Jordan picked Ragnow to sign with the Bucks too.
Holley is coming off a visit to Penn State that went very well, and he also likes Notre Dame, though the majority have predicted him to commit to Ohio State.  Holley is playing against current commit Curtis Samuel on Friday night, then the pair are traveling to Columbus together to visit Ohio State.  Expect Samuel to be in Holley's ear all weekend, along with a few other commits that will probably be in attendance.
Five 2015 targets are currently expected to be in attendance - Brandon Tiassum (4-star DT), Justin Hilliard (5-star LB), Reagan Williams (4-star LB), George Brown Jr. (3-star OT/DE) and LaCario Davison (unranked ATH).  Of the five only Justin Hilliard has an offer, but there is obviously some mutual interest between the staff and the other four.  Hilliard is one of Ohio State's biggest priorities in the 2015 class.  As one of the top players in the state of Ohio at a position of need, the staff is trying to make a strong push for Hilliard.  Hilliard currently seems to be favoring Notre Dame, Iowa and Michigan, but he will be visiting Ohio State for the third time this year with plans to be back for a fourth.
Lastly, 2016 target Nick Bosa (brother of Joey Bosa) will be on campus this weekend with his parents to watch Joey play and see what Ohio State has to offer.  Ohio State has already offered the high school sophomore and he has named Ohio State his favorite school.  There is obviously a very long way to go for Bosa, though the early love he is receiving from Ohio State coupled with Joey's success should go a long way.
We'll have lots more on the weekend visitors in the next few days, so be sure to peruse the forums from time to time and follow the Eleven Warriors recruiting team on Twitter for even more info.