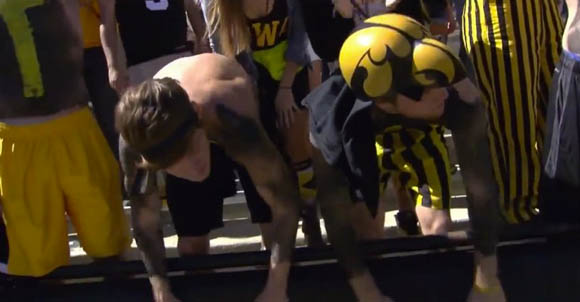 Much has changed inside the Iowa football program since 1999. The first year of the Kirk Ferentz era was arguably the lowest point in the program's history. The Hawkeyes finished 1-10 and did not win a single Big Ten game.
But the rebound began one season later. Baby steps at first – three wins in 2000 – before Iowa reasserted itself as one of the conference's best. A seven-win campaign in 2001 surprised many, but the 2002 season shocked the entire nation.
The Hawkeyes went a perfect 8-0 in the Big Ten and entered the national championship conversation. If not for blowing a second-half lead against Iowa State, Iowa may have vaulted Ohio State for a spot in the Fiesta Bowl against Miami.
Moderate to high success continued for almost a decade. The Hawkeyes won two Big Ten titles and Ferentz was named national coach of the year once and conference coach of the year three times. One of the bright spots was a 33-7 beating of the Buckeyes in 2004. But Ohio State got its revenge in a classic mid-November showdown versus the Hawkeyes in 2009. In a winner goes to the Rose Bowl game, Ohio State won in dramatic fashion in overtime.
"It was disappointing," Ferentz said, recalling the game earlier this week. "It was a great football game where both teams competed at a very high level and a great environment."
Iowa is just 25-21 since. The Hawkeyes are coming off a grotesque 4-8 record last year in which they lost their final six games. In that same time period, Ohio State has gone through an immeasurable scandal and is still dealing with scholarship reductions. Yet, the Buckeyes are atop the same lofty perch they occupied on that November night in 2009.
Call it the Curse of Ricky Stanzi. He was the likeable Iowa quarterback who was injured the week before that 2009 titanic clash in Columbus. The downward spiral has led to the second rebuild of Iowa football by Ferentz.
"That's college football," he said. "Name a program that hasn't gone through that in the last 15 years. There are going to be ups and downs. Historically, there have been ups and downs here at Iowa. It's a lot more fun when you're going through the ups. We experienced that in '09 until we got to Columbus."
Urban Meyer and every other coach in the country preach how important staff continuity is. Well, Ferentz and the Hawkeyes had it for quite sometime. Now, he's dealt with a revolving door of coordinators and other assistants.
Iowa has replaced both its offensive and defensive coordinators in the past two seasons – the former tenants held the job for 13 years. Four other assistants have been replaced in recent seasons.
"We didn't surrender after the '07 season, and we're not planning on surrendering right now," Ferentz said. "We're just going to keep pushing forward.
Opponent Breakdown
Iowa's offense starts with running back Mark Weisman. But that isn't such a good thing at the moment. Weisman had been great all season until he ran into the Michigan State Spartans. An injury and nine total yards later, Weisman found himself watching the Hawkeyes get dismantled.
He's still gaining more than 100 yards per game, making him one of the top backs in the Big Ten. Weisman declared himself 100 percent this week and is well aware of the challenge that lies ahead for he and his offensive teammates.
"Another good defense, another good test," Weisman said. "We have to worry about us. That's all we can worry about now."
Weisman has carried the ball 126 times this season, seventh most in the country. Taking a high number of carries against Ohio State's physical defense is a recipe for another injury. That's where quarterback Jake Rudock enters the equation.
The Hawkeyes are big fans of the play-action pass. An effective run game gets defenses fat and happy defending the run, opening up the passing game. It's a style the Buckeyes haven't seen much of so far, and when they've keyed on stopping the run, it's led to receivers getting open.
Rudock has thrown for more than 1,200 yards and eight touchdowns, but also six interceptions. Kevonte Martin-Manley (touchdown) and Damon Powell (two touchdowns) are the leading receivers, each with 225 yards. Eighteen different players have caught a pass. While tight end C.J. Fiedorowicz only has 98 receiving yards, he remains a dangerous weapon.
Ohio State has two blueprints to victory – the Northern Illinois and Michigan State games. It all begins with stopping the run.
"It's one of those deals," Ferentz said. "It's not fun when you can't be balanced."
On the defensive side of the ball, Iowa has three linebackers who are three-year starters – James Morris, Anthony Hitchens and Christian Kirksey. They're the top three tacklers on the team, combining for 144 stops. Morris leads the Hawkeyes with three interceptions. He's also the second-leading tackler with 43 tackles, including four tackles for loss and a forced fumble.
The Hawkeyes also have a stout defensive line, which has yet to line up in their goal line defense or allow a rushing touchdown. Iowa has a top-10 total defense and rush defense.
Cornerback B.J. Lowery is the biggest threat in the secondary. He's also snared three interceptions and has a team-high eight pass breakups.
"We're just a better defensive team than we were a year ago," Ferentz said. "I'd say the same thing about our offense. Everything is more cohesive today than it was a year ago."
Buckeye Breakdown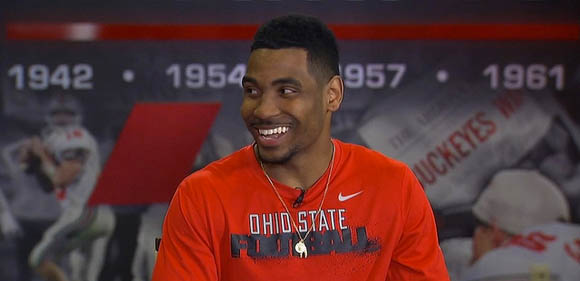 With an off week after the Northwestern game, Ohio State's secondary did not have a chance to redeem itself. So for two weeks, they've heard all the criticism. But a higher profile player also struggled in Evanston. And he happens to be the starting quarterback.
Miller fumbled twice, threw an interception and missed a receiver wide open in the end zone. It was those turnovers, mostly the fumbling, that caused eyebrows to rise in Columbus. He said it was a combination of holding the ball incorrectly and playing tentative on his knee with the wet grass that led to poor play.
With two weeks of practice, Miller said the hesitancy seen in his steps since he returned is all gone.
"Sometimes it will ache a little bit in the back [of the knee/leg]," Miller said. "But other than that, it's pretty good."
Miller sat down to watch film of the Northwestern game and something jumped off the screen at him. As he was weaving in and out of the Wildcat defense, Miller didn't have a tight grip on the ball and it was in the wrong spots. 
"It's an easy fix," he said.
Throughout the week in practice, coaches made sure it would be easy. They kept a ball in Miller's hands and even had him grip it during stretching drills.
"Just hold it tight," the quarterback said.
Asked how he thought Miller would perform Saturday, Meyer said he expects him to play like Braxton Miller – with better ball security. After hearing Miller refer to Iowa's defense as the best the Buckeyes have faced this season, he could be in store for another long night.
So does Carlos Hyde come to the rescue again? The Hawkeyes are allowing less than 90 yards rushing per game and have yet to surrender a rushing touchdown. But on the other side is Ohio State, a team averaging 281 yards on the ground and owners of 17 rushing touchdowns.
Iowa defensive back John Lowdermilk called Hyde a "beast." Ohio State center Corey Linsley described Hyde's performance against Northwestern as "beast mode." Clearly, Hyde is doing something right.
"Guys were just bouncing off him," Linsley said, detailing Hyde's 206-yard output in a 40-30 win at Northwestern. "One of the guys on Northwestern couldn't tackle him. He just kept bouncing off of them. It was kind of funny. I thought it was a testament to Carlos that he's running the football like he knows how to run the football."
It's been a difficult year for Hyde. He's dealt with off-field issues and being pushed to the background on the team. But redemption came quickly. Three games into his senior season, Hyde says he's back to normal.
"It's a relief off my shoulders," he said. "I definitely feel like I'm back. I'm happy to be back, and I'm enjoying it."
A perk of performing at a high level is compliments, which is what Lowdermilk sent Hyde's direction. Told about an opponent's comments, Hyde smiled and simply said, "Thank you."
Said Meyer: "It's pretty cool, I guess."
How it Plays Out
There's been plenty of focus on Iowa's run defense this week. But glance at the backend and you'll notice similar problems that Ohio State is dealing with. The Hawkeyes' secondary is ripe for the picking.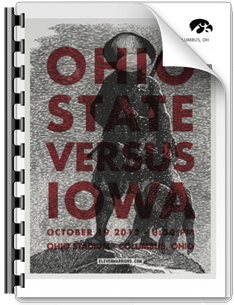 Michigan State freshman quarterback Connor Cook built his confidence against Iowa two weeks ago. Look for Braxton Miller to do the same after struggling at Northwestern. Philly Brown, Devin Smith and the rest of the wide receivers should be on the lookout for footballs falling from the sky. And don't discount arguably the best offensive line in the Big Ten that blocks for an equally good running back in Carlos Hyde.
Still, this game has all the makings of a trap game. Iowa is a decent team coming off a bye. It will give Ohio State its best shot. The Buckeyes are also coming off a bye, but when you're the better team by a long shot, it can make you lazy and lethargic. A close first half would come as no surprise.
At some point, the Buckeyes' fast starts have to come to an end. On Saturday, though, they'll just be saving it for the second half. Meyer loves finding ways to motivate his team, and there's no better way to fend off an overly optimistic team than bringing them back to life after an untidy first half of play.
Ohio State's offensive averages should be met and a defense that's been punishing on third down could very well see those statistics soar against a stagnant Iowa offense.
A dominating second half could mean a positive impact on voters, especially if the margin of victory is wider than expected.
---
ELEVEN WARRIORS STAFF PREDICTION: Ohio State 38, Iowa 17