The times, yes the times, they are a changin'.
The football world as we knew it has turned upon its own head and the Buckeyes — a touch above the rest of the Big Ten — are the last remaining vestiges of midwestern football imperialism. Florida State, Clemson and Miami, the ACC's top-ten-ranked trio, known more for their collective derp over the last decade than their gridiron greatness, have become more and more the sweethearts of a media-driven football popularity poll with each win against hapless foes because they finally mustered one signature against a quality opponent.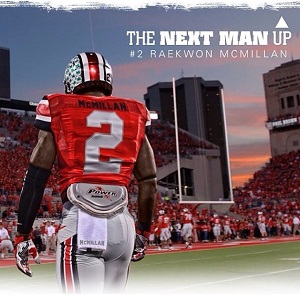 The Pac-10, or Pac-12 or Pac-whatever it's called these days has emerged as a legitimate football conference and the Big 12 (or whatever it's called) will stake their claim: Everyone is better than the Big Stinking Ten, and there's only one way for Ohio State and the rest of their conference compatriots to push back against the laughingstock it's become. Win. Win on the field and win off the field. That begins where we are: recruiting. How do you get better recruits? Win. Hire better coaches. Spend more money on your program realizing that football, whether it should or shouldn't be, is the cash cow for not only your athletics department, but your entire university. 
As it stands, Ohio State and Michigan have continued to do well, but the momentum gained over the summer months, as prospects do their own research and visits, establishing relationships with coaching staffs and other recruits, dissipates as a ground swell of anti-B1G rhetoric — and mediocre Big Ten performances — become the order of the day.
The conference's premiere recruiting powers are each hoping to round out their classes with a few remaining big fish, and the ability to close on top talent like Marshon Lattimore, Chad Mavety, Raekwon< McMillan, Thomas Holleyand more for Ohio State, as well as Michigan's pursuit of Da'Shawn Hand and Malik McDowell, are absolutely vital f or the perception of the conference moving forward. To be the best, you have to beat the best, and that includes in the game of recruiting.
/Rant
Speaking of Raekwon McMillan...
I've been pretty adamant for months that there's no player more important than Raekwon McMillan in the "Dream '14" big picture. McMillan's talent — he's a top 20 national prospect and a unanimous five-star — is secondary to the point I wrote two paragraphs ago. Landing McMillan, after a near two-year conquest battling the SEC's and ACC's best programs, would gives Urban Meyer a huge win against the establishment. McMillan also happens to be a player who fits a major personnel need for the Buckeyes, so it's a win/win. So what's the problem?
Clemson is the problem. Clemson is a legitimate national title contender. Clemson is five hours away from Hinesville, where McMillan has finally settled after a childhood that saw him moving around quite a bit. Clemson has, in his own words, recruited him the hardest of any team. Clemson took on, and beat, Georgia in a season-opening mega-matchup that McMillan was in attendance for. Clemson hosts top-five Florida State this weekend in what could be another epic contest and yes, you guessed it, McMillan is considering a trip to be in attendance. Clemson is the problem.
"Where as now I'd put him right now? 55-percent Clemson and 45-percent Ohio State, right now," one source in Georgia shared with Eleven Warriors.  "He knows about Ohio State's major need at linebacker, but (he) feels like he could start at Clemson from day one and it's much closer (to home.) They are a serious contender now in the national title picture."
I don't mean to paint a picture of doom-and-gloom, because I still feel the Buckeyes win out in the end thanks to the relationships McMillan has built with Ohio State coaches and commitments, but this is by no means a done deal for the Buckeyes. There is work to be done and Urban Meyer and his staff know that. They visited McMillan last week.
"(Urban) Meyer came by and surprised Raekwon and stayed for a couple hours," the source added. "Raekwon had no idea and was shocked when he walked in the door because (Buckeye linebacker coach Luke) Fickell and (Clemson wide receivers coach Jeff) Scott and (defensive coordinator Brent) Venables from Clemson spent all afternoon at the school and also stayed for his whole game that night."
This is going to be a fight to the end, so buckle up Buckeye bros.
WHAT ABOUT BOB?
No, we're not referencing the awesome Bill Murray movie (and yes, it's awesome whether you like it or not,) we're talking about Penn State and the job done by BOB under some pretty remarkable circumstances. This past weekend, as Penn State beat Michigan in a very exciting (but equally as terrible) football game in front of 108,000 raging fans, Penn State and Bill O'Brien may have put themselves out front for Buckeye target Mike Gesicki, the nation's top-ranked tight end. Gesicki visited Ohio State for the Wisconsin game in late September, and the Buckeyes were confident they acquitted themselves nicely, but the looming Penn State visit was a concern and it appears rightfully so.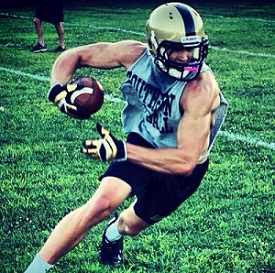 Two of Ohio's top 2015 prospects, Lagrange (Keystone) tight end C.J Conrad and Jackson linebacker Reagan Williams were in attendance in Happy Valley, and both came away very impressed and hoping for offers. The common refrain? "It was the best atmosphere I've ever been in."
How did that atmosphere impact Gesicki, already torn between Ohio State and Penn State? Pretty much as expected. 
"Mike still isn't decided yet," one source close to Gesicki shared with 11W. "The Penn State game was a game changer and he really built a connection with (Penn State freshman quarterback Christian) Hackenberg. He likes that he'd have a few years with him and how the tight end is integrated into Penn State's offense."
So the Buckeyes will be left in the cold? Not exactly, as least it's not that cut-and-dry.
"Mike definitely likes and has a closer bond with Urban Meyer than anyone else. Meyer was 'in' on him before most were and made him a priority. He also has a good relationship with all the current commitments and recognizes Ohio State is an opportunity to play for more. He's truly torn and changed his decision multiple times."
Penn State had eight receptions from their tight ends on Saturday against Michigan, Ohio State's two tight ends, Nick Vannett and Jeff Heuerman (widely praised by Meyer and staff preseason) have 14 catches between them through six games. Penn State has sophomore Jesse James, freshman Adam Breneman (the country's second-ranked TE in 2013) among six — yes six — tight ends on their official roster that are either freshmen or sophomores. The Buckeyes have experience returning in their duo, but after Heuerman and Vannett have only Marcus Baugh, who (as reported yesterday by various outlets) may be in the ol' doghouse, so Ohio State offers legitimate championship opportunities with a less-crowded position and the best relationship Gesicki has with a coach. 
Gesicki announces his college intentions this Friday. Again I say, buckle up kiddos.
I'LL BUY MALONE... SOME
The nation's No. 52-ranked prospect for 2014, Gallatin (Tenn.) native Josh Malone has not been a name discussed much in Buckeye cirlces of late, but with the news today (first reported by Rivals.com analyst Marc Givler) that he will be eschewing a Florida visit for an official visit to Ohio State for the big night game against Penn State on October 26th, perhaps the discussion should ramp up a bit. The 6-foot-3, 190-pound Malone has already taken official visits to Tennessee and Georgia, and has a Florida State trip scheduled on November 1st as well as planned trip to Clemson in November, so the Buckeyes are working from a trailing position, but getting him on campus is huge. 
Not much to talk about here yet, and we'll work to get an update with Josh on his recruitment as his visit gets closer, but he's worth keeping an eye on suddenly.
WHAT'S UP, HOLMES?
A few of you noticed in my Sunday night column that Jalyn Holmes was a "DNP" for Lake Taylor's blowout win against Churchland last weekend. While there are naturally going to be assumptions made because of Holmes' suspension earlier this season, the matter was far more serious. 
"I was in the hospital all last weekend," Holmes shared when asked why he was out of commission. "I had a kidney and muscle breakdown and had to get treated. They are not sure entirely what caused it."
Despite the scare, the nation's fourth-ranked defensive end says not to worry.
"I'm good," Holmes added. "I'll be back playing maybe this week."
SIX SHOOTING
With 18 current commitments, we here at 11W still believe that Ohio State lands at least six more commitments before February, and finish with a minimum 24 for 2014. Here's the final six as each of us see it now. 
THE BEST GUESSES

| JeremY BIRMINGHAM | JOHN BRANDON | Jordan Wagner | Mike Young |
| --- | --- | --- | --- |
| WR - Johnnie Dixon | OL - Chad Mavety | OL - Frank Ragnow | OL - Chad Mavety |
| OL - Chad Mavety | DT - Thomas Holley | DL - Thomas Holley | DL - Thomas Holley |
| DL - Thomas Holley | LB - Raekwon McMillan | LB - Raekwon McMillan | LB - Raekwon McMillan |
| LB - Raekwon McMillan | DB - Mike Rogers | DB - Mike Rogers | DB - Mike Rogers |
| DB - Marshon Lattimore | DB - Marshon Lattimore | DB - Marshon Lattimore | DB - Marshon Lattimore |
| DB - Erick Smith | DB - Erick Smith | DB - Erick Smith | DB - Erick Smith |
There's a few deviations as you can see, but for the most part we're in agreement. I am going to stand by my gut and keep Dixon on the Ohio State list, because I think if it comes down to it and the Buckeyes want to add another safety, Lonnie Johnson is as good a fit as Mike Rogers. Smith, Rogers, Malik Hooker and Erick Smith at safety mean room for Dixon at wide receiver. Jordan sees Frank Ragnow as the last offensive lineman in the 2014 class, and it's a real possibility that he could end up in this class regardless of whether or not Mavety commits.
Jordan: "The recent offer to Ragnow shows that the staff definitely wants to add a fifth lineman to this class. Damian Prince appears to be favoring Maryland while Alex Bookser seems to be leaning toward Pitt. Ragnow is a pretty dang good backup plan. His offer list is pretty impressive. He is trying to visit this weekend and the Buckeyes should know where they stand at that point.
Mike, the only analyst in Buckeye circles who correctly tabbed Malik Hooker as a Buckeye weighs in on Mike Rogers, the defensive back from Smyrna (Ga.) offered by Ohio State last week. 
Mike: "I Wouldn't have said this a week ago, but I expect Rogers to commit. He's thoroughly obsessed with the Buckeyes. One visit and he'll be convinced to flip."
Another name present on a couple lists is Chad Mavety, and while there's reason to be positive that the star JUCO lineman could end up in Columbus, nothing has yet been decided.
John: "I think it's pretty clear that Ohio State wants to take one more offensive lineman, with Mavety and Damian Prince being at the top of their board. I think Mavety is the more likely of the two to commit to Ohio State and will bring not only talent but some experience and maturity as well, being a JUCO transfer. The official visit for the Indiana game should lock up Mavety, who could be given an opportunity to challenge for a starting position as soon as next season."
Oh, and Raekwon? Desite some waning optimism, we're all on board with McMillan ultimately choosing Ohio State. 
Mike: "He's clearly the top target left for the Buckeyes. He's one of only a few guys taking an official visit for the Penn State game, but he'll be the center of attention. I'm sure the staff has made it evident that he has a good shot to get playing time in his freshman year. That's a huge help in landing him."
Jordan: "Definitely the most important recruit left the board for the Buckeyes. The Buckeyes could always use a five-star linebacker and McMillan fits the mold perfectly. He is planning to visit for the Penn State game and it will be a good opportunity for the staff to make another good impression. I've always been slightly worried about Georgia because Raekwon has mentioned distance from home before, but I think he will ultimately be a Buckeye. We'll probably have to wait a while before we find out for sure."
John: "McMillan has been and continues to be Ohio State's most important target in the 2014 class and he has built an incredible relationship with Urban Meyer and the staff.  I thought Alabama was Ohio State's biggest challenger but he has replaced them in his top 3 with Georgia. The pull from Georgia to stay home will continue to be strong, but returning to Ohio State for the Penn State game will seal the deal for good.  At the end of the day, the relationship with the coaching staff, the lack of linebacker depth, and the ability to compete for a championship every year will be too much for him to turn down. McMillan is the top inside linebacker in the nation and is the closest thing Ohio State has to a must-get prospect."