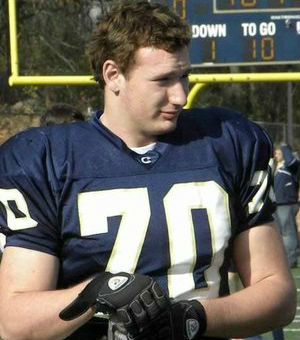 October rolls on with the Big Ten adding four new commitments this week. It was slower than the first week of the month, but still moving at a faster pace than in September.
We're still about four months away from Signing Day, but most teams are well on their way to putting together a solid recruiting class.
Illinois, Purdue, Rutgers and Wisconsin all added 2014 recruits in the past seven days. Despite four new pledges, we saw very little movement in our B1G football recruiting rankings. Purdue's commitment allowed the Boilermakers to pass Minnesota for the 13th spot in our rankings. 
While on a bye week, Ohio State's coaching staff hit the road to recruit. While no prospects visited, there were a few recruiting tidbits to come from this past week, including two big offers to a pair of '14 recruits. These offers could have a big impact on how the Buckeyes finish out their recruiting class. Also, it appears Penn State blew Mike Gesicki away on his visit. Don't be surprised if Gesicki ends up committing to Penn State. More on both of those subjects after the jump. 
Now, on to the rankings:
14. Minnesota
The Golden Gophers now sit in last place in our recruiting rankings. Spots are limited with the Gophers only looking to take between 12 and 15 prospects. Jerry Kill's leave of absence can't help Minnesota's recruiting efforts. Recruits have to be worried about the concerns regarding their potential head coach's health.  
Commitments: No new commitments this week. 
Visitor news: Minnesota, coming off a bye, will travel to Evanston, this weekend. No visitors will be on campus. 
13. Purdue
Purdue's ability to flip a MAC recruit has allowed them to move up a spot in the rankings. Recruiting hasn't went well in Darrell Hazell's first season as head coach, but David Blough gives the Boilermaker's a solid quarterback going forward. There aren't too many other positives about this recruiting class. 
Commitments: The Boilermakers were able to flip a commitment from Western Michigan, last Monday. Timothy Cason II, a two-star athlete from Michigan, immediately switched his commitments when Purdue offered. Cason held offers from Bowling Green and Toledo, as well. The Boilermakers now have nine commitments. 
Visitor news: West Lafayette will be quiet this weekend, as Purdue will travel to play Michigan State. 
12. Indiana
With 12 commitments, Indiana will look to close strong down the stretch. Tegray Scales, an underrated linebacker from Cincinnati, appears to be favoring Indiana after a recent visit. Scales, who has offers from Oklahoma, West Virginia and Wisconsin, would be a major coup for Kevin Wilson. 
Commitments: No new commitments this week.  
Visitor news: The Hoosiers will be on the road for a second straight weekend, so no visitors for them, again. 
11. Illinois
Illinois has done a solid job on the field, but their recruiting has been a disappointment. While Tim Beckman has done a good job recruiting the JUCO ranks, most of his other recruits have been stolen away from MAC schools. 
Commitments: Tim Beckman and the Illini continue to recruit against MAC-level schools. Peter Cvijanovic, an unrated offensive tackle, committed to Illinois, which was his only offer. Formerly of Cleveland, Cvijanovic is attending a prep school on the East Coast. The Fighting Illini now have 14 commitments. 
Visitor news: The Badgers will travel to Champaign to take on the Illini. After a bye week, it's important to start getting their top targets on campus for visits.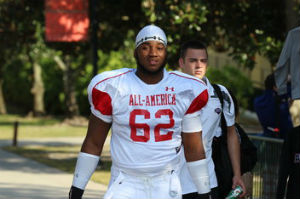 10. Maryland
The Terrapins' 2013 signee Derwin Gray recently visited Maryland. It appears he will join the team this winter. Gray was one of their top commitments in the last class. Maryland looks to be in a strong position to land five-stars Damian Prince and Jalen Tabor. 
If Gray was factored into these rankings, Maryland would be sitting at eighth. 
Commitments: No new commitments this week. 
Visitor news: Maryland is traveling to play Wake Forest, this weekend. Expect Maryland to host quite a few prospects the following weekend, as the Terrapins will take on Clemson. 
9. Iowa
The Hawkeyes might be on the road this weekend, but they'll have a good chance to impressive one of the nation's top junior prospects. Justin Hilliard, 2015 LB from Cincinnati, is expected to be at the game. He will likely have a close eye on both teams. C.J. Hilliard, Justin's brother, has committed to Iowa as a member of the 2014 class. They could be a major player for Ohio's top prospect. 
Commitments: No new commitments this week. 
Visitor news: Iowa will travel to Columbus to take on the Buckeyes. No visitors this weekend. 
8. Nebraska
Bo Pelini and Nebraska appears set for an unspectacular finish to an underwhelming recruiting class. Many of Nebraska's top remaining targets are committed to other schools, at the moment. It's hard to predict whether or not they'll be able to flip a few prospects. There is still plenty of time until Signing Day. 
Commitments: No new commitments this week.
Visitor news: The Cornhuskers will be on a bye week. Their coaching staff will likely be hitting the road to recruit.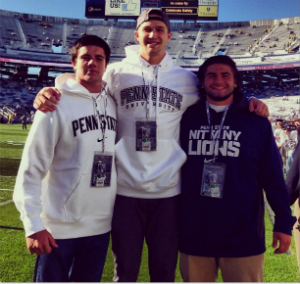 7. Northwestern
Northwestern was exposed by Wisconsin last weekend. Still, Pat Fitzgerald continues to do a good job in Evanston. While Northwestern has fallen in the recruiting rankings in recent weeks, this recruiting class has been one of their best. 
Commitments: No new commitments this week.
Visitor news: The Wildcats will host Minnesota, this weekend. I'm not sure who will visit this weekend, but most of their top targets recently visited for the Ohio State game. 
6. Penn State
Penn State had a huge recruiting weekend. While they didn't gain any commitments, it definitely was a positive weekend. Mike Gesicki has raved about his visit and he is expected to decide on Friday. I am thinking that Bill O'Brien could land Gesicki on Friday, although Ohio State is still a possibility. 
Things are looking good in Happy Valley. Things are shaping up for the Nittany Lions to have a solid finish to their recruiting class. 
Commitments: No new commitments this week.  
Visitor news: The Nittany Lions hit a homerun with the atmosphere and game on Saturday. Recruits were very impressed and it could make them the favorites for Mike Gesicki. Syracuse commitment Jason Cabinda visited and could flip his commitment. 
Penn State is on a bye, this week. This gives their coaches time to focus on the recruiting. 
5. Michigan State
Mark Dantonio has quietly put together one of his best recruiting classes. The Spartans had numerous visitors on campus last weekend, but didn't add any commitments. Some thought little known safety Otis Kearney could commit, but he left without committing. Three-star running back Madre London is heavily considering Michigan State and Nebraska. While his crystal ball favors Nebraska, he called his visit to East Lansing "the best one yet."
Commitments: No new commitments this week. 
Visitor news: The Spartans will host Purdue, this weekend. After a big recruiting week, the Spartans could be a little quieter this weekend. 
4. Wisconsin 
Gary Andersen continues to recruit at a high level for Wisconsin. Reactions are still coming in from some of the top recruits that visited Wisconsin this weekend. While many thought five-star running back Joe Mixon's visit to Wisconsin was a token visit, there has been some buzz that the Badgers are a legitimate player for his commitment. After his visit to Wisconsin, highly rated WR Jamil Kamara received a few crystal ball predictions to Wisconsin. 
It's looking like Wisconsin is on pace for a huge finish, but things can quickly change.
Commitments: The Badgers stay hot on the recruiting circuit by adding another commitment. Early last week, three-star receiver Krenwick Sanders pulled the trigger and committed to Wisconsin over Florida, Florida State, Georgia, North Carolina, South Carolina, South Florida and Vanderbilt. Sanders is the 16th commitment for Wisconsin.  
Visitor news: The Badgers take on the Fighting Illini in Champaign on Saturday. After hosting a huge recruiting weekend, Wisconsin will be quiet.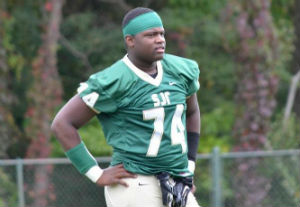 3. Rutgers
The Scarlet Knight's class is quickly filling up. It's unclear how many prospects they'll be able to fit in the class, but it doesn't look like they are done, yet. Rutgers has been eliminated for Gesicki's services. Kyle Flood and staff has done a good job at closing this class. 
Commitments: The Scarlet Knights added commitment 24 with offensive guard Kevin Wilkins joining the fold. Rutgers was able to keep the two-star prospect in-state over offers from Boston College, UConn, Maryland and UCF. 
Visitor news: Rutgers will have their bye week, so their coaches are expected to hit the recruiting trail hard. 
2. Michigan
Scholarship numbers are getting tight and the Wolverines are saving spots for Da'Shawn Hand and Malik McDowell. The meltdown over the Penn State was hilarious, but it will have no impact on recruiting. Well, unless MGoBlue posters get to fire Brady Hoke. 
Commitments: No new commitments this week.
Visitor news: The Wolverines will play host to Indiana on Saturday. Michigan is running tight on scholarships, so they'll probably start to shift focus to the '15 class. 
1. Ohio State
Urban Meyer spent the weekend watching his daughter's volleyball game. The other coaches hit the recruiting trail during the bye week. Ohio State made two big offers during the past weekend with offers to three-star OT Frank Ragnow and safety Mike Rogers. Both of these prospects are very interested in the Buckeyes and could impact the Buckeyes recruiting class. 
Ragnow's offer could point toward decreasing confidence in their chances with Damian Prince, but that isn't for certain. It doesn't appear the offering of Mike Rogers has anything to do with the Glenville duo. 
Mike Gesicki is expected to decide on Friday. The Buckeyes are in the mix, but Penn State could be the team to beat. 
Commitments: No new commitments this week.
Visitor news: The Buckeyes will host a few prospects this weekend for the Iowa Game. Recently offered offensive lineman Frank Ragnow is expected to be in town. Here is a list of visitors for this weekend. 
---
Rankings Overview
| No. | School | Commits | Scout ★ AVG | Rivals ★ AVG | 247 ★ AVG | ESPN ★ AVG | Overall ★ Avg |
| --- | --- | --- | --- | --- | --- | --- | --- |
| 1 | Ohio State | 18 | 3.72 | 3.61 | 3.89 | 3.72 | 3.74 |
| 2 | Michigan | 16 | 3.56 | 3.47 | 3.44 | 3.86 | 3.58 |
| 3 | Rutgers * | 24 | 2.92 | 2.83 | 2.92 | 3.17 | 2.96 |
| 4 | Wisconsin * | 16 | 3.20 | 3.00 | 3.19 | 3.20 | 3.15 |
| 5 | Michigan State | 16 | 3.13 | 3.13 | 3.40 | 3.29 | 3.26 |
| 6 | Penn State | 12 | 3.33 | 3.25 | 3.33 | 3.42 | 3.33 |
| 7 | Northwestern | 13 | 3.08 | 3.08 | 3.31 | 3.31 | 3.20 |
| 8 | Nebraska  | 12 | 3.08 | 3.00 | 3.08 | 3.25 | 3.10 |
| 9 | Iowa  | 15 | 2.73 | 2.73 | 2.80 | 3.07 | 2.83 |
| 10 | Maryland  | 12 | 3.08 | 2.92 | 2.92 | 3.40 | 3.08 |
| 11 | Illinois * | 14 | 2.62 | 2.69 | 2.62 | 3.00 | 2.73 |
| 12 | Indiana  | 12 | 2.91 | 2.58 | 2.67 | 3.00 | 2.79 |
| 13 | Purdue* | 9 | 3.00 | 2.67 | 2.89 | 2.86 | 2.86 |
| 14 | Minnesota | 8 | 3.00 | 2.88 | 3.14 | 2.86 | 2.97 |