Nearly two years after arriving at Ohio State, LaQuinton Ross arrived. His buzzer-beating three-pointer against Arizona in L.A. provided the Buckeyes with a Hollywood ending in the Sweet 16. It represented the type of clutch scorer Thad Matta believed he signed in 2010.
But Ross' career in Columbus has been filled with ups and downs. And technically, he's been a Buckeye twice. He came to the university during the summer of 2011, but had to return to Mississippi in the fall for academic reasons. He made his way back north in December after his requirements were completed.
That detour stunted his growth on the basketball court. While Ohio State advanced to the Final Four, Ross was a little-used bench player. So his sophomore year was more like Year 1 all over again.
As the Buckeyes' wins piled up last season, Ross' minutes were inconsistent at best. From 26 to 3, he was everywhere in between. His offensive numbers fluctuated with the minutes played, which in turn meant up and down scoring nights.
But Ross finally came into his own in the final seven games of the season. He played 20.5 minutes per game, averaging 12.4 points and 3.4 rebounds. Ross made more than 50 percent of his 3s during that stretch. It instilled a newfound confidence that had not been seen since he was scoring at will in high school.
With Deshaun Thomas and his 1,628 career points in Europe, Ross will have an infinite green light this season. Someone must be the go-to guy.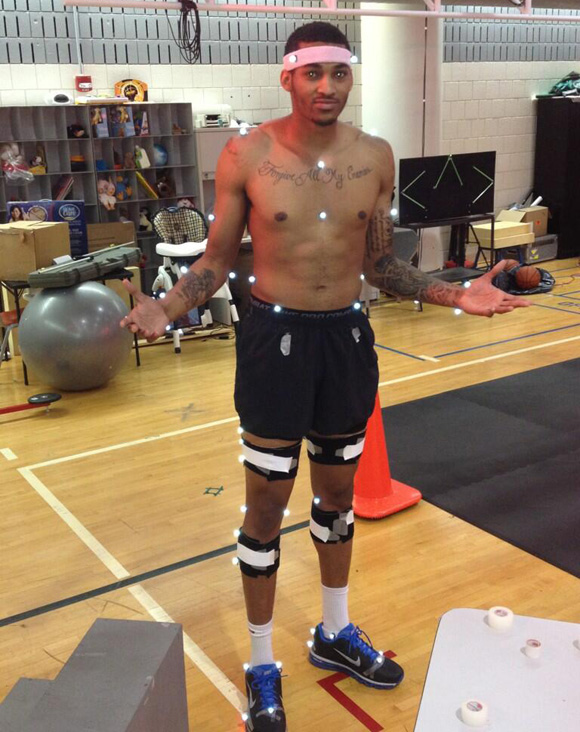 "I don't want to label a guy and say, 'You're Deshaun Thomas, you're going to do what he did,'" Matta said Thursday at Ohio State's media day. "[Ross'] entire playing career, a lot has been based on potential. He and I have had that discussion. It's time to be productive, but most important is, it's time to be consistent."
Ross' two seasons have been a mixture of observing star players and seeing first hand how teams come together through all the hard work and long hours in the gym. That's how Ross spent his summer, refining his game and making the necessary tweaks to be one of the top offensive threats in the rugged Big Ten.
Hot, humid days involved ball handling and rebound drills and time with Dave Richardson working on speed, agility and getting stronger. Ross hopes to stretch defenses at the 4, playing with his back to the basket when the scenario presents itself. When the Buckeyes use a small lineup, he'll fill in at the 5.
"Collectively, guys have got to score more," Matta said. "The one thing you saw more last year was guys had games where they showed that they could put the ball in the basket. We have to have a little bit more of a flow to our offense. It's something that we tried to put a big premium on."
Said Lenzelle Smith Jr.: "I think Q has a pretty good understanding that no matter what is said or written, there are certain things you need to do to make sure you're that type of player you need to be. It is come out here and give as much effort as you can, play the type of defense that Coach Matta looks for and knock down open shots and know when to take those shots. I think as far as offensively for Q, he knows when to take those shots."
Ohio State returns four starters and figures to be in the conference championship mix again – Matta is still the head coach – and a top-10 team. Ross packed on 10 pounds, carries a better understanding of the game and developed cohesion with his running mates – he'll be the new starter.
If he lives up to the lofty expectations, the Buckeyes could surpass last year's trip to the Elite Eight and find themselves in Arlington, Texas, in early April. Aaron Craft said the foundation has already been laid for the 2013-14 Ohio State team to achieve prominence.
"The greatest thing Q has going to for him is LaQuinton Ross has never started a game at Ohio State," Matta said. "If you figure out [what he's thinking], let me know."
Wish granted.
"I definitely think I've been waiting," Ross said. "The fans have been waiting to see what I can do. There's been a buzz about me since I came out of high school. At the end of last year, I was able to give them something to look forward to this year. Scoring is one thing I can do and what everyone has known me for."
The Jekyll and Hyde performances are a thing of the past, according to Ross. Even with Thomas on the team last season and the Buckeyes facing some of the best teams in the country, there were moments when Ross was the most talented player on the floor.
Ross and Thomas aren't the same player, but there skill sets are remarkable similar. Both are uber-gifted on offense and lax on defense. They're relatively similar in size and do comparable things near the basket. Ross can duplicate much of what Thomas did. His teammates don't want the entire portrait, though.
"The fans have been waiting to see what I can do. There's been a buzz about me since I came out of high school."
"With the great player Deshaun was, he created a lot of points for us when we needed them. But that's a plus and minus in itself," Smith said. "I'm excited for this team this year. Without having a guy who thinks they have to do this or score as many points, when you don't have that, you have guys out there just trying to win and trying to connect and do what's in the best interest of the team."
Ross admitted that the final month of the season provided a major confidence boost. It wasn't just the points, but the consistency. For seven games, he gave his coaches and teammates everything they asked.
But it won't be those on the bench and court that put heightened expectations on Ross. It'll be the 19,000 fans that fill Value City Arena and thousands that watch on TV.
"If they come with the double team, it's just a simple pass," Ross said. "I'm not going to be a hole down there. I'm not going to try to force anything. I'm going to take shots I get and, hopefully, I'll knock them down."
The time for LaQuinton Ross has arrived.