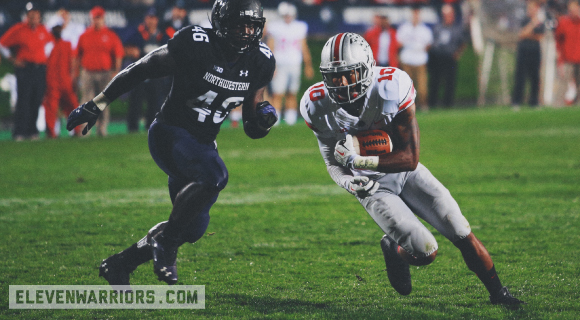 Fall Break 2013. Well, sort of, but not really.
At the midway point of the season, Ohio State is getting a bit of a rest. Not a full-scale vacation, though. The Buckeyes will begin focusing on Iowa at the tail end of the week, before coaches go on the road recruiting. Everyone will reconvene Monday, and Meyer wants zero phone calls over the weekend.
"Some people see a bye week and think they go act like a jerk over the weekend," he said Wednesday. "That's not what bye weeks are for. Football is a tough, violent, contact sport. So your joints and your shoulders and everything need a break. That's what it's for. But to come back and not at least watch some football, that'd be a disgrace."
Another no-no? Coming back to Columbus underweight or overweight.
"I'd have a real problem with that," Meyer said. "There's a weigh-in on Monday, and they better be right on the dot."
Meyer will spend his weekend in far-off locales such as Spartanburg, S.C. and Johnson City, Tenn. There will be recruiting sprinkled in between watching daughter Gigi and her Florida Gulf Coast volleyball teammates take on USC Upstate and East Tennessee State.
Andrew Norwell and Philly Brown will return to their roots to watch high school football. Brown will also watch his 13-year-old brother for the first time.
"He already has an offer to play here," Brown quipped.
Count Fickell among the excited assistants who get to spend time with children and their wives for once. From fall camp to the end of the season, it's a grind. Then, the coaches have to deal with the stretch run of the recruiting season. Because of a hitch in the calendar, Ohio State has two bye weeks in 2013.
"You get to go home at a decent hour and actually get to see your kids awake," Fickell said. "Maybe even see a fifth-grade football game, too. There's a lot of other things you can do on a bye week that can rejuvenate you and give you a better spirit and a fresh mindset.
As much pressure and stress as we put on ourselves, to get out of here and be a husband, be a dad, to get a couple of deep breaths – it's important. If you're not fresh, it's really hard to focus in and do your best job."
After six games, Ohio State sports an unblemished record, but there are bumps, bruises and even breaks on the sideline. This is finally the time to let those injuries heal and subside. The Buckeyes had two days off this week. Jordan Hall (knee), Adolphus Washington (ankle) and Tommy Schutt (foot) are among the battered.
Meyer said Hall a joint issue, though he did practice on a limited basis. Defensive coordinator Luke Fickell believes Washington and Schutt will be ready to go next week when Ohio State hosts Iowa.
"We're six games in. We have a week to kind of take a deep breath," offensive coordinator Tom Herman said. "What are we good at? What aren't we good at? Where do we need to get better? What do we need to enhance and keep doing?"
The obvious choice is pass defense, which Meyer called "very alarming" earlier in the week. Cornerback Doran Grant had a different opinion, though, voicing confidence in he and his teammates.
"We just can't have missed tackles," he said. "Everybody has to keep running to the ball."
Meyer is still upset with Christian Bryant's injury, pointing out injuries are part of the game, but it doesn't make them any easier to deal with.
"That still hasn't settled," Meyer said. "That was a stinger."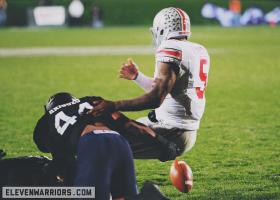 Dontre's Inferno
The Buckeyes have two players on offense that could be defined as playmakers in the mold that Meyer covets. Yet, the past two weeks Jordan Hall and Dontre Wilson have combined for one measly carry. Why?
Well, for one, Hall didn't play at Northwestern because of an ankle injury. Against Wisconsin, though, Carlos Hyde carried the load. He did so again in Evanston. However, the answer goes beyond Hyde playing well.
Meyer said Wilson has to become a more complete football player. The hype for him was so immense that it reached all corners of the country. When he's on the field, coaches can hear opponents shouting to key on No. 1. Using him as a decoy wasn't an option since he doesn't have a full understanding of the offense. It also didn't help that Wilson had a bad week of practice leading up to the Northwestern game.
"He's still a novelty," Meyer said. "He has to go out there and block. That's why he didn't play much. We're working hard over the bye week to make him a football player and not just a hood ornament that shows up out there all the time."
One area where Wilson could be utilized the second half of the season is catching the ball on the move in space. Herman is happy with the improved play of the quarterbacks and receivers. There's more unity with the groups than in recent seasons. Still, it wasn't a perfect six-game stretch for the two position groups.
"We've got to get the ball to our receivers on the run a little bit more," Herman said. "I don't know that we have a guy that can catch a hitch, make a corner miss and take it 80. We have guys in the short and intermediate pass game if we can get them the ball on the run, we can get more yards there. We're throwing hitches and bubbles, and doing it efficiently, but we have to find a way to get those guys the ball on the run."
Wilson's main contribution is speed. What he needs more of is strength. Wilson came to Ohio State after de-committing from Oregon. He was one of the fastest recruits in the nation last year. So far, he's shown flashes of game-breaking ability, but he hasn't had a true breakout performance yet.
Wilson has been listed as a wide receiver and running back. Picking up blocks is the concern, though, with placing him in the backfield. If he doesn't get the ball, defenses can run right through the 5-foot-10, 180-pounder. And that 5-10 is generous.
Brown said some work in the weight room could be a cure-all.
"If he hits the weight room hard, the coaches will have no choice but to put him on the field," he said. "I think when this season is over he has to come out with Evan and Devin and work on everything – his routes, his blocking, hit the weight room.  Then there's not a play where the coaches have to take him off the field because he has to run block or because he has to run a certain route.
Miller and Herman on Solid Footing
The scene wasn't good for the Buckeyes. They trailed by 10 points in the second half and Braxton Miller had just fumbled inside the Northwestern 5. It was his third turnover of the game and second fumble.
"[Urban] asked if we should get Kenny ready, and I said, 'Yes, we should get him ready. Beyond that that was the last of the discussion really," Herman said. "I think Coach Meyer then said, 'Hey, Braxton's going in,' and I said, 'Good, I think that's the right thing to do."
Meyer came to that decision after seeing positive body language from Miller and good communication between Herman and the quarterback over the headset. In the end, it was a good decision.
Miller engineered a game-winning drive in the fourth quarter, the third Ohio State rally during its 18-game win streak. But even after Miller went 4-for-4 on the decisive drive, Herman said a change wouldn't have disagreed with a change. Neither would Philly Brown, who said Guiton's presence would have energized the team.
Herman said you can't worry about hurting Miller's feelings at that moment. When the game is hanging in the balance, coaches have one priority: to win.
"You deal with anything that comes of that after, but at that moment we have one responsibility, and that's to win the football game," he said. "You take care of that responsibility and then you deal with anything after that."
Miller and Herman's relationship got off to a rocky start because the signal-caller's introverted personality takes time to warm up to people. But once that trust was established, quarterback and coach have thrived.
"It's taken a long time to get to the level we're at," Herman said. "But I think every relationship is a work in progress. You're never where you probably want to be, so it was hard at first. Like I said before, I was his fourth coordinator in four years or, so it's a give and take in terms of trust. I earned his trust and he earned mine. Slowly but surely that starts to snowball."
All Miller has done under Herman is set countless school records, be named the top player in the Big Ten and finish fifth in the Heisman Trophy voting. Oh, and he's undefeated as a starter.
Said Herman: "I think he did an excellent job of keeping his chin up and keeping his chest out."