Around the Oval is Eleven Warriors' weekly love letter to Ohio State sports that don't get the coverage they should.
The football Buckeyes hit the road this week and outlasted Northwestern in a game that left me with no fingernails.  Meanwhile, a few other Ohio State teams were on the road and one team started their season this week.
The women's ice hockey team opened up the 2013-14 campaign this week with a trip to Erie, PA to take on No. 7 Mercyhurst.  Mercyhurst took the Lady Bucks to overtime before Ohio State escaped with a 4-3 victory.  The win extended Ohio State's season opener winning streak to 9 years.  
After a scoreless first period, Junior defender Kari Schmitt scored twice in the second period to take a 2-0 lead before Mercyhurst responded with two goals of their own in the third period to tie the match at 2-2.  A goal by sophomore Kendall Curtis gave the Buckeyes the lead again in the final period before Mercyhurst scored with 2:05 left in regulation to force OT.  In overtime, junior Taylor Kuehl scored the winning goal after 2:02 of scoreless action.  Ally Tarr and Sara Schmitt recorded the assists on the winning goal.  
The Buckeyes are currently ranked as the 10th best team in the nation and are off until October 11th, when they open conference play against St. Cloud State.
The men's hockey team also began their season this past week with a 9-1 exhibition win over Toronto.  Their season officially starts this Friday, when they face-off with Miami (Ohio) at the Schottenstein Center.
Join us after the jump to see which other Buckeye teams enjoyed life on the road this past week.
Women's Volleyball
The women's volleyball team made a trip to the Hoosier state this past weekend, traveling to Purdue on Friday and Indiana on Saturday.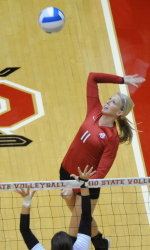 The Lady Buckeyes dropped their second Big Ten match of the season to No. 24 Purdue 3-0 (25-23, 25-15, 25-21).  Senior Kaitlyn Leary lead all players with 15 kills and added 2 blocks.  Senior Julianne Mandolfo lead the Buckeyes with 11 digs.  While Purdue won the second set fairly easy, the first and third sets could have easily gone the other way, as the lead bounced back and forth between the Buckeyes and Boilermakers.
Ohio State bounced back on Saturday with a win against Indiana in Bloomington 3-2 (25-23, 20-25, 25-19, 17-25, 17-15). Kaitlyn Leary led the way again with her eighth double-double of the season (22 kills and 11 digs).  Taylor Sherwin added 44 assists and Julianne Mandolfo had 15 digs, while freshman Taylor Sandbothe chipped in with seven blocks.  After splitting the first four sets, the final set went down to the wire as well, with 11 lead changes in the fifth set alone.
With the weekend split, the now 14th-ranked Buckeyes move to 14-2 on the season (2-2 Big Ten).
Ohio State returns to Columbus this weekend to host Wisconsin (Friday) and Minnesota (Saturday).
Cross Country
Both cross-country teams road-tripped to South Bend, Indiana for the weekend to compete in the Notre Dame Invitational.
The men's cross-country team captured 19th place behind a another strong performance from sophomore Jordan Redd (25:09.8, 40th place).  Redd paced Ohio State for the third consecutive meet.  Other scorers for Ohio State were Nick Pupino (25:32.0, 75th place), Brian Hannaford (25:38.2, 83rd place), Curtis Hanle (26:15.4, 141st place) and Jeff Hannaford (26:17.2, 143rd place).
Led by junior Katie Borchers, the women's cross-country team took 13th place.  Borchers finished with a 17:37.7, good enough for 23rd place.  Other scorers for the Lady Buckeyes were Michelle Thomas (17:54.0, 44th place), Sakiko Minagawa (18:17.0, 75th place), Jill Kanney (18:29.1, 100th place) and Helen Willman (18:35.5).
Both teams are off for two weeks before returning to Indiana for the Pre-National Invitational in Terre Haute.
Field Hockey
The field hockey team won their lone match of the week against in-state foe Ohio to improve to 4-7 on the season.  Goals for Ohio State were scored by sophomore Annie VonderBrink and senior Mona Frommhold.  
After taking a 2-1 lead in the first half, the Buckeyes held the Bobcats scoreless in the second half the seal the victory.  Junior goalkeeper Sarah Lemieux was strong in goal once again, improving to 3-5 this season.
Ohio State travels to Penn State on Friday in their only match of the upcoming week.
SOCCER
Neither Buckeye soccer team was able to muster a victory this past week, each losing and tying a match this past week.
The men's soccer team battled No. 17 Louisville to a 0-0 (2 OT) draw on Wednesday before falling 1-0 to Michigan on Sunday.  After these two games, the team has now gone 4 games without scoring a goal, with only 1 goal in their last 8 games as offense continues to be a struggle.  Alex Ivanov was once again very strong in goal, allowing only 1 goal and recording 10 saves across the two games.  The Buckeyes fall to 2-6-3 (0-2-0) on the season and travel to Michigan State on Sunday in their lone game of the week.
The women's team also failed to record a goal in their two matches this week, tying Purdue 0-0 (2OT) and losing to No. 18 Wisconsin 1-0 (OT) in a pair of Big Ten road games.  The Lady Buckeyes, like their male counterparts, had no defensive issues however as they did not allow a single goal in regulation in either match.  Jilliam McVicker was strong in goal as well, allowing only 1 goal and recording 5 saves in the two matches.  The Lady Bucks are now 7-3-3 (1-2-2) on the season and host Michigan State this Saturday in their only match of the week.
UPCOMING EVENTS
The women's volleyball team and both men's and women's ice hockey teams are in action at home, Friday. Volleyball hosts Wisconsin at St. John's Arena at 7 p.m., and both hockey teams play at 7 p.m. – with the men's team playing Miami (Ohio) at the Schottenstein Center and the women's team hosting St. Cloud State at the OSU Ice Rink.
On Saturday, the women's soccer, volleyball and ice hockey teams are all at home.  The soccer team hosts Michigan State at Jesse Owens Memorial Stadium at 6, the volleyball team hosts Minnesota at St. John's Arena at 7 p.m. and the women's ice hockey team hosts St. Cloud State again at the OSU Ice Rink at 4.
This is a reminder that nearly all games are $5 or less to attend, so if you are in Columbus this weekend and don't know what to do without Ohio State football, check out what some of the other Buckeye sporting events have to offer.