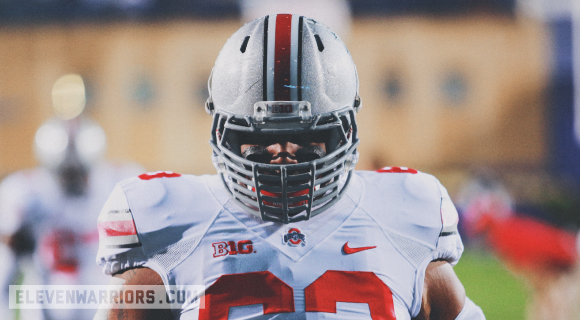 Everyone knew it. Almost everyone commented on it. Going into the 2013 season, there was one area where Ohio State had suffered the most losses in terms of personnel, and that was defensive line. Not one starter from last season was returning. It was time to reload, and quickly.
Not to worry, most of us said. There are a bunch of guys that are ready to step up and dominate now that they are going to get their chance to start. You know, guys like Spence, Washington, Schutt, Carter, Hale. The line is stacked, we thought.
Those guys, with the exception of the injured Tommy Schutt, have all played well, but on Saturday the stars in the trenches were two guys that you might not have figured to be huge factors in 2013. I'm talking about Michael Bennett and Joey Bosa.
It shouldn't be too surprising that these two have succeeded; they were, after all, highly regarded prospects coming out of high school. Bennett was part of the class of 2011, and he played pretty well his freshman year, notching 17 tackles and 5 tackles for loss. Bosa is an incoming freshman, ranked in the top 50 players in the nation according to Rivals.
But for some reason it seems surprising that these were the guys who stepped up and created the most problems for Northwestern on Saturday. Something about that sloppy, wet field and the urgency of the contest brought out the best, or maybe the beast, in these two players. A fire has been lit, but what was the catalyst? 
For Michael Bennett, the story is similar to that of guys like Carlos Hyde and Kenny Guiton. Holdovers from the previous coaching staff, they did not initially thrive under the leadership of Urban Meyer. Guiton's turnaround was almost immediate and has been well-publicized. Hyde's story is becoming more public now, but Bennett's has hardly been told. 
After that promising freshman year, he suffered a setback as a sophomore. A groin injury cost him a few games, and even after he got back on the field he seemed to be less than 100%. Bennett registered only 11 tackles in 2012, a total he has already eclipsed in six games this season. He has added to that total 3.5 tackles for loss and two sacks. 
The physical problems were one thing, but not the only thing. The new coaching staff seemed to detect a deficit of effort on Bennett's part. Meyer called him "nonexistent" and "a liability" when he was in the game. The capstone of the coach's commentary was referring to Bennett as "a no-name guy we were just kind of disappointed in." 
Turn the calendar to a different year, a new season, a new opportunity, and things have turned around. The loss of so many other players at his position seemed to grab Bennett's attention as if to say "now is the time; if you do not take advantage of this opportunity you may never get another." He got the message. He's with the program now.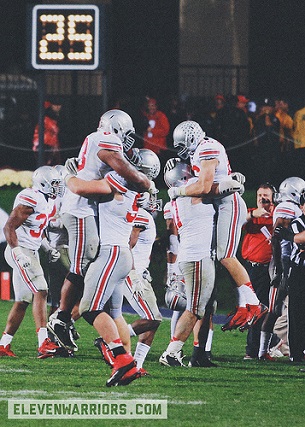 Against Wisconsin and Northwestern, when the spotlight was brightest and the competition was the strongest, Bennett has shined. He has shown an ability to beat blocks and get into the backfield that was lacking since the departure of John Simon. The future looks bright for the young man from Centerville.
As for Joey Bosa, he has simply picked up where he left off from high school in Fort Lauderdale, Fla. Why has Bosa's success been a surprise? Because it was supposed to be Adolphus Washington who anchored the defensive line at the Strong End position. But Washington has been bitten by the injury bug, and Bosa has taken advantage of the opportunity.
The ancient Roman philosopher Seneca is quoted as saying "luck is what happens when preparation meets opportunity". In this sense, you could say Joey Bosa is a lucky guy. By all accounts, he worked his tail off in the fall to get ready for the season, anticipating significant playing time. One indication of this is how early he lost his black stripe.
The common denominator for both Bennett and Bosa seems to be that they were motivated by the opportunity to grab playing time in the absence of four departing starters on the defensive line. Bennett's opportunity came sooner because of his experience, and Bosa was the right guy in the right place at the right time. In any case, their emergence has come at the right time for Ohio State, just when great defensive line play can make a huge difference in the outcome of the rest of the season. Thanks for being ready, guys.