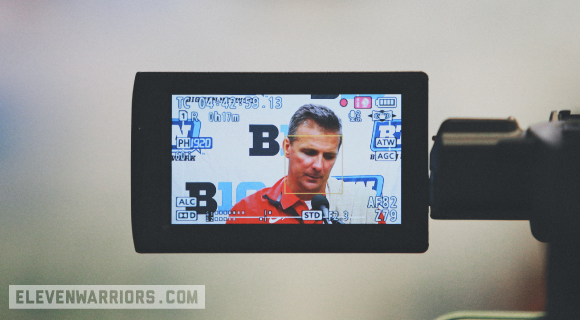 Ohio State just can't seem to escape the SEC. Even on the football coaches' performance reviews the conference is mentioned, albeit by mistake. The Buckeyes use a generic evaluation form that asks coaches if they understand and are in "compliance with all NCAA and SEC rules."
Oops.
Like it or not, the SEC knows how to win. And one of the central figures in its seven consecutive national championships is Urban Meyer. His two national championships at Florida – one being a 41-14 thrashing of Ohio State – and home state connection made him the obvious choice to be the Buckeyes' head coach.
That becomes increasingly clear again when reviewing his evaluation by athletic director Gene Smith. Eleven Warriors obtained the evaluations of Meyer and his nine assistants via an open records request. 
Meyer and the gang of nine were reviewed on every aspect of their job. A set of core values is listed: integrity, education, people, excellence, respect, innovation, community and tradition.
The evaluation time period was from March 2012 to March 2013. Smith completed his review of Meyer on Aug. 1, even though it states all reviews must be completed and turned into human resources by July 1. When contacted by Eleven Warriors, Smith indicated it's not out of the norm for evaluations to be done at a later date, especially for football coaches who are busy with camps and vacations during the summer months.
The assistants' reviews were done in late June. They completed self-evaluations before Meyer did a verbal assessment. To no one's surprise, recruiting was the main theme.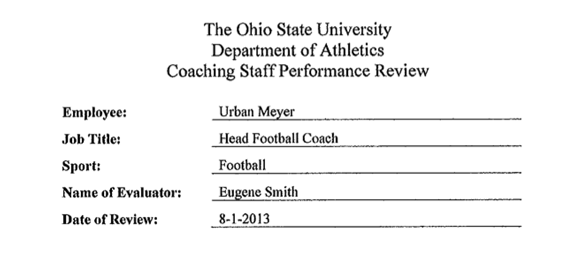 In his evaluation of Meyer, Smith gave the head coach a glowing review. It shouldn't come as a total shock. Meyer did lead Ohio State to an undefeated record in his first season as coach and reel in the nation's top-ranked recruiting class according to some experts.
Smith wrote that Meyer "provided the leadership necessary for the 2012 team to achieve very good academic success, and become only the sixth team in the history of the football program to go undefeated with a perfect 12-0 record…"
The Buckeyes had a graduation success rate of 74, one spot higher than the national average of 73. The team APR was 982 with a 2.82 grade-point average.
Smith detailed Meyer's first-year challenges under less than ideal circumstances with a bowl ban and a reduction of scholarships. Still, according to Smith, Meyer overcame the conditions by creating a culture where all the outside noise was walled off.
As the age-old cliché goes, it's one game at a time. Twelve games later, Ohio State was undefeated.
"This team never quit," Smith wrote.
Meyer was graded on 45 bullet points ranging from academics to the success of the program to commitment to compliance. In all, there were eight different subsets Smith evaluated Meyer on. He was given a rating of "strength of coach," "meets performance standards" or "opportunity for improvement."
Of those 45 bullet points, Smith put a check mark next to strength on 39 of them. Meyer met performance standards on the remaining six and never received the dreaded "opportunity for improvement" label.
In particular, Smith noted that Meyer stays informed with modern coaching trends, tactics and strategies, writing, "concussion group!" next to the question. On the commitment to compliance section, Smith graded Meyer out as "meets performance standards" and said there is not a pattern of rules violations in any area. But compliance was the lone section of the review where Meyer didn't receive a "strength of coach" grade.
Smith noted that Meyer organized weekly meetings with the compliance staff and that players are educated weekly during the summer on NCAA rules. Smith called those sessions "invaluable."
"Working to ensure the embedded model of our compliance officer in the football staff has been tremendous," he wrote. For the areas to focus on this season, Smith simply wrote: "Stay the course."
He gave Meyer praise for his Real Life Wednesday sessions that include business professionals and motivational speakers meeting with the team. It also included a job fair this summer that was open to all Ohio State student-athletes.
"This commitment shows Urban cares beyond the playing field," Smith wrote.
Smith said Meyer exceeded expectations in the academic success of the program, competitive success of the program, student-athlete welfare, leadership, communication, budget management, and public and donor relations.
In summarizing his findings, Smith described Meyer as "uniquely qualified" to be the head coach at Ohio State. Smith pointed out that Meyer's previous experiences prepared him for the Ohio State job and that Year 1 proved that.
"This season could not have gone better," Smith wrote.
Time and again, Smith identified ways Meyer is a master communicator and motivator.
"His ability to motivate is outstanding and represents one of the best I have worked with over my 29 years," Smith wrote.
When detailing what Meyer could improve upon, it was surprising not to see the box empty after combing through the previous six pages. But what Smith included was a familiar message.

"Focusing on hitting that 'pause' button before exploding," Smith wrote. "He did a great job of that this year and needs to keep that as a focus. Continue to find time to rejuvenate and creating that space for his staff and coaches."
Kerry Coombs: Cornerbacks Coach & Special Teams Coordinator
Kerry Coombs has been compared to a Jack Russel terrier pacing the sideline in front of 100,000 people armed with a tennis ball, so at least one of his self-assessments was surprising. When responding to, "handle all duties with competency and enthusiasm," Coombs gave himself a 4 out of 5.
Overall, Coombs was very conservative in his evaluation, giving himself five 5s out of 32 questions.
Meyer identified two areas to work on: Be a top recruiter in college football and close on a big-time recruit and Coombs seemed to agree, commenting, "I need a larger area and can recruit more!"
Get this man more flags.
Coombs gave himself a 4 on producing and developing the on-field performance of his players. "Only team in the country with two first-team all-conference players," he wrote, referring to cornerbacks Bradley Roby and Travis Howard.
Stan Drayton: Running Backs Coach

Stan Drayton said he wants to put the best running backs in the country on the field while he's at Ohio State. The first half of the 2013 season has certainly made him happy, as Carlos Hyde and Jordan Hall give Ohio State a combo that's unmatched in the Big Ten.
Drayton didn't just stop at on-field success, though. He noted that he wants graduates at his position that go on to become productive members of society.
"I plan to be a head coach one day, and my goal is to learn as much as I can from Urban regarding organization and time management," he wrote.
Drayton also admitted he needed to gain more knowledge when it comes to the passing game. When Jim Tressel hired him prior to the 2011 season, it was to be the wide receivers coach, a position Drayton had never held. The Buckeyes floundered to a 6-7 record with 14 receptions being the team high. Drayton moved to running backs after Meyer was hired, a group he's coached in 16 of his 21 seasons.
In detailing how satisfied he was with his unit's on-field play, Drayton said the players bought in. But off the field, he noted that there are accountability issues. Player names are redacted in accordance to FERPA laws.
Productivity in recruiting: 5, according to Drayton.
"We get who we need to get out of Cleveland," he wrote. Northeast Ohio is one of Drayton's recruiting areas.
Luke Fickell: Defensive Coordinator & Linebackers Coach

For years, it was the offensive coordinator who took the brunt of the criticism from Buckeye Nation. Now, it's the defensive coordinator, the same guy who kept the program from complete collapse in 2011. The defense's lackluster performance for much of the season last year combined with this season's inauspicious start is the main ingredient for the disapproval.
The man in charge of that unit, Luke Fickell, is just as upset as the fans.
"Creating an 'identity' on defense!" Fickell wrote. "Big key because it's a new era!"
Meyer listed productivity of the defense as one of the areas to work on this season, as well as chemistry with all the staff. The word "all" was capitalized and underlined, so read into that as you may.
Fickell, who doubles as linebackers coach, gave the defense and linebackers a grade of 2. He stated that the effort and attitude are in the right place, but the results aren't showing. Fickell wrote that he didn't see on-field development during the 2012 season and gave himself an overall rating of 3 as a coach.
"Never satisfied," he wrote.
Tom Herman: Offensive Coordinator & Quarterbacks Coach
The offensive production soared for the Buckeyes last season, especially when compared to 2011, a year the unit ranked in the hundreds nationally. Still, offensive coordinator/quarterbacks coach Tom Herman shares that never satisfied mentality with Fickell.
Herman gave himself 3s when grading out the productivity of the offense and quarterbacks and the on-field development of the quarterbacks. Braxton Miller was named the Big Ten's offensive player of the year last season and won the Chicago Tribune Silver Football. He also set numerous school records.

However, days after the Michigan game, Meyer said Herman and Miller would have to work together to improve, because Meyer was far from satisfied with his signal-caller's performance.
"As improved as he got, he's not the best fundamental quarterback in the country, and they pay me a lot of money to make sure that he is," Herman said in the spring. "So we're going to do whatever it takes to get him going sooner rather than later."
On Herman's review, Meyer gave glowing analyses on the positive side of the ledger – seven to be exact. In order, they read: quality of person, productivity recruiting Texas, loyalty, play calling, scoring offense (No. 1 in the Big Ten), demeanor, and staff chemistry and alignment.
Tim Hinton: Tight Ends/Fullbacks Coach

Tight ends/fullbacks coach Tim Hinton carries added importance being a longtime high school coach in the state who has built relationships all over Ohio. It makes Hinton an invaluable source for recruiting. But Meyer listed production and aggressiveness in recruiting as an area Hinton needs to work on.
Hinton didn't disagree. As a goal, he wrote, "To be the most consistent recruiter in the state."
Also mentioned is a need to improve on game planning, specifically coming up with more aggressive ideas. That could be in relation to implementing the tight ends as viable pass catchers and offensive playmakers. Hinton's made good on that suggestion. Midway through the season, Jeff Heuerman and Nick Vannett have caught 11 passes combined for 138 yards and a touchdown.
In his self-evaluation, Hinton wrote that the time is now for the tight ends and fullbacks to become complete players.
Zach Smith: Wide Receivers Coach

When Zach Smith was a young boy, he remembers hanging around his grandfather, Earle Bruce, who was the head coach at Ohio State, Northern Iowa and Colorado State during Smith's youth. He may have even judged the staff's body of work. Now, it's Smith who's grading himself.
And he and Meyer were both strict in their assessment.
Meyer listed the punt return unit and development of a wide receiver (name is redacted) as positives, while four negatives dotted the list.
Power of Unit: production, development, talent level
Recruiting: production, work ethic, paperwork
Value to staff
Practice demeanor
Smith was even more penal, though. He said the production and development of the wide receivers was average and unacceptable for Ohio State. That thinking has likely changed with the amount of touchdown passes and receiving yards in 2013. The Buckeyes are on pace to set a school record for touchdown passes with Philly Brown and Devin Smith emerging as game-breaking threats for opposing defenses.
The worst grade any coach gave himself was a 2, and all of them came from Smith, including one in regards to recruiting.
"Not even close to expectations/capability," he wrote.
Smith also gave himself a 2 in four of the nine questions about football coaching. In general, Smith defined his performance as disappointing as it applied to his expectations and capabilities. His goals are lofty but not unrealistic. Smith hopes to become the best recruiter on the staff, develop his players into the team's strength and become an example of how to thrive as a coach, mentor, teacher and recruiter in the program.
Mike Vrabel: Defensive Line Coach
Opinions varied significantly when Mike Vrabel was hired as Ohio State's defensive line coach in the summer of 2011. Even though Vrabel had a borderline Hall of Fame NFL career, many didn't believe it would translate to being a good college coach. Others thought Vrabel's attitude was perfect for coaching college kids and recruiting high schoolers. His message brings instant credibility when three Super Bowl rings are visible on his hand.
All Vrabel has done is close on big-time recruit after big-time recruit. He's helped lure the likes of Noah Spence, Joey Bosa, Gareon Conley, Michael Hill, Camren Williams, Tyquan Lewis, Donovan Munger, Billy Price and Tracy Sprinkle to Ohio State. Still, Meyer wants more. Interestingly, one improvement he's looking for is closing on a big-time recruit.
Vrabel's evaluation screams enthusiasm. When given the space to include general comments, Vrabel wrote, "I love what I do!" There's the notion that he's gruff with the media, something that's followed him to Columbus from his playing career. But Vrabel gave himself all 5s in the public relations section.

He made it clear he's all-in on coaching, outlining goals to grow as a young coach and add value to the Buckeye football program.
Ed Warinner: Co-Offensive Coordinator & Offensive Line Coach

It was evident to anyone watching Ohio State football that the development of the offensive line was a bright spot in 2012, and Meyer made that clear on his evaluation of Ed Warinner. But recruiting along the line hasn't been at the level Ohio State desires. The quality has been fine, but they've signed a low quantity of offensive linemen. Meyer listed that as an area for Warinner to work on during 2013.
Warinner highlighted the progress of the line on and off the field, also mentioning that the passing game still seeks improvement. His goals read like a dream for every Ohio State fan.
Win the Big Ten Leaders
Win the Big Ten championship
Play and win the Rose Bowl or BCS title
Have the No. 1 offense in the conference – scoring offense, total offense, rushing yards
Have the top O-line in the league
Have all four senior O-linemen get a chance to play pro ball
Be a head coach in Division I football
Be the best husband and father in Division I football
There's a reason Meyer has heaped praise on Warinner for more than a year. He knows he has one of the top assistant coaches in the country on his staff. Included as positives in Meyer's evaluation of Warinner are knowledge of football, work ethic and organization.
Everett Withers: Assistant Head Coach & Co-Defensive Coordinator
It's no secret Meyer is as competitive as any coach in the country on the recruiting trail. He likes to see that same quality in his assistants, and Everett Withers is among the best. In the 2013 recruiting cycle, Withers pulled off a heist, helping secure commitments from Vonn Bell, Trey Johnson, Tyquan Lewis and Jayme Thompson. It was the top positive from Meyer in his review of Withers.
An area to work on is pass defense, which remains true as Ohio State enters its bye week. On Tuesday, Meyer called the pass defense "alarming." In three of the Buckeyes' six games, open receivers and missed tackles have plagued the secondary.
In an increasingly tech-savvy program, Withers was tasked to make better use of his team-issued iPad for player development and other situations.

Withers is in charge of the safeties, and he wrote that he must continue to develop playmakers. That became even truer when Christian Bryant went down with a season-ending ankle injury two weeks ago.