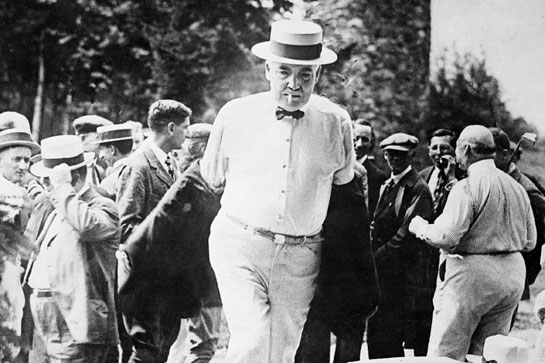 The 29th (and greatest) U.S. President, Warren Gamaliel Harding, was a renowned gambler, golfer and lover of life. As such, his sage wagering advice and stories of criminal bravado are brought here through the medieval art of necromancy. Seeing as President Harding ushered us into economic success unheard of in human history (before being tragically assassinated by his jealous wife — thus tanking the economy), his words might as well be chiseled into stone tablets. (All views and opinions presented should only be considered those of President Warren G. Harding.) 
WARNING: The content of the $100,000 Presidential Power Parlay is intended for mature audiences. Viewer discretion is highly advised. Seriously.
LAST WEEK: (1-1 overall) Texas A&M (-3), Ohio State (-7.5)
SEASON RECORD: (7-8)
THE HONEYPOT: $-140,000
"Mr. President," Gaston B. Means said. "You're hemorrhaging money on all fronts, and now you think it's wise to default on your payment to the Helado cartel, one of the most vicious gang of criminals this hemisphere has ever seen?"
"Gaston," I said before inhaling a line of white powder off the top of the pay-phone outside the Kum & Go on the westside of Marion, "there are three types of people in this world. Lions, snakes and sheep. As a lion, I commend you for making it this far, but it's time for me to cut the cut the grass in my life." 
"Mr Pre—" 
The Warren G. Harding File
Term: 3/4/1921 - 8/2/1923
Position: 29th U.S. President
Trade: Dope/Newspaper Peddler
Hometown: Marion, Ohio
School: Ohio Central College
Rivals Ranking: 5-Star
Quote: "Damn, I hate being sober."
I hung up. It's never a wise move to let a snake wag its fork-tongue, less its poison begins to work its devious ways on you.
I polished off the brown-bagged King Cobra 40 oz, swilled the last remnants in my mouth, and shattered it against the cold pavement outside the Kum & Go. I cocked my .50 caliber Desert Eagle, slipped it into my tuxedo jacket and entered the lightened convenient store.
I had come in search of my first meal in 72 hours — Little Debbie Honeybuns. Upon reaching the Little Debbie rack, I  grabbed as many of the delectable treats as my tuxedo pockets could carry. The amount would definitely be able to hold me over for my next 72 hour bender, which would be spent blowing down like a helicopter propeller and plotting my escape from Helado cartel assassins.
"Excuse me, sir, but you have to pay for those twenty-something honeybuns you just stuffed into your pocket," the pimply-faced teenage clerk had the gall to say.
I spun around and leveled my Desert Eagle at his nose. "Sir?" I was incredulous. "Do you know how long I grinded on these streets, how much dope and blood I spilled... grinding my way to the White House... so a dick-headed pissant like you could call me sir?"
"I — I don't— I don't know you; you have to pay for those honeybuns."
"'You don't have to do anything you don't want to do,' do you know who said that, son?" 
"No."
"My old friend Walter Disney. Do you know who he is?"
"Yes. I do. Mickey Mouse, Disney World, stuff like that? What does this have to—"
"—Fuck you," I said before pulling the trigger and splattering his brains against the overhang where the cigarettes were stored. After leering over the counter to make sure the flippant pissant was dead, I walked over his still-twitching corpse and grabbed myself a carton of Newports before walking out into the cold October night. 
Pay for honeybuns!? What the fuck is wrong with this country!?
---
---
When I walked into the opium-smoked catacomb headquarters of the Gypsy Syndicate, Gilderoy Scamp, the naked, morbidly obese, self-styed King of the Gypsies, was having tubs of melted butter poured onto him by a gang of naked slatterns.
"Do I even want to know what sexual ritual I just stumbled upon?" I asked before lighting up a Newport. 
100K PRESIDENTIAL POWER PARLAY
STAKES: $100k to win $7.5mil
IOWA STATE (+9) vs. Texas
UTAH STATE (-6.5)  vs. BYU
BALL STATE (+5.5) vs. Virginia
ILLINOIS (+10) vs. Nebraska
MISS STATE (+10) vs. LSU
ARIZONA STATE (-6) vs. N.D.
OHIO STATE (-7) vs. NU
"President Harding, have you brought the Gypsy King more of the Helado cartel's money?" The Gypsy King wheezed as the slatterns went about pouring the hot butter as if I wasn't there.
"To the Hells with the Helado cartel," I said. The slatterns began rubbing the butter into Gilderoy's chest.
"You're not going to be saying that when your testicles are wired to car batteries," the Gypsy King replied lazily. "The Gypsy King might like to see that sight, oh yes."
"Are you still in the betting game?" I asked rhetorically.
"Do you still look like shit?" 
"It's hard out here, but I'm still in the ring and taking punches," I conceded before flicking my cigarette away and throwing a duffel bag on the floor. 
"More donations for the Gypsy King's altar? You are the Gypsy King's favorite bettor President Harding, in that you haven't won a single wager this year."
"Lucky for me," I said, lighting up another cigarette, "there's still time left on the clock."
"Not if you keep grandstanding," the Gypsy King said. "On with it."
"The first peg of my bet is IOWA STATE (+9) vs. Texas. DeLoss Dodds has finally stepped down, and Mack Brown can't be that far behind him. Also, I respect a Cyclone. That's just a great name.
"The second peg is UTAH STATE (-6.5) over BYU and Joseph Smith's magic hat. The Aggies have been killing it for me this year, and I think that trend continues this week.
"The third team is BALL STATE (+5.5) vs Virginia. My favorite Buckeye of all time, Jonathan Newsome, now plays for the Chirp Chirp Gang. Why is Jonathan Newsome my favorite player? Because he was a great shit-talker on Twitter, and gave me the phrase 'neck dinner.' I'll let you parse that one out, Gypsy King. Either way, Virginia is about to get banged like a bored housewife by a cabana boy.
"ILLINOIS (+10) vs. Nebraska is the fourth team. Remember my wagering thesis about gambling against coaches on the brink? Bo 'fuck all the fans' Pelini fits that to a tee. I like Bo Pelini, him and I have had some epic nights tossing money in strip clubs like millionaire octogenarians toss Viagra before climbing on some woman half their age who is completely disgusted with them. I'm not sure Nebraska has the capabilities of holding a high school team under 35 points, so I'll take the points all day on this one.
"The fifth team is MISSISSIPPI STATE (+10) vs. LSU. I wanted to make this the first quarter line, but seeing as it's a god damn Wednesday, we'll have to make due with this line. LSU is coming off a loss, true, but Mississippi State is coming off a bye. Please, don't ever call Starkville 'Starkvegas' either, unless your idea of Vegas is a bunch of crusty hicks, a few light posts and a pharmacy that doesn't even sell cocaine.
"The sixth — damn right I'm going for the honeypot this week — is Arizona State (-6) vs. Papist Notre Dame. Tommy Rees is starting again. Repeat: Tommy Rees is starting again. And if he isn't, it's a guy who couldn't replace Tommy Rees until he imploded like a dying star against Oklahoma. 
"The seventh, and last, team of this mighty $100,000 Presidential Power Parlay is Ohio State (-7) vs. Northwestern. Holy hell, am I tired about hearing stories about Pat Fitzgerald being able to build a mid-table team of nerds. Have you seen the Big Ten lately? It's really not that an impressive of a feat. The Buckeyes took their foot off the throat of Wisconsin and fucked me last week, but I don't see it happening this week. Ohio State rolls."
"A mighty seven teamer, President Harding? That's a hell of a swing for the fences," the Gypsy King guffawed. "75 to 1 odds on that."
"That's a $7,500,000 payday by my math, Gypsy King."
"But much more likely, merely another donation to my syndicate." The Gypsy King had stopped rubbing butter into his hairy breasts and was eyeing the slatterns next to him. "Run along now, President Harding. I have stuff to which I must attend."
Ducking cartel assassins takes the back-burner to seeing the Gypsy King into bankruptcy. Perhaps its the bender I've been on basically since this season kicked-off, but why is it I feel this 7-team monster to be a gambling lock? The way the world turns is humorous.
Until next week, STAY FROSTY, COMRADES,
---
Read more of President Harding's legendary exploits in The Most Hated On, also available on Kindle
.