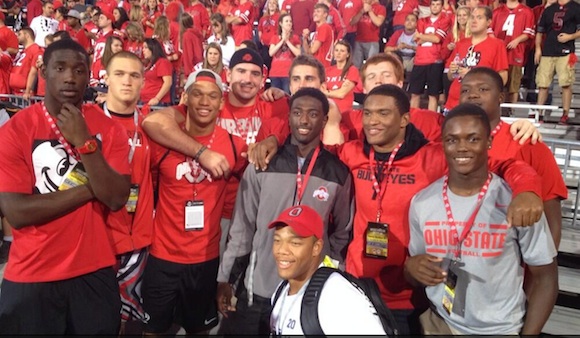 There are football games and there are extravaganzas that also include football games. This past weekend in Columbus was the latter, and with that extravaganza came an incredible weekend for Buckeye football recruiting. Fireworks, pom-poms, 106,000 ravenous fans and an ocean of scarlet set the backdrop for dozens of high-priority recruits who descended on Columbus for the Buckeyes' Big Ten opener against Wisconsin.
While the weekend was capped off by a Buckeye victory against the Badgers, the lasting effects of that atmosphere won't be known for a while, at least until Ohio State hears from the top two uncommitted 2014 prospects who attended, Florida wide receiver Johnnie Dixon and New Jersey tight end Mike Gesicki.
Ohio State's excellent 2014 recruiting class was well represented this weekend as well. Commitments Damon Webb, Parris Campbell, Dante Booker, Stephen Collier, Terry Mclaurin, Demetrius Knox, Jalyn Holmes, Dylan Thompson, Kyle Trout, Jamarco Jones, Sean Neurnberger, Sam Hubbard and Marcelys Jones were all in attendance. The "Dream '14" used the weekend to get closer as a unit, continuing to strengthen a bond that they hope will carry them through their college years.
In tonight's recruiting roundup, we'll take a look at the biggest storylines from Ohio State's big weekend against Wisconsin.
With upwards of sixty prospects in attendance, finding the biggest stories from the weekend is an exercise in futility. Simply put, they're all important but here's what you need to know.
CHASIN' DIXON
Dwyer High School (West Palm Beach, Fla.) wide receiver Johnnie Dixon made an official visit to Ohio State this past weekend on his official despite the idea that Ohio State would no longer spend much time recruiting him following the commitment of New Jersey's Noah Brown three weeks ago. While Ohio State currently has four commitments from wide receivers, the staff continues to pursue Dixon aggressively and according to a source close to the program, things went very well with the 5-foot-10, 187-pound Dixon.
"Things went really well for Dixon," the source told Eleven Warriors. "He left here fired up about Ohio State and was posting a lot of pro-Buckeye stuff on Twitter and Instagram. We'll see if it sticks with him."
Most still have Dixon as a Miami Hurricane when things are said and done, and he's yet to make official visits to Alabama in November, but Dixon has never hidden his affection for the Buckeyes. He visited Ohio State in June with his teammate Shawn Boone and told 11W​ before his visit then that his relationship the Buckeyes was long established and that was why he had so much interest in them. After two visits and with the knowledge that Ohio State is still very interested in him despite their four commitments at his position, have they done enough to sway Dixon north? We probably won't know until November.
GESICKI GETTING CLOSER
A lot of ears perked up last week when the Buckeyes asked California tight end Tyler Luatua to reschedule the official visit he had planned for September 28th, which he ultimately cancelled. The reason? Why would the Buckeyes ask Luatua not to come unless they were sure that Gesicki, the 6-foot-5, 236-pounder from New Jersey, was leaning towards wearing scarlet and gray? Short answer, I don't think they would.
Gesicki has not been easy to get in touch with following his visit — he's not really into the whole media circus — but there are a number of things to be gleaned from his visit. First is the fact that he was seen in a number of different photos from the weekend hanging out exclusively with the group of Buckeye commitments. While pictures are worth a thousand words, those pictures alone don't mean that much. The players in attendance are all sharing a pretty awesome moment, so hanging out together, and even getting pictures, is not really an unexpected event. After the photo facts, the more important piece of the puzzle is how the other recruits in attendance interacted with the Manahawkin native.
"I think he had a great time," one prospect said after the visit. "I was sitting next to him most of the time and he was comfortable seemed to really enjoy himself."
Of course, enjoying yourself at a great football game doesn't a commitment make. Another prospect had a bit more to say about Gesicki's visit.
"I talked to (Gesicki) a lot during the game," Buckeye commitment Dylan Thompson said. "He was having a blast and I think there's a good chance he ends up at Ohio State."
Gesicki has a visit to Penn State scheduled for October 12th, and that seems to be the final stop on his recruitment tour. Ohio State seems to think it is a race between themselves and the Nittany Lions, so that visit to Happy Valley looms large in Gesicki's decision.
KEEPING UP WITH THE JONES
If you shouldn't put much stock into Mike Gesicki's presence in Buckeye commitment pictures, then you should equally dismiss the worry about Marcelys Jones not being present in them. Jones and his Glenville teammates — Buckeye targets Marshon Lattimore and Erick Smith — made their way to Columbus after a week long game of "will they or won't they," yet Jones was nowhere to be seen. The "Glenville" way is different as everyone knows, but his absence was noticed by a number of Ohio State recruits, and although it was not something that anyone would lament about, it's not exactly endearing him to his future teammates. His not being around the commitments was "weird," according to a number of the players in attendance.
Jones has continued to talk regularly about other colleges and could make visits with Smith and Lattimore to Alabama, maybe USC and Kentucky (again) and perhaps Michigan, all under the pretense of supporting friends and teammates. Jones was Ohio State's first pledge for 2014 but rumors of recent Glenville suspensions (He missed the teams game against Rhodes two weeks ago) and regular questions about his commitment have put some tarnish on his recruitment. The Buckeyes have offensive line needs to answer still, and if a pair out of Alex Bookser, Chad Mavety and Damian Prince were to want "in" at Ohio State, Jones could find himself in a precarious position.
At this time, I'd still expect Jones to be a Buckeye come February, but it's a situation worth paying attention.
FAIR WEBER FANS
Two of the bigger 2015 visitors on campus this past weekend were Detroit Cass Tech teammates Mike Weber and Josh Alabi. As you correctly assume, 2014 Buckeye commitment Damon Webb has been instrumental in working Weber and Alabi, each of whom already hold a Buckeye offer. The Buckeyes hold Weber in very high esteem, he's a personal favorite of Ohio State running backs coach Stan Drayton, and according to the people close to the Cass Tech program, the Buckeyes are in a great position for the four-star tailback.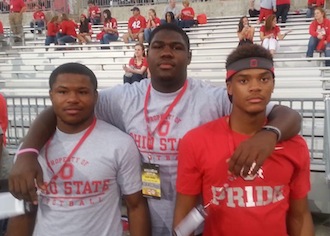 "I think it comes down to Ohio State or Michigan State for Weber," one source said following the visit. "(Michigan State director of player personnel Curtis) Blackwell was a huge hire for Michigan State. Mike had been there before but he had a great time and has (Ohio State) pretty high on his list. One thing they need to do is start building a relationship with him because Blackwell has always been a mentor for him."
Michigan was once considered the front-runner for Weber, but it appears the early commitment from Kentucky star Damien Harris has pushed things towards the Spartans and the Buckeyes.
RANDOM NOTES & QUOTES
Ohio State has a number of major national targets at tailback on their 2015 recruiting board, including Chris Warren III from Rockwell (Texas.) Warren visited the Buckeyes this summer and has been en fuego to start his junior season, but saw his season end this past week with an ACL injury. 
"It's tough and it's a setback, but I'll come back stronger than ever," Warren told 11W about his injury. "It's my ACL but it's not a huge deal in my mind. It needs some repair, but I don't know yet if it's a full tear. I'll be better than full-strength soon."
Warren had accumulated 700 yards rushing and 12 touchdowns in just over four games this season before the injury.
---
Need more reason to love Dylan Thompson, Ohio State's 2014 commitment from Montini Catholic High School in Lomard (Ill.)? How about this quote from Thompson following his visit to Columbus?
"The entire trip was amazing. It's always great to be with the other 2014 commitments, it's like we have known each other forever," Thompson said. "Our Buckeye family and Buckeye nation is ridiculous. I don't know what I ever did to be so blessed."
---
Another Buckeye commitment that was expected to visit this past weekend but was unable was injured linebacker Kyle Berger. Originally unsure if he was going to end up at his St. Ignatius homecoming or Ohio State, Berger unable to do either.
"I was not able to make it to Columbus or homecoming this weekend," Berger said. "We had some family stuff come up but we're planning on the entire family being there for the Penn State on October 26th. Raekwon McMillan will be there that weekend for his official visit so it should be fun."
---
ESPN.com top 2015 prospect, Minnesota defensive end Jashon Cornell was scheduled to be in attendance this past weekend, but ended up visiting his homestate Minnesota Gophers instead. The reason for that is currently unclear, but it would seem the Buckeyes are falling out of this race at the time.