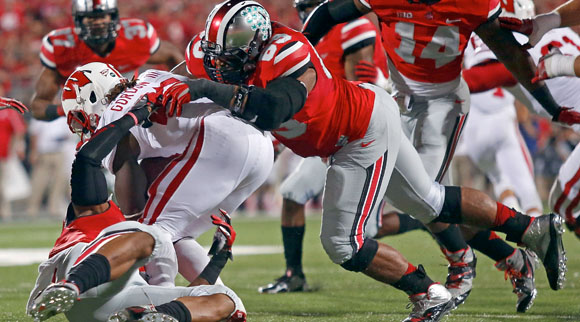 One of the key concerns for Ohio State entering the 2013 season was how four new starters on the defensive line would hold up against a team determined to pound the football directly at it over the course of 60 minutes.
Before Saturday, we simply didn't know if Michael Bennett, Adolphus Washington, Joel Hale and Noah Spence (with a side order of freshman Joey Bosa and emerging talent Chris Carter) could stand up to a direct frontal assault. The Buckeyes had not faced a team capable of presenting such problems.
After Wisconsin's visit to Ohio Stadium resulted in 104 yards rushing — more than 200 yards below its season average (albeit against some suspect defenses) — Buckeye fans may be breathing a bit easier on that score. With Washington and Bennett returning from injuries, the OSU defensive line acquitted itself well against the run game.
"We prepared this week to stop the run and we did," Washington said. "They had to adjust and made the decision to throw the ball more."
The defensive line combined for only eight tackles in the game, led by Bennett's four (that includes a sack). But the important thing the defensive line did on Saturday night was to play an unselfish game based on the game plan.
Simply put, Ohio State's D-line kept Wisconsin's offensive linemen busy. Without the ability to get to the second level and take out Ryan Shazier, Curtis Grant, Josh Perry or the OSU secondary, Wisconsin's big uglies weren't able to create big plays in the run game.
Melvin Gordon popped a 16-yarder and James White added a 17-yard touchdown when the Buckeyes failed to seal the left edge, on what was a nice adjustment at the line by Joel Stave before the snap. That's it.
The Buckeyes in the back seven were free to roam and make plays all night long, led by Ryan Shazier's team high nine tackles (2.5 for loss). Bradley Roby made eight stops — some due to Wisconsin's need to throw, and some out on the edge on running plays, where a missed tackle could have led to explosive plays. Joshua Perry had a career high seven tackles and Curtis Grant added seven more, as the linebackers performed well versus the ground game.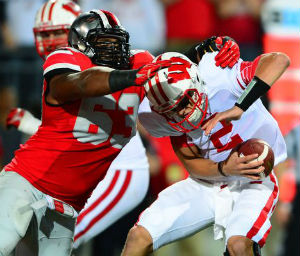 The Badgers gained only six first downs via the run all night long. Gordon put up 74 yards rushing and White added 31. Both were averaging more than 100 yards per game entering Saturday night.
But Ohio State's defensive line helped keep both explosive backs under control, which in turn led to the Buckeyes improving to 5-0 and taking the early driver's seat in the race for the Leaders (Legends?) Division title.
"I really think we showed to the country that we can stop the run and that we're not anybody to be messing around with," Shazier said. "They have a great offensive line, and I feel like our D-line is going to be great also."