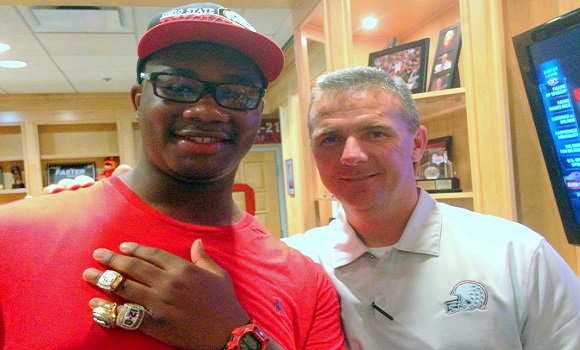 Drew Richmond has never made any bones about growing up a Buckeye fan, and as the Buckeyes have gotten involved in his recruitment, there is a prevailing notion that Ohio State is a likely destination for the 2015 four-star offensive lineman from Memphis (Tenn.) University School product. After his first visit to Ohio State in June, Richmond was effusive in his praise despite lofty expectations.
"I did grow up rooting for Ohio State, so there were a lot of expectations," Richmond told Eleven Warriors in June. "I always thought Ohio State just had the coolest uniforms and I remember the way that Coach Tressel would lead the troops out on the field; they'd lock up arms and they'd walk out, it was so hype."
While the Buckeyes no longer enter the field locked arm-in-arm, the atmosphere at Ohio Stadium for last night's nationally-televised showdown against rival Wisconsin did not disappoint the 6-foot-6, 300-pound junior. 
"This visit was everything people hyped it up to be," he said after his Buckeye visit this time around, his first gameday at Ohio State. "It was great getting a chance to listen to Lebron James and (Urban) Meyer give their speeches before the game."
The Buckeyes pulled out all the stops last night to make sure the recruits on hand had a memorable experience, including the pregame speech from the two-time reigning NBA champion James, fireworks pre-and-post game and a crowd that was raucous from the onset. The grandiose experience is exactly what Richmond was expecting this time around.
"I mean, it was amazing," Richmond said. "But it was a surprise at all. I've seen so many Buckeye games on TV so it just felt great being there. I got to hang out with a lot of the recruits like commitments Damon Webb, Jamarco Jones and Terry Mclaurin, and I talked a lot with (Webb's Cass Tech teammate, 2015 DL) Josh Alabi."
During his recruitment, Richmond has gotten a chance to get close to Ohio State's Urban Meyer, and he said it was interesting to see Meyer's gameday personality versus his everyday demeanor.
"He's always very focused," he said of Ohio State's undefeated head coach. "But most of the time we just talk on the phone and he's asking me about how I am and stuff. Seeing him during the game and during preparation shows a different side of him."
Birm's Take
After his previous visit, Richmond called being at Ohio State "a dream feeling," and he's not backing down from that statement after this recent trip. While he won't name a leader or talk commitment until he gets home and has a chance to talk with his parents, he's clearly thinking Buckeyes. With a scholarship offer from Alabama, Georgia, Florida, Florida State, Louisville and many more, Richmond will make his choice from a who's who of NCAA football programs, but the Buckeyes continue to be in great shape.