There's been a lot of chatter about Jalin Marshall. Where is he? Couldn't he help the offense? He could, and head coach Urban Meyer admitted as much on Thursday. When that happens remains to be seen.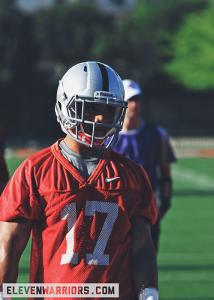 Marshall suffered a concussion during fall camp that set him back. He's also becoming acclimated with a position change from quarterback to wide receiver.
Meyer said he's getting close, but for him to go on the field, someone must come off. The coaching staff is going through scenarios to find a way for him to play. Until the time comes, Marshall is working on the scout team, a unit Meyer called the best of his coaching career.
"[Marshall] is 10 times more than what he was three weeks ago. His future couldn't be brighter," Meyer said on his call-in show.
Notes:
"We're going to start Braxton if he has a good day of practice today." -Urban Meyer. He added that Miller was "excellent" in Wednesday's practice.
Adolphus Washington should be good to go. Meyer said he's looked good all week in practice. 
Tommy Schutt will take part in game-day activities for the first time this season. He will stay at the team hotel, go through meetings, etc. Meyer said he could be ready after the bye week. 
On Chris Borland: "He's a Buckeye." Meyer said he's disappointed Borland isn't suiting up in scarlet and gray since he's from Ohio. 
Meyer is pleased with the progression of the offensive line. He pointed out the only sack since Buffalo was on a scramble. "As they go, we go."
"Ohio State should be Lineman U."
"Curtis Grant is playing probably the best football of his career," Meyer said. He added that Joshua Perry's had a good week of practice.